Frontlist Article | Top 10 Best Books a Scorpion should read!
Frontlist Article | Top 10 Best Books a Scorpion should read!
on
Sep 09, 2020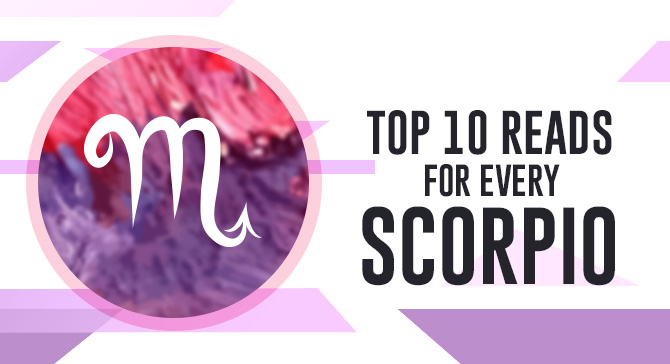 Top 10 Books a Scorpio should read!
Mars-ruled, Scorpio I speak for everyone I know… you are a mysterious bunch. Passionate, strong-willed, magnetic quite the unstoppable force but with a heart of gold. 
Passionate, strong characters excite you. Since you're so remarkably loyal and independent that also makes you pro at getting exactly what you want. So if you're one of the intense fireballs born between October 23 and November 23, these books will strike a chord with you and you will forever remain attached.
THE CATCHER IN THE RYE BY J.D. SALINGER
Get a lot of oohs and aahs for your intense gaze that could burn a hole in any one's character, well that's because a Scorpio knows the difference between looking and actually seeing. A careful observer, himself Holden Caulfield watches everyone like a hawk and analyses them like he's solving a mystery. Something you can't ignore!
GONE GIRL BY GILLIAN FLYNN
If you've ever read your horoscope one word you will repeatedly find-"secretive". And as far as that goes you know in some ways you are, which is why you'll enjoy reading the spectacular hit of 2012 about a woman's disappearance. A dark, gripping tale that you can't tear away from and will compel you to turn pages… until you figure it out!
GONE WITH THE WIND BY MARGARET MITCHELL
Besides being wildly passionate, most Scorpios surely have a penchant for drama. A fantastic work of fiction, a sweeping romance or an age old classic there's no one single way to describe Mitchell's story of passion and courage. So we insist you read it yourself and find out!
THE LIFE-CHANGING MAGIC OF NOT GIVING A F*CK BY SARAH KNIGHT
As a Scorpio, you're not a stranger to getting goals ticked and accomplishing what you want. But all these intense feelings can slowly burn you out and come up as stress in your later life.
Marie Kondo's smart and witty smash-hit is all about caring a little less something that goes against your nature… but once the magic starts working you'll find your own company a bit more mellow and relaxing.
DANGEROUS LIAISONS BY PIERRE CHODERLOS DE LACLOS
Nobody, we mean nobody can resist the dynamic vibe and the magnetic charm Scorpios ooze. The Laclos's classic is about two rivals- who share a love hate relationship and use seduction to get their way. Whether you've ever been ingenuine to a fault or not, you'll enjoy the twisted tactics used by both characters.
THE HUNGER GAMES BY SUZANNE COLLINS
One of your greatest strengths is your sheer force of will. Scorpios don't stop at nothing before they get what they want. They're also unshakably loyal and protective just like Katniss Everdeen, the badass hero who puts herself in danger for her sister.
THE PSYCHOPATH TEST BY JOE ROESON
"Caring more, makes me mad- oh, okay then!", tell us Scorpio how many times while defending yourself have you said this out loud or just whispered this in quiet fury. Joe Roson writes about this dark side and illuminates what really means to be psychopathic or just have the tendencies to become one. An absolute game changer… you'll love!
MY ABSOLUTE DARLING BY GABRIEL TALLENT 
If there's one difference between Scorpio and other signs, it's that they don't have their heads in clouds. Which is why the more realistic the more it draws your gaze. A books that makes you question can you trust the ones close to you or do they do the most harm/ 
Secrets and lies aplenty.
IN THE TIME OF THE BUTTERFLIES BY JULIA ALVAREZ
Scorpios do get the rep for being headstrong which is not for the wrong reasons- Alvarez's book focuses on the Mirabal sisters amidst a resistance movement against the tyrannical dictator.
The novel's emotional tension and intrigue will tug at the heart of every Scorpio/
THE BELL JAR BY SYLVIA PLATH 
Deep, haunting portrayals of the psyche- sign any Scorpio up and they won't bat an eyelash!
Ester's journey beautifully written in the semi-autobiographical novel will move you.