The Vibrant Kerala Literary Festivals Are Preserving the Culture of Reading
Kerala has a sincere passion for literature.
on
Jan 30, 2023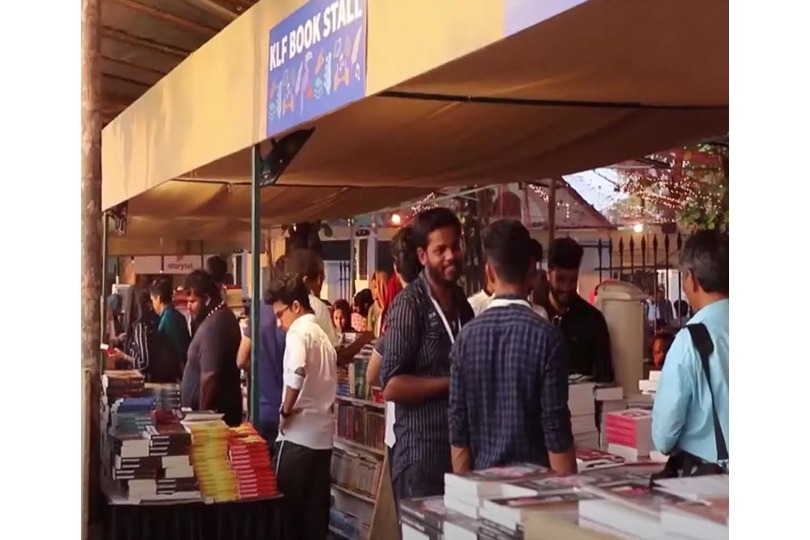 Kerala still appears to revel in the old-world beauty of reading and getting together to enjoy literature-based talks, despite living in a smart-phone dominated era of shrinking attention span.
The distance between a writer and a reader was significant until around 15 years ago. Personal letters, letters to publishers and editors, and even phone conversations were the primary means of communication. Sometimes, admirers would drive great distances to the house of their favorite author merely to get an autograph.
The circumstance is considerably different today. Three significant literature festivals took place in the small state of Kerala in the past two months alone. These festivals included the Wayanad Literature Festival (WLF), Kerala Literature Festival (KLF), and Kerala Legislative International Book Festival (KLIBF), all of which received positive reviews. Kerala still seems to revel in the old-world beauty of reading and meeting to enjoy literature-based talks while living in a smart-phone dominated era with a shrinking attention span.
"Kerala has long developed a culture centered on reading and viewing movies. Both large and small waves are present. A high wave in the 1960s continued until the 1990s, followed by a lull. The public looks to be in the midst of another high wave right now, with book sales rising and movie production and viewing at an all-time high. The WLF, a pioneering literature festival in Kerala's Wayanad that ended in December last year, was directed by prominent journalist and former WLF director Vinod K. Jose. "Naturally, literature festivals are a fresh method of bringing people together," he adds. Booker Prize-winning novelist Arundhati Roy was among the distinguished guests that visited the WLF.
In Kerala, DC Books and Mathrubhumi were the first organizations to host literary festivals, and many other publishers and organizations, both big and small, soon followed. The four-day Kozhikode Light Festival (KLF), which the DC Kizhakemuri Foundation co-hosted, ended on January 15. More than 100 publishers and writers participated in panel discussions, book launches, and literary exchanges during the five-day KLIBF, which took place from January 10 to 15. The Mathrubhumi International Festival of Letters, popularly known as the Mathrubhumi Literature Festival, is slated to take place in Thiruvananthapuram from February 2–5, 2023.
While the KLF featured writers from around the world in a combination of online and offline encounters, Sabin Iqbal, an author, and journalist, has selected some excellent sessions for the Mathrubhumi Literary Festival.
While some of these events are free to attend, others need a registration fee.
The public sphere in Kerala has always been closely linked to literature. The state holds authors in high regard, and the literary movement has continuously engaged with and changed society. "As far as I can remember, the first literature festival I attended was in Jaipur in 2014, and since then, the number of lit fests across the country has only increased," says KR Meera, author, and recipient of the Kendra Sahitya Akademi Award, who regularly attends literature festivals, particularly those in Kerala.
Kerala has a sincere passion for literature. In truth, the state is incredibly active in literary events, film festivals, and other cultural gatherings. We yearn to get together and converse with like-minded individuals, especially in light of the pandemic-related lockdowns. Literary events make it easier, she said.
The fact that most literature festivals in Kerala and throughout the nation are not exclusively dedicated to the fiction genre is a very intriguing feature. Nonfiction, current events, politics, gender, and a lot more are discussed at literary festivals. Along with novelists and poets, the panel will feature writers from various fields, including history, anthropology, journalism, and science. This has significantly aided in democratizing literature and increasing access to writers and ideas.
KR Meera remembers the moments at the beginning of her profession before literary festivals. Even as a reader, there was no possibility to interact with authors. Because authors were so crucial to our state's sociopolitical existence, they were frequently invited as guests to most public events. In my opinion, Kerala has many journals that regularly print serialized books and introduce new authors. Authors and readers were consequently connected through tales, but face-to-face interaction was difficult, according to the author.
Literature festivals allow authors to meet and get to know one another and connect readers and book enthusiasts with authors.
"At literature festivals around the nation, I have met numerous authors who write in many languages. Otherwise, what chance is there for a Malayali novelist like me to communicate with them? She adds.
One of the primary draws of literature festivals is the open forums, which draw attendees of all ages. The enormous number of young people attending literature festivals is a welcome sight when the younger generation is criticized for not having the habit of reading.
Adarsh Onnat, a literary critic and frequent festival attendee, claims that social media has brought people together in actual places. He notes that interactions at open forums have become more fluid due to the familiarity that authors and readers have with one another through social media platforms. "Today, people are more connected with their favorite authors through social media, and it is easier for them to feel like they want to meet them in person at lit fests," he says.
In Meera's opinion, literature festivals have helped break stereotypes of young people. "We frequently lament the lack of reading among children nowadays. Festivals of literature demonstrate differently. They are mostly made up of young individuals, particularly women, who, in her observation, "I feel are driving us as a culture in many ways." She continues by saying that the inclusion of women and transgender people in literary discussions at these events demonstrates how these settings are becoming more gender inclusive. "Women had no opportunity to talk about literature in the past. Mostly, it was a man's world. Now, we have women and trans people speaking up about their views and issues at literary festivals, which is significant and groundbreaking," she says.
The manner in which people view such physical locations may also be used to explain why there is an increasing interest in literary festivals. Participants and delegates feel a feeling of community and safety during these gatherings.
According to Dr. Vinod Jose, three different audiences may be witnessed during literary festivals. Those who arrive first are those who have read the writers, and they are thinking about questions and may be envious of or curious about their writers. Second, some attend because of a cultural event, a movie star, or the location's allure.
The first audience is the one that strengthens civilization, and the second is not detrimental and provides the option of switching to the first tomorrow. However, the third just serves to persuade the advertisers that they have a valuable target market by not contributing anything to culture.
Mayura responds that they take special measures to sensitize the organizing team and volunteers on crowd control and physical security. "People trust us with their personhood and time when they attend such events, and we thus take all necessary steps to ensure their comfort. We ask the government, police, fire, and safety departments for assistance, and we also have ambulances available, she continues.
Lit fests encourage participation and force authors to reinvent themselves and stay current. "With so many festivals, we author become aware of the dangers of becoming stale. According to Meera, that also enables us to innovate and prevents us from being mired in archaic conceptions of life and literature. There is this 'occupational danger' because occasionally, sponsors of these events have economic and political interests that we frequently speak against. However, these platforms are crucial. She adds that it is always a joy to participate in book festivals, no matter how frequently, because they are all about words and tales.