The Rs 35,000-cr book publishing industry in India - The Noel D'Cunha Sunday Column
The Rs 35,000-cr book publishing industry in India - The Noel D'Cunha Sunday Column
on
Aug 26, 2019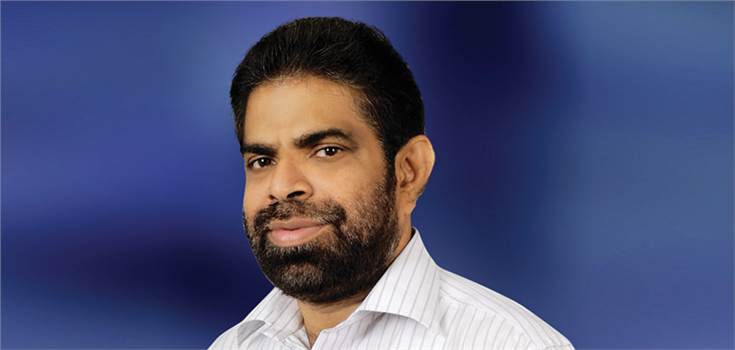 KC Sanjeev, the managing director at Welbound Worldwide, says, whenever we talk about the book business, we need to segregate this into two branches – education and trade. "The business in India is growing. The educational segment is growing quite well, not so much the trade." And there are challenges too. In this Sunday Column, Sanjeev talks about the book printing industry, how the printers are gearing up to meet the challenges, the changes in the distribution system, and Welbound's
PrintWeek India (PWI): Is the outlook positive for the book print industry in 2016?
KC Sanjeev (KCS):
 The book print industry is in line with the trends of book publishing in India. In the educational book publishing, both the government-run and private sectors, are doing well. The growth in regional language publishing is interesting. Trade publishing though is facing the challenge of readership, and perhaps the reason for the lack of growth. So in trade, the norms are short-run and print-on-demand.
PWI: You say the growth in the regional language publishing is interesting. Please elaborate?
KCS:
 45% of trade publishing (value terms) in India is in Indian languages. By numbers it outstrips the English books. The interesting part is that Hindi is under 35% of this pie. According to regional language publishers, there is a renewed interest in buying books, and translations of best sellers are doing very well in markets like Kerala. A recent blockbuster movie in Malayalam is woven around quotes of Paoulo Coelho. Authors like Gabriel Marquez are popular - and the translation of 
One Hundred Years of Solitude
 is an all-time bestseller for D C Books, a publisher of Malayalam books.
PWI: Your assessment about the Indian book printers? 
KCS:
 Indian printers are doing well when it comes to export of book print services to African countries. The recently concluded Drupa has brought some charm back into commercial printing with respect to new investments. The consuming industry, aka "the brands" are continuing to print brochures, catalogues and manuals. So, overall a much better year for book printing, compared to the last two. The young generation has not got anything like the Potter series that can initiate / encourage them to reading.
PWI: What is the silver bullet revenue stream that publishers can latch on to create a sustainable book business?
KCS:
 Whenever we are talking about the book business, we need to segregate this into two branches – education and trade. Of the Rs 35,000-cr book publishing industry in India, more than 70% is education publishing. The business in India is growing. In this segment, the challenges are demand prediction and payment cycles. In the trade segment, as I mentioned earlier, readership is not growing as we would all like it to. We are not reading as many books as we used to or perhaps the young generation haven't had anything to cheer for after the Harry Potter series. There are the Harry Potters and Devdutt Patnaiks and Twinkle Khannas in English, but it a Rs 2000-cr market, at best.
PWI: What is the big threat? The change in the manner in which we consume books?
KCS:
 Books are competing with smartphones and not ebooks as some of us may want to think. The distribution models have changed; more than half of books sold in India are through e-tailers. However, publishing is still a very profitable business albeit the challenges that reflect in the financials results of some of the leaders. But what is heartening is: the print industry is gearing up very well to meet the challenges faced by their buyers – be it breaking long runs into short, faster turnarounds, providing fulfillment by investing in the right kind of equipment and software.
PWI: What are the key trends you are mapping in the textbook segment?
KCS:
 School education, despite central policies and initiatives, still remains a state subject. We are seeing every state government printing more books than before, thanks to better school enrolments.
PWI: Has the central government's digital India initiative meant lower book volumes?
KCS:
 Digital India is trying to co-exist with the conventional teaching model. Smart class, virtual laboratories, and learning apps – these are innovative digital teaching / learning solutions; the evoked set, fiercely competing with each other for the very little time that the teachers and students have.
PWI: India follows a unique education system...
KCS:
 The education system remains largely syllabus-driven and subjects are still 'taught" and not "learned". This makes textbooks and guides the primary and most significant tool for teaching. One of the crowning examples for this is – Next Education, the leading smart class solution provider entering books publishing and notching up a significant volume in a short duration.
PWI: According to PrintWeek India's conversations with the top book printers, PUR has to gain mass acceptance.
KCS:
 Any change faces lots of challenges. The migration from manual or side stitched books to adhesive-bound books was gradual and took its time. Everyone in the value chain is convinced about the benefits of PUR. Yet there are apprehensions about investment, ease of adoption, operating costs and so on.
PWI: What is the challenge, according to you?
KCS:
 The printers are waiting for publishers to demand PUR and on the other side, publishers are waiting for this to be offered as an option. Some of the early adapters did not position this appropriately, and some others feel that they already have significant investments made in alternate solutions.
PWI: And now, things are changing ...
KCS:
 Yes. We feel 2017 will be the year of PUR, as we can see the inflection point zeroing in. The top book printers in the country – Repro India, Thomson Press, Burda and Manipal Technologies have all invested in very high-end equipment for PUR binding. Most of the leading educational publishers are now trying or have already tried out and seen the benefits. Printing for the next academic session will be PUR-heavy. The exports to Africa also will turn towards PUR, even as the early experiments have tasted success.
PWI: Welbound has been a bold and thoughtful leader who introduced a vision of change from section-sewing to perfect binding.
KCS:
 In early the nineties, we led the automation drive in book-binding that saw the quality and productivity of book production go up in leaps and bounds. By the end of that decade, "delays in textbook delivery" became history.
PWI: What is the status in middle India?
KCS:
 Most of the textbooks produced in India are now adhesive-bound. Our country is definitely middle-heavy and we could not have had this success without the tier-two cities like Agra, Jhansi, Meerut, Raipur, Mathura, Kolhapur and so on leading the book production. Our largest customer is not in Delhi or Mumbai but in Kolkata. And the town of Mathura, with more than 50 Welbound post-press machines, could be the largest producer of textbooks in the country.
PWI: Welbound's initiative since the last year has been in the end-of-line-finishing.
KCS:
 Perfect-binding is the most used method of book-binding in India and we have a role to play for every seven out of ten books produced in India: so that business is now on autopilot. We would like to tread the road less traveled and want to play a role in bringing a change in the post-packaging process.
PWI: You are poised at the same stage where perfect-binding was a decade ago in India.
KCS:
 True, we are at the same level as perfect binding was twenty years ago – when it comes to the end-of-the-line packaging. Our biggest strength is the application knowledge and service.
PWI: What more should one do to boost the urgency? 
KCS:
 We will leverage this strength, in association with our global partners, to bring solutions that will reduce wastage and damages in the supply chain.
PWI: Food, books, pharma. Welbound is operating in the three most vital segments in the market.
KCS:
 Food is of course one of the segments that we address with solutions for end-of-the-line packaging. Food safety and package integrity are gaining importance, even in a country like India.
PWI: What is your role in the pharma sector? Is it still – eying quality, not quantity approach? Please share an update. 
KCS:
 Even in pharma, we are part of the print segment. We have a partnership with the global leaders in leaflet folding – Guk Vijuk. Our efforts in this segment are in line with that of Guk – as a supportive partner, to grow one of the largest pharmaceutical producing and consuming nation in the world.
PWI: Welbound's plans for PrintPack 2017 in the first week of February?
KCS:
 We have been focusing more on machines that meet the demands of publishing in India. We have a fully automatic single-clamp binder with automatic set ups that offers hot-melt and PUR in the same machine. This will also help one to produce book-blocks with end-sheet pasting. We will also have our Welbound Velocity 4000 perfect-binder with inline gathering. We will also introduce a new model in the mid-speed range segment that will completely change the way book printers address the new demands from the print buyers. We expect a large base of our existing six- clamp customers to upgrade to this model.