The Riyadh International Book Fair Begins with 1,800 Publishing Houses Displaying their Titles
Explore the Riyadh International Book Fair 2023, featuring 1,800 publishers from 32 countries. Delight in cultural treasures, rare manuscripts, and literary wonders until October 7th.
on
Sep 29, 2023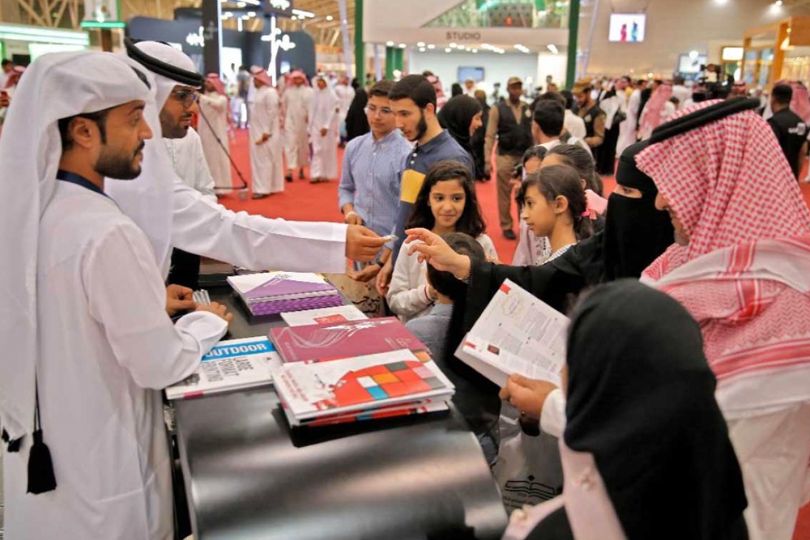 RIYADH (AP) — More than 1,800 publishing houses from 32 countries are displaying their latest publications and titles at the Riyadh International Book Fair 2023, which began on Thursday at the King Saud University campus. The Saudi Literature, Publishing, and Translation Commission, which is part of the Ministry of Culture, is hosting a 10-day book and culture festival with the theme "An inspiring destination."
As part of the "Riyadh Reads French" programme, 70 French publishing houses will be present at the book expo. Another highlight of the fair, which runs until Oct. 7, is a special display of rare manuscripts and artefacts totaling more than 25 items, as well as creative paintings. Over a million book lovers and readers are anticipated to attend the event, which will feature over 200 cultural activities.
In terms of cultural programmes and activities catering to the tastes of people of all ages, the book fair is the largest celebration of books in the Kingdom and the Arab world. The exhibition's greatest cultural programme in the Arab world focuses on biography, children's literature, content creation, and empowerment, as well as translation, dubbing, oral storytelling, and a lengthy range of topics and rich cultural exchanges.
The commission's president, Mohammed Alwan, stated that the cultural festival, hosted by the city of Riyadh, will be available to all visitors beginning Thursday morning and will welcome everyone, especially family members, free of charge. The book fair, which covers an area of 50,000 square metres, is free and accessible to the public, and visitors can take use of the space dedicated to culture, leisure, and the arts.
For the guests, the book fair will be a cultural feast. There are a variety of cultural programmes to enrich the exhibition nights, including the presence of a galaxy of intellectuals, prominent writers, thinkers, critics, and pioneers of the artistic sectors from Saudi Arabia, Oman, and the Arab world. There will be a seminar, lecture, and workshop programme addressing all aspects of cultural creativity.
The book expo includes over 200 cultural activities such as conversation sessions, seminars, poetry evenings performed by renowned classical and Nabati poets, workshops in various fields of study, and contact between authors and writers. The fair includes a variety of activities designed to educate youngsters, enrich and refine their talent and talents, and cognitive skills in a festive cultural setting. There will also be Saudi and international theatrical performances, musical and lyrical concerts, and the Book Talk event, which will include a collection of important thinkers and authors participating in activities that reflect all aspects and components of culture.
In addition to a huge section for youngsters and a variety of supportive pavilions, the fair will have book signing platforms where a selection of writers will sign their latest publications and show them to their readers. There is a self-publishing section for Saudi authors, with the ability to display over 400 works by Saudi authors. The Riyadh Book Fair is organising a poem recitation competition for children for the first time this year, so that the children can enjoy the experience of learning poetic writing skills and recitation techniques, which improves their linguistic abilities and personality development.
The exhibition will host the International Publishers Conference on Wednesday, October 4, which will evaluate the reality of the Arab publishing business and attempt to develop it to international competitive levels. The conference will look into various facets of the book industry and address publisher concerns. The event will feature a number of distinguished Saudi and international speakers, including publishing industry leaders, individual publishers, authors, content creators, and specialists.
The pavilion of Oman, the exhibition's guest of honour country, is prominently located in the exhibition's core, providing visitors with a magnificent display of books, manuscripts, and many characteristics of Omani national culture. Its cultural programme features Omani intellectual and cultural production. The pavilion depicts the country's identity, showcases books and manuscripts indicating its rich legacy and diverse cultural experience, and honours its emblems, publications, and contributions to the Arab cultural landscape.
The fair will include important Omani cultural figures and talents, offering participants a rare opportunity to engage with the country's thriving literary and cultural scene. Omani publishers will also present their most recent publications to enthralled audiences. The choice of Oman as the honorary guest highlights the two countries' longstanding historical ties and fraternal relations. It indicates their mutual desire to strengthen cultural collaboration.