Frontlist | The return of Punjabi literature
Frontlist | The return of Punjabi literature
on
Mar 05, 2021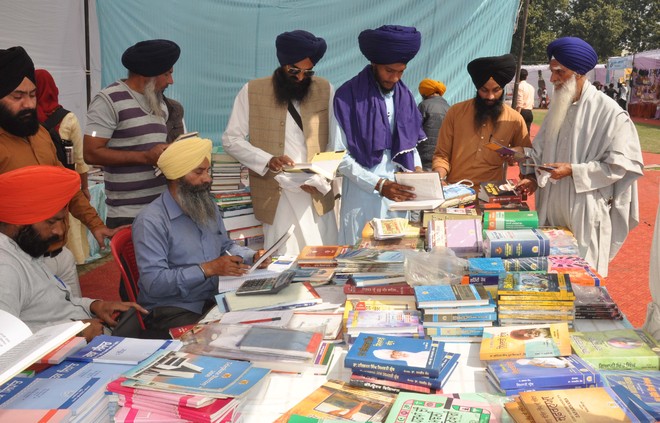 There was a time when Amritsar was the hub of Urdu literature and breeding ground for many writers. "But now, we hardly sell four-five copies a month," shares Kuldeep Singh, owner of Azad Book Depot, peering out at the crowd intermittently as he adjusts the publications at the ongoing book fair at Khalsa College. The former times, as old as before the undivided Punjab, had Urdu on par with Punjabi literature. But with time and the Partition, the demand for Urdu writings fell dramatically. A few years back, while addressing one of the events to mark the opening of the Partition Museum in Amritsar, noted writer and historian Rakshanda Jalil had said that the biggest loss to Punjab during the Partition was of Urdu language. She said that the legacy and history of prolific Urdu writers was lost after carving out lines in Punjab. Later at a literary event in city, eminent poet Surjit Patar, too, had once pointed out the decline of readership of Urdu literature.
The fact is now backed by the handful of publishers left in city of Urdu literature as Kuldeep. Into publishing business from 1942, Kuldeep's grandfather and father had started publishing Urdu books in Lahore. "Our business was shifted from Lahore to Amritsar post-Partition. Even 10-12 years back, we used to get a lot of readers asking for Urdu literature. But today, even the basic Urdu learning books get one or two takers," he tells. Another publisher and retailer of book, Deepak, from Jalandhar, feels the decline in Urdu readership in Amritsar has been a direct result of modernisation of language. "Not just Urdu, Punjabi, too, was facing a readership crisis a few years back. There are not many who know Urdu and its publishers are moving to digital platforms to cut cost and reach out to more readers."
While Urdu may have lost its footing in the market-driven publishing business, Punjabi seems to have redeemed itself during the lockdown. Among the 50 odd publishers from across the region at the fair, 40 have been able to get good sales from Punjabi books. "The first day sales for Punjabi books had been between Rs8,000 and 10,000. The response for Punjabi writings, including all genres, has been encouraging. During the lockdown, a lot of people went back to reading and even the recent farmer agitation gave boost to readership of Punjabi books, especially among the youth, who wanted to participate and engage in knowing about the history of farming community," said Gaurav, a young publisher from Gidderbaha, who launched his publishing house Azaad Publications six months back. Saheb Singh, another publisher from Barnala, indicates the uptick in Punjabi literature to the farmer agitation and as form of protest literature. "Readership increase in Punjabi literature recently can be attributed to farmer's movement. A lot of young readers are now picking up Punjabi poetry and history books," he said.
The sidekicks
The other activities at the ongoing four day literature festival included a seminar on 'Guru Teg Bahadur-Baani and Shahadat Da Gaurav' and a poetry session. Professor Rana Nayyar, retired from Punjabi University, Patiala, called Guru Teg Bahadur's martyrdom as a revolutionary step in the history of the country. Two books 'Sri Guru Teg Bahadur – Baani and Shahdat' and 'Sri Guru Teg Bahadur – Life and Teachings' were released during the seminar. A play 'Vismaad', written by Dr Devendar Singh and directed by Emanual Singh was also performed at the theatre department.
Why Urdu isn't in demand anymore?
Urdu publications have failed to rouse masses' interest. Interestingly, the demand for Punjabi writings has resurrected itself but its long-lost cousin has become more distant than ever. The most important reasons that have come to the fore are the Partition and modernisation of language. With the Partition, most of the writers moved across the borders, while modernisation did rest of the damage. The situation for today's publishers is so festooned with scant takers and overwritten with the no-future-ahead belief in the line of publishing Urdu literature that its publishers have drifted to digital platforms to keep out of choppy waters. Read More:
Navin's Peichi explores various facets of Malaysian Tamil life
Source: Tribune India