The Hyderabad Literary Festival 2023 to Begin from Today Onwards
The festival's primary goal is to enhance Hyderabad's reputation as a creatively vibrant city
on
Jan 27, 2023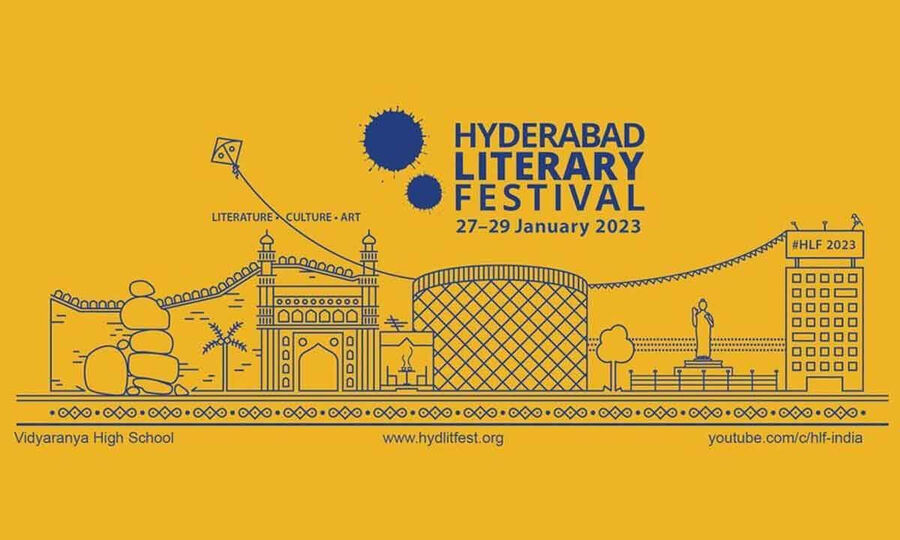 The much anticipated Hyderabad Literary Festival (HLF) 2023, which has been occurring virtually for the past two years, is due to get started on Friday at the Vidyaranya High School in Saifabad. Several writers and brilliant minds will give speeches and participate in workshops during the three-day event, which begins on January 27. Stephan Grabherr, Deputy Ambassador of the German Embassy in India, will be the guest of honor at the event in addition to Damodar Mauzo, a renowned Konkani author and Jnanpith awardee, who will serve as the chief guest.
The Hyderabad Literary Trust, in collaboration with several literary, cultural, and publishing institutions, is putting on the festival.
The festival's primary goal is to enhance Hyderabad's reputation as a creatively vibrant city. The festival brings together Hyderabad and some of the world's most innovative thinkers each year.
Sessions on the works of many authors, including P Sainath, Kalpana Kannabiran, Gita Ramaswamy, Manreet Sodhi Someshwar, K Srilata, and others, will be held throughout the festival. The Moving Images Talkies film screenings are the festival's annual main draw. Tambaku Chaakila Oob Aali, Molkarin in Marathi, Idi Katha Maatramena in Telugu, Sudesha in Hindi and Garhwali, The Peppercorns and the Secret of the Deep Sea in German, Nachom-ia Kumpasar in Konkani, and other Indian and foreign language films are among those scheduled to be screened in this edition.
The poem "Other Kohinoors: The Rocks of Hyderabad" by Uma Magal, which depicts the rocks of Hyderabad and how they have altered the city's urban landscape in recent decades, will be of particular interest.
The festival's poetry section will have works by Sarojini Naidu, Jayadeva Goswami, Soundarya Kaushik, Janabai, and Ulka Mayur, as well as "The Bird of Time" by Mythili Anoop, "Ashtapadis of Jayadeva," and "Cast Off All Shame." Several events, including Jo Dooba So Paar: A Musical Dastangoii on the Life and Times of Amir Khusrau, VARIations: Fusion Music by Varijashree Venugopal, Ft. Vivek Santhosh, Jeoraj, George, and Raghuram, and Stand-Up Comedy by Manaal Patil & Ravi Gaikwad, are showcasing culture with a diverse mix of genres and artists.
A unique cultural performance by Fugdi and Dhalo: Konkani folk dances by Dnyanjyoti Mahila Mandal will captivate the crowd on the festival's first day. The HLF will be a jam-packed event for art and literary enthusiasts in the city, spanning three days and featuring workshops, art installation pieces, storytelling sessions, book releases by many authors, and stage lectures.