Frontlist | The Flawed Superhero of Marvel Comics
Frontlist | The Flawed Superhero of Marvel Comics
on
Jan 11, 2021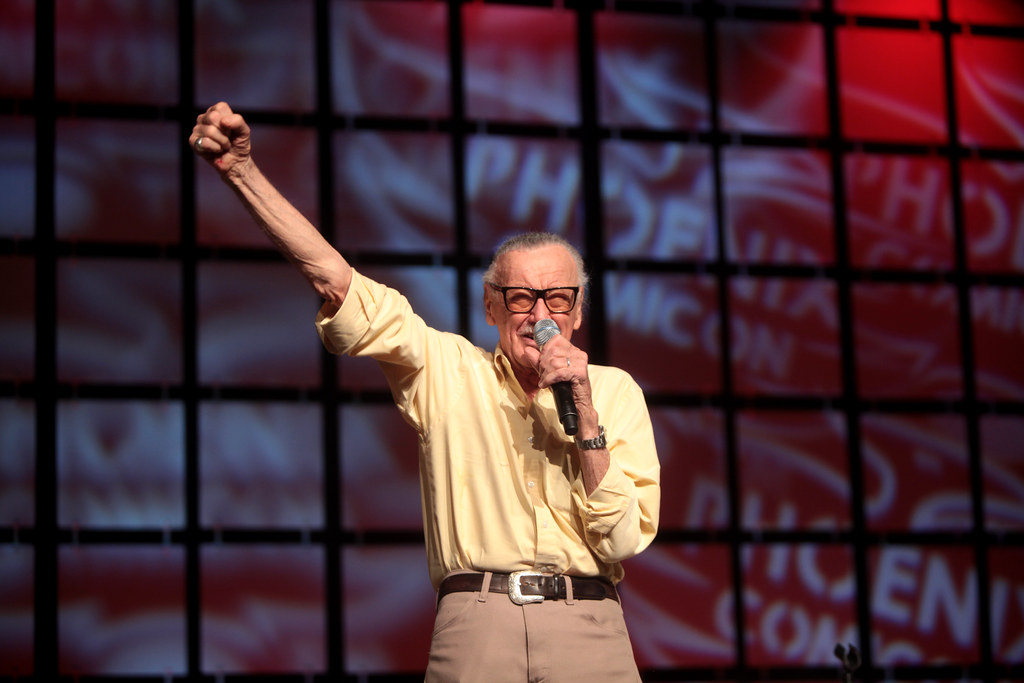 A new book reveals the origin story of Stan Lee, the self-aggrandizing impresario of an entertainment empire.
W
hen the comic book innovator Stan Lee died in 2018, at the age of 95, he was widely hailed as one of the most significant figures in modern American popular culture. A nonstop hustler who grew up during the Great Depression, Lee was an unmistakable figure, with his aviator glasses, flamboyant mustache, and heavy New York accent. He was central to establishing what became known as the Marvel Cinematic Universe—a world in which superheroes didn't stay stuck in their own orbit, but regularly interacted to provide endless fodder for new tales of derring-do. Thanks to his cameos in more than 30 Marvel movies, including 
The Amazing Spider-Man
 and 
Black Panther
, Lee became an international celebrity, prompting 
The
New York Times
 to hail him as the true "superhero of Marvel Comics."
Yet when a teenage Stanley Martin Lieber, who signed his work under the name Stan Lee, began working in 1939 as an assistant at Timely Comics for eight dollars a week, nothing would have seemed more far-fetched. While Timely enjoyed several successes during World War II, including the introduction of the Nazi-bashing Captain America, business was lean in the postwar era. It wasn't until the early 1960s, when the company reinvented itself as Marvel Comics, that it became profitable, outpacing its longtime rival DC, the publisher of Superman and Batman. That's when Lee, together with several highly talented artists, decisively broke with the familiar mold of superheroes as paragons of virtue by creating characters with human foibles and struggles. The Amazing Spider-Man, for example, was constantly fretting about his love life, not to mention the health of his Aunt May. The Fantastic Four—Mr. Fantastic, the Invisible Woman, the Human Torch, and the Thing—spent as much time quarreling among themselves as battling their enemies. After going bankrupt in issue nine, the Fantastic Four are evicted from their headquarters at the Baxter Building. "Heroes one minute—bums the next!" muses the Thing. "How did it happen to us?"
With the Fantastic Four and other hits, Lee quickly became the impresario of Marvel Comics. He transformed himself into a celebrity by delivering talks on college campuses, appearing on 
The Dick Cavett Show
, and dashing off an irreverent column that appeared in Marvel's comic books called "Stan's Soapbox." In 1966, the 
New York Herald Tribune
 profiled him as a "rangy look-alike of Rex Harrison" who "dreamed up the 'Marvel Age of Comics' in 1961."
As Lee became increasingly famous, however, his artistic collaborators chafed at his claiming all the credit for the Marvel Universe. In 
True Believer
—a clever title taken from the jocular trademark phrase "Face front, True Believer!," which Lee used to address Marvel readers—Abraham Riesman, a reporter at 
New York
 magazine, takes a close look at the mythology that surrounds Lee. It's not clear whether Riesman is a Marvel fan, as he doesn't delve into Lee's body of work much beyond the obvious high-water marks. But Riesman has done a ton of research about Lee's life, excavating his personal archive and interviewing numerous artists and writers he worked with as well as his business associates. His reporting starts with Lee's childhood in New York, and stretches to his final years in Los Angeles. Throughout, Riesman provides an illuminating and reliable account of Lee's improbable odyssey.
L
ee, who was born in 1922 to impecunious Romanian Jewish immigrants, read voraciously as a child, plowing through Shakespeare, Dickens, and Zola, among others. Radio was another influence. According to Riesman, "The evocative and percussive verbiage of golden-age radio would later be echoed in his dialogue and narration at Marvel." After graduating from DeWitt Clinton High School, Lee joined Timely, where he toiled for his tightfisted uncle Martin Goodman, a veteran of the pulp magazine era. Lee had few illusions about his role. "Martin's mandate," Lee later recalled, "was to keep the stories simple enough to be understood by young children. We're not talking 
War and Peace
 here." A stint in the Army churning out propaganda materials helped further hone his writing skills. But the return to civilian life in 1945 turned out to be something of a drag for him. In an outline for a memoir, he referred to the 1950s as "THE LIMBO YEARS." He felt he was "going nowhere—and how could I keep getting older and older and still be writing comic books?" In 1957, in his mid-30s, he was hitting rock bottom. Sales had plummeted. Goodman ordered him to fire the entire staff. "I was like a human pilot light," Lee recalled, "left burning in the hope that we would reactivate our production at a future date."
With the creation of Marvel and the arrival of three artists—Steve Ditko, Jack Kirby, and Larry Lieber—the dim light finally burst into a vibrant flame. Those artists, Riesman writes, "would end up with an intense ambivalence, if not downright dislike, toward Stan." Ditko played a central role in devising the character of Spider-Man, as did Kirby in developing a host of other Marvel characters, including the Fantastic Four. Throughout their work together, however, Lee sought to diminish their share of the credit and maximize his own. Lee had come up with what was known as the "Marvel Method." Essentially, he would explain a scenario to his artists, wait for the storyboards, and fill in the copy with his jaunty prose.
The comics industry was a Dickensian enterprise in which the writers and artists toiled on a freelance basis. All of the work done at Marvel and rival publications was considered "work for hire" that was owned solely by the publisher, not the writers or artists. The ambiguity of authorship created a lot of headaches down the road. "Comic books were still a fly-by-night industry," Riesman notes, "that few imagined would survive, much less require specific documentation for posterity."
There is no known evidence, Riesman observes, that Lee created the premise, plot, or characters for the fabled Fantastic Four. A bitter feud opened up years later between Lee and Jack Kirby over the actual provenance of the FF, as they were known to faithful fans. Kirby flatly stated that he, not Lee, had invented the characters and plots for the FF, the Hulk, and the Avengers. Kirby ended up suing and receiving a munificent settlement from Marvel in 2014. The debate over authorship may seem esoteric, but, Riesman notes, "billions of dollars have hinged on it. Disney's livelihood depends on Stan's interpretation of it. A legal case centered on it came one step away from the Supreme Court and was settled for an unspeakable sum."
When it came to the origin of Marvel's hottest property, the Amazing Spider-Man, controversy also abounded. Lee wisecracked about his own claims of responsibility for the genesis of Spider-Man, "I've told this story so often that, for all I know, it might even be true." An embittered Steve Ditko, who did much of the work on the early Spider-Man corpus, said that Lee was talking through his hat: "Lee started out early with his self-serving, self-claiming, self-gratifying style, of giving credit and then undercutting the giving by taking away or claiming most or all of the credit." Riesman, for his part, is clearly dubious about Lee's extravagant claims. For all the brickbats tossed at Lee by his former colleagues, Riesman doesn't seem to have his heart in trying to demonstrate that Lee was a supervillain. Lee might have been an indefatigable self-promoter, but without his P. T. Barnum–like efforts, Marvel would never have hit the big time. The quality of the movies can be disputed—Martin Scorsese has decried them as "not cinema"—but Lee's influence cannot. Today, the man referred to as the "Jewish Walt Disney" is more iconic than ever. The newly released video game 
Marvel's Spider-Man: Miles Morales
 features a massive golden statue of a smiling Lee standing next to a diner. The plaque on his plinth reads, "Dedicated with love to the man who nourished the hearts, minds, and souls of True Believers everywhere. Excelsior!" As Lee liked to proclaim, " 'Nuff said!"
Source: Washington Monthly