'The Dream Peddler' book : A story that you shouldn't sleep on
'The Dream Peddler' book : A story that you shouldn't sleep on
on
Aug 22, 2019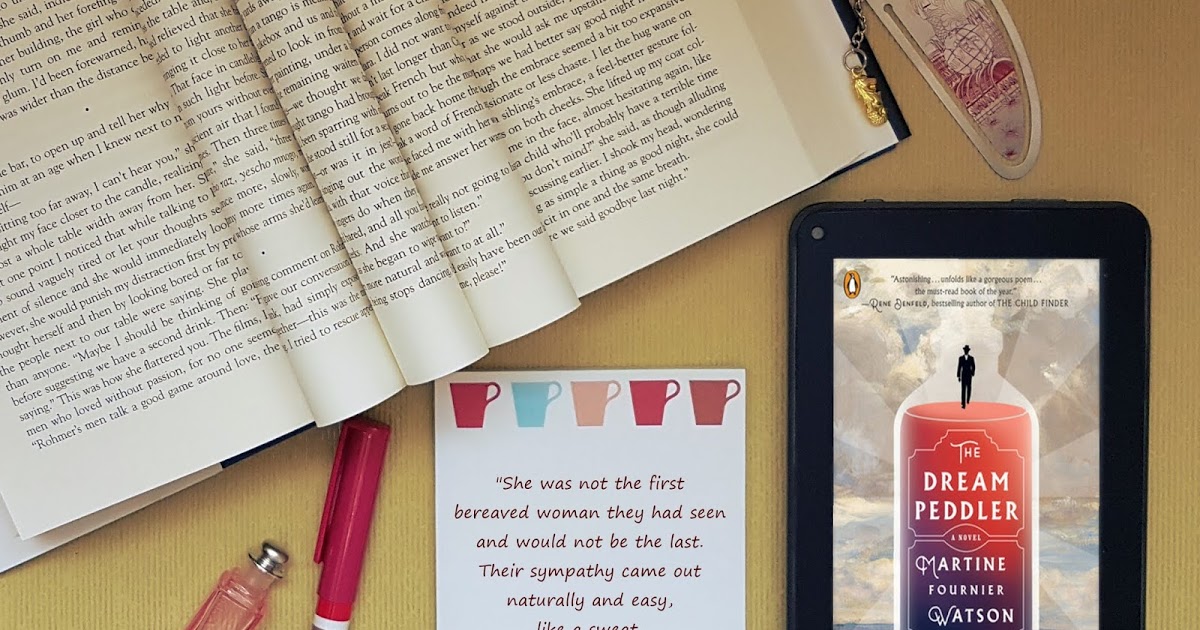 The Dream Peddler by Martine Fournier Watson is like a sweet dream that you don't want to forget. I had no idea what to expect when I picked up Martine Fournier Watson's debut novel about a traveling salesman who sells "dreams, made to order, with satisfaction guaranteed." The idea instantly intrigued me, but I didn't know if I'd be paging through a high fantasy tale about a magician who concocts potions or a story of a con artist who wanders from town to town taking advantage of vulnerable people who are looking for some peace of mind. Of course, Robert Owens was neither of those things. He does sell an elixir that will give you any dream you want, but Watson has placed her protagonist perfectly on the spectrum between realism and magic. His character and business are completely down to earth and genuine, while maintaining just enough mystery to keep a reader captivated and eager for answers. The Dream Peddler effortlessly walks the line between that which is real and familiar and that which is extraordinary and new. The Dream Peddler opens as the title character, the aforementioned Robert Owens, comes across a small farming town in the 1900s and decides to set up shop. Unfortunately, on the same day that he arrives, nine-year-old Benjamin Dawson disappears. Owens settles into the town in the midst of chaos and crisis, especially for Benjamin's parents, Evie and George.
Although the tragedy means a slow start for Robert's business, it also awakens desires in people that he is uniquely qualified to fulfill. While he can't make their wishes come true, he can at least give them some illusion of them. As the townspeople wrestle with things like grief, holding on and letting go, and mortality, on top of their everyday concerns of lust, shame and rejection, Robert begins to make a name for himself. As Evie Dawson experiences a despair that few could ever understand, she develops a beautiful friendship with Robert, who's not used to forming such bonds due to the nature of his business. This relationship is one of the most rewarding aspects of The Dream Peddler. Through their interactions you get to know each character so much better, but that's not even the best part. One character openly seeks healing while the other appears intact, but through their friendship they each discover that the other just might hold the cure for what ails them. The book's greater themes are best explored through the quiet moments between Robert and Evie. One of the greatest and most interesting themes is desire. What do we want, why do we want it, and what would happen if we actually got it? What about if we didn't? Desire, the consequences of hiding it and, perhaps even more frightening, the consequences of being honest about it. All of these questions are posed and played out in The Dream Peddler in sometimes funny, sometimes heartbreaking, and always fascinating ways. The theme of when to leave something behind and when to hang on to it with everything you have was one of my favorite aspects of The Dream Peddler. When placed in the setting of seemingly stagnant small town farm life, this theme struck a chord and resonated loudly. The backdrop shone a spotlight on decisions surrounding loss and leaving.
Something that surprised me about The Dream Peddler was how much I enjoyed the parts that were told from the perspective of the town's teenagers. While it begins as a fully adult story, the book has a wide variety of characters which encompass a good representative sample of the townspeople, including its younger members. By doing this, The Dream Peddler also gives the reader the opportunity to relive the desires of their youth. I often find stories that are reflective of teenage feelings overly simplistic at best or incredibly annoying at worst, but Watson has created a group of likable, yet realistic and complex teens that feel just nostalgic enough. It was especially fun to see the dreams and desires of the teens juxtaposed with those of the adults. It wasn't necessarily the dreams that were different, but the feelings, intention and wisdom behind them. This was definitely a highlight of The Dream Peddler. Above all, The Dream Peddler is an extremely well told story. It unfolds its elements so naturally and subtly that you'll feel like you really get to know the town and its inhabitants, rather than just knowing the events that happened to them. Even as the story diverts into people's dreams, the tone and writing create a consistent sense of comfort and satisfaction as you make your way through The Dream Peddler. With perfect pace and flawless flow, you'll find yourself getting to the end of this book faster than you wake up from a dreamless sleep!