The Best Sci-Fi and Fantasy Books of the Year (So Far)
The Best Sci-Fi and Fantasy Books of the Year (So Far)
on
Jul 09, 2021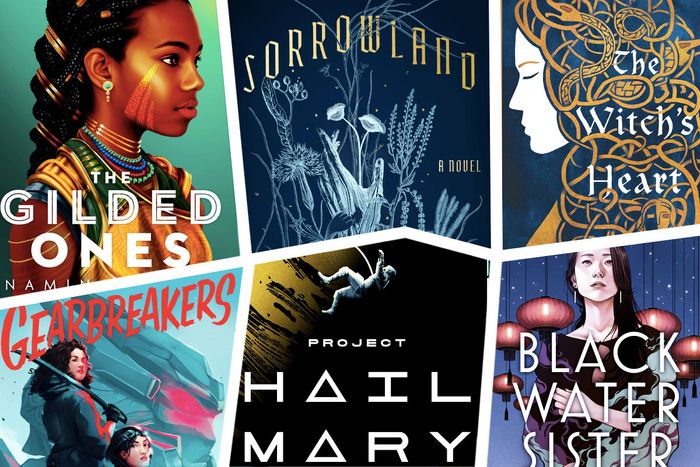 Leave your burden aside and get into the world of fantasy books that will take you to the other world. 2021 has given readers a slew of exciting, proactive, delightful, and fantasy books. From the latest releases of celebrated authors Kazuo Ishiguro, Nnedi Okorafor, and Andy Weir, to debut novels from rising stars Namina Forna, Genevieve Gornichec, and J.S. Dewes, these are the best science-fiction and fantasy books of 2021 so far
.
Gearbreakers, by Zoe Hana Mikuta
                                                           Sona is a Valkyrie, an elite soldier who uses cybernetic enhancements to command giant mechanized weapons fo
r the tyrannical Godolia. Eris is a Gearbreaker, a young rebel who leads her eccentric crew on missions to destroy these mechas from the inside. After Eris is captured by Godolia soldiers, she assumes Sona is yet another heartless enemy on the other side of this deadly war. But after Sona reveals her secret — that she has always plotted to take down Godolia from the inside — the pair begin working together to end Godolia's militarized reign… and start falling for each other along the way. Gearbreakersis a brutal and commanding debut from Mikuta, a 21-year-old college student who began working on the YA novel when she was only 17. A story about the reclamation of self and the devastating impact of war, Mikuta has delivered an extraordinary novel that perfectly balances high-octane action with intimate character development and tender hope.
The Jasmine Throne, by Tasha Suri
After refusing her emperor brother's order to be "purified" through death by fire, Malini is im
prisoned in an ancient temple u
ntil she a
ccepts the pyre as her fate. The one tasked with looking after the ruthless princess during her captivity is the tenderhearted Priya, who will happily do any task as long as it doesn't threaten the anonymity she's cultivated to hide her secret past. But when Priya unintentionally reveals her long-repressed, forbidden powers in front of Malini, it sets off a chain of events that irrevocably bind their fates together — and may just reshape the entire empire. This thrilling start to Suri's new epic fantasy trilogy immerses readers in an intriguing new world inspired by India, complete with fascinating political intrigue and seamlessly built out cultures, religions, and nature-based magic system. This cutthroat and sapphic novel will grip you until the very end as it follows Priya and Malini's campaign to claim their power and get their revenge on the society that wronged them
.
Future Feeling, by Joss Lake
Future Feeling is a genre-defying trip into a futuristic world where everyone's emotional frequencies are monitored through Bio-meters and a semi-omnipotent trans health-care agency, the Rhiz, beams Operatrixes into homes to provide aid. However, some things in this surrealist world remain the same: Social media still holds the power to make you feel like shit. When discontented, trans dog-walker Penfield channels his Gram-fueled resentment into hexing the picture-perfect trans influencer Aiden, he accidentally winds up cursing Blithe, another trans man that Pen has never met. As a result, the Rhiz assigns Pen and Aiden to work together on guiding Blithe out of the Shadowlands, a manifestation of the darkest, most painful parts of transitioning. Lake's vivid prose provides potent emotional weight and wry humor to this captivating debut novel, which details these men's messy, chaotic journeys toward self-actualization.
Black Water Sister, by Zen Cho
Ghosts. Gods. Gangsters. Black Water Sister has it all. Jessamyn Teoh is an aimless, broke, Harvard grad who was already dreading moving with her parents back to Malaysia, particularly since her secret girlfriend was still in the States. And when Jess realizes she's being haunted by the ghost of her estranged grandmother, Ah Ma, upon arrival, things take a turn for the worst. Ah Ma is determined to use Jess to settle a score against a local gangster who offended the Black Water Sister, the god Ah Ma served as a medium during her life. As Jess attempts to juggle all the various stressors in her life — while doing everything she can to avoid burdening her already overwhelmed parents — Cho superbly documents how each obstacle Jess faces leaves a lasting impact on her, ultimately helping shape how she identifies with her family and herself. It's a wildly entertaining coming-of-age story for the twentysomething set, with a protagonist who is almost painfully relatable at times.
Son of the Storm, by Suyi Davies Okungbowa
In Son of the Storm, Okungbowa delivers a wholly original story set in a bewitching and brutal universe inspired by pre-colonial West Africa. The novel follows a trio of central characters: Danso, the frustratingly naive but good-hearted scholar who dreams of finding a place he fits in; his intended, Esheme, a ruthlessly ambitious young woman determined to rise above her mother's station in the Bassa empire; and Lilong, a member of an island population long thought to be dead, who has the power to wield the magical mineral ibor. As the characters contend with fantastic creatures, cunning revolutionaries, and their own differing objectives, Okungbowa builds up the culture, politics, and history of this world in stunningly rich detail. The book's complex examinations of caste systems, imperialism, and the subjectivity of truth force characters (and readers) to confront their own relationship with power and historical narratives, while also delivering a spellbinding adventure that will leave you counting the days until the sequel.
Source : Vulture