Frontlist | The Best Marvel & DC Comics You Missed in 2020
Frontlist | The Best Marvel & DC Comics You Missed in 2020
on
Dec 21, 2020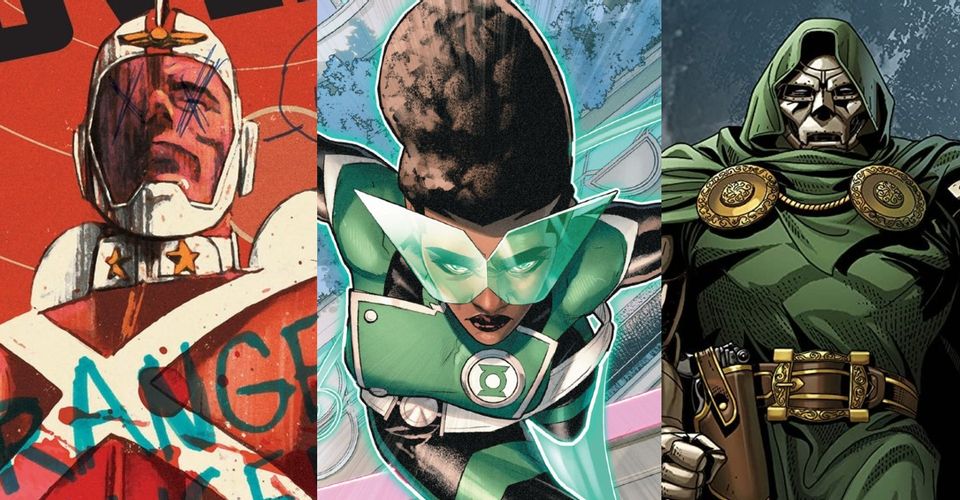 All things considered, Marvel and DC had banner years in 2020, and here are some overlooked titles from the two publishers you might have missed!
When the clock struck midnight and 2020 rolled in, no one had any idea just how turbulent this year would be. But against the backdrop of COVID, environmental disasters and civil unrest, comics soldiered on, offering escape and solace from the world outside. Both Marvel and DC had banner years creatively. DC's Dark Nights Death Metal occupied a large part of DC's output for the year and Marvel built towards the King in Black. The X-Men had their first major crossover event in years, and DC brought us Endless Winter. These books and events are great, but there were other stories from both companies that flew under the radar, and this article will cast a light on some of them. So here are some of the best Marvel and DC books you might have missed in 2020.
DOCTOR DOOM
Doctor Doom is one of Marvel's greatest villains, if not one of the best in comics. While there had been past attempts at giving Doom a solo book, none of them stuck (except for 
Doom 2099
) until this year when writer Christopher Cantwell and artist Salvador Larroca brought us a book worthy of the character. Part of the book's appeal is watching Doom 
almost
 get it—he seemingly wants to do right by the world now, and maybe leave a good legacy behind, but his ego and pride trip him up every step of the way. For example, Doom devises a plan to save the world by closing the black hole he accidentally created. His plan is solid and vetted by several other scientists. Reed Richards contacts Doom to wish him luck, but Doom's ego won't allow him to see it any other way than Reed trolling him, and he begins changing the plan and ultimately making it worse than before. Cantwell and Larroca understand what makes Doom tick, and they use that to grand effect here.
Absolute Carnage: Immortal Hulk
The latter part of 2020 saw Marvel build towards the 
King in Black 
mega event. Spinning out of Donny Cates and Ryan Stegman's 
Venom 
run, the storyline saw the dark symbiote god Knull begin a crusade against creation itself. While most of the build-up was primarily in the 
Venom
 title, other books helped in the ramp up as well, and none did it more effectively than 
Absolute Carnage: Immortal Hulk
. A crossover with Marvel's smash 
Immortal Hulk
, the book, by 
Immortal Hulk
 writer Al Ewing with art by Filipe Andrade, saw the Jade Giant learn of Knull's existence. Thinking that Knull may be connected with the One-Below-All (essentially Marvel's Satan), he throws his lot in with Venom in his fight against Knull. The book works because it perfectly captures the tone of both seriess. 
Immortal Hulk
 is very much a horror book, and Knull is straight out of a horror movie, so the two complement each other well. Knull has now arrived on Earth, so it will be interesting to see how this one-shot affects the event.
Taskmaster
Next year, the Black Widow's solo movie will debut, and along with it a number of lesser-known Marvel characters, such as the Taskmaster. In anticipation of his big-screen debut, Marvel gave Taskmaster his own book, written by Jed Mackay and Alessandro Vitti. The Taskmaster is one of Marvel's best anti-heroes, a ruthless mercenary with a super photographic memory that allows him to copy anyone's fighting style, but his book opts for a darkly comic tone; the first issue features Taskmaster and Bullseye playing golf—in their uniforms. When he is framed for the murder of Maria Hill, the Black Widow is sent to find him, and readers learn the Taskmaster is afraid of her! Mixing goofy fun with hardcore action, 
Taskmaster
 won't be flying under the radar much longer, especially with the character coming to the MCU.
Power Pack
Once upon a time, 
Power Pack
 was a critically acclaimed book, but eventually it became something of a joke. That was until Ryan North and Nico Leon revived the book for a five-issue miniseries. Only one issue has appeared as of the time of this writing, but it showed a lot of promise.
Power Pack
 is the story of the four Power siblings: kids gifted with extraordinary powers. They must balance super-heroics with not only school and social lives, but also with keeping their powers secret from their parents. North and Leon blend slapstick comedy with touching family moments, and the result is one of the best Marvel books of the year,
Strange Adventures
Tom King and Mitch Gerard's 
Mister Miracle
 is a modern masterpiece; a dense, challenging read that took the character to places he had never been before. The book drew acclaim from both the comics world and the mainstream, and some view it as one of the finest comics of the decade and the creative duo reunited for this year's 
Strange Adventures.
Adam Strange is a human transplanted to the planet Rann. He leads the inhabitants to victory in an interplanetary war and then retires to Earth. Much like 
Mister Miracle
, 
Strange Adventures
 plays with perception: is Adam Strange a hero? Or a murderer? King and Gerard mine this duality to amazing effect, creating a book just as riveting as 
Mister Miracle
. Only time will tell if it will stand as a modern classic, but it is still a thoughtful and engaging read in its own right.
Green Lantern: Far Sector
The Green Lantern mythos got a boost in this year's 
Far Sector
. Written by three-time Hugo winner N.K. Jemisin with art by Jamal Campbell, 
Far Sector
 tells the story of Sojourner "Jo" Mullein who is the Green Lantern of an intergalactic city devoid of emotions and feeling, but also free of crime. When the first murder in 500 years happens, she is called in to investigate. Novelists crossing over into comics is nothing new, but someone of Jemisin's stature is an event in itself, and as she continues to draw accolades, expect this one to take flight.
Justice League Dark
Since the beginning of the New 52, 
Justice League Dark
 has been a fixture at DC Comics, and this year the book stepped up to the plate. New writer Ram V injected fresh life into the book, wrapping up the fight against the Upside-Down Man and killing off several beloved characters, such as Swamp Thing. More importantly, Ram set up some important plot points that will be picked up when he returns to the book in March, namely Man-Bat's attempt to resurrect Swamp Thing. Hopefully, word of Ram's great writing will get out, and this book won't be slept on any longer.
Dark Nights: Death Metal One-Shots
The mini-series 
Dark Nights: Death Metal
 has been the jewel in DC's crown this year, and DC has released a variety of one-shots expanding on the story that have been just as intriguing as the mini-series. Throughout the issues, DC fans met characters like the Robin King, a demented Robin from the Dark Multiverse, and the Chronicler, a being from beyond the Multiverse. Readers shared in Captain Carrot's anguish over being the only survivor of his universe and cheered when Titans past and present came together at the end of the world. These books dealt with the fallout from the mini-series and provided a more comprehensive look at the DC Universe. In addition, DC published a series of one-shots called 
Tales From the Dark Multiverse
, where popular DC events such as 
War of the Gods 
and 
Hush 
were retold from a darker, harsher perspective, many of them involving the heroes losing a key battle.