The Baghdad International Book Fair has been suspended owing to a sandstorm
on
May 24, 2022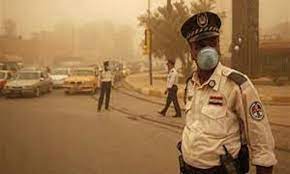 The running 23rd International Book Fair in Iraq's capital Baghdad was halted on Monday owing to a severe dust storm.
According to Alaa Hassan of the exhibition media office, the book fair, which began on May 19, has drawn more than 100 local and foreign exhibitors, including publishing firms from 21 countries.
The exhibition has drawn a large crowd since many Iraqis feel it is a fantastic opportunity to get appropriate books from a variety of sources.
During the book fair, several artistic and cultural activities, as well as seminars in other subjects, are organized with the involvement of cultural, art, and political personalities.
Hassan stated that the exhibition will be extended to May 29 instead of May 28 to compensate for the Monday stoppage.
Adel al-Ghurairi, a lecturer at Baghdad University's College of Media, told Xinhua that the book fair is a way to strengthen Iraq's cultural movement and encourage people to read more.
The dust storm on Monday is one of several large sandstorms that have hit Iraq as a result of climate change, a lack of plant cover, and growing desertification.