The Aspen Words Literary Awards released its shortlist for the 2022's edition
on
Mar 01, 2022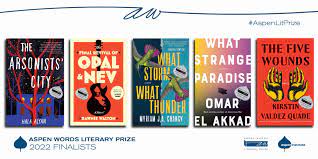 The Aspen Words Literary Prize recently released its shortlist which is a list of five books. The longlist consisting of 16 books was released in November last year. Meanwhile, the shortlist just got out on February 25th. Adrienne Brodeur, Author and Aspen Word's Executive Director revealed the list.

The Aspen Words Awards are famous for their emphasis on influential works of fiction that highlight contemporary issues and also demonstrate the influence of literature on thought and culture.

Works that are considered for this award include short stories or novels that address questions of violence, gender, inequality, immigration, environment, racism, religion, and other social issues.

The shortlist of novels includes one debut book The Final Revival of Opal and Nev written by Dawnie Walton. The prize-winning amount is 35,000 dollars which makes it one of the highest paying winning prize amounts in the American book community.

Adrienne Brodeur says "Several of these works speak to concerns in the current zeitgeist, while others remind us of disasters from the recent past that define our present and demand renewed attention."

The winner of this year's awards is to be announced on April 21.
Here is the shortlist of Aspen Words Literary Prize 2022 –

1. The Arsonists' City by Hala Alyan
2. The Final Revival of Opal and Nev by Dawnie Walton
3. The Five Wounds by Kirstin Valdez Quade
4. What Storm, What Thunder by Myriam JA Chandy
5. What Strange Paradise by Omar El Akkad

The Jury briefly described these books shortlisted.
"The Arsonists' City is the sharply drawn and compelling story of one family and the years of tenderness and betrayal that tether them to one another, but it also tells a sweeping story about the afterlife of violence, displacement, and upheaval.
As innovative in form as it is soulful in delivery, The Final Revival of Opal and Nev is a dazzling exploration of the spectacular and eerie complications of the way race, gender, and punk rock necessarily collide.

"The Five Wounds" is a gorgeous and openhearted novel full of vivid characters whose lives tell an illuminating story about addiction, self-improvement schemes, and what happens when the purveyors of social services are more invested in their own validation than in what they might promise the people who need them most.

Myriam Chancy's poignant and haunting novel, What Storm What Thunder, is a searing portrait of the earthquake of 7.0-magnitude that shook the capital of Haiti, Port-au-Prince, on January 12, 2010, leaving more than a quarter-million people dead.

Omar El Akkad's alternately dream-like and photo-realistic novel, What Strange Paradise, imagines a journey of a Syrian boy and an ark of fellow refugees. In spare, unsparing prose, El Akkad limits the callousness and kindness of his characters, lifting them off the front page and bringing them fully to life, and forcing us to respond.