Frontlist | The 21 Best New Books Including Obama's Latest Memoir
Frontlist | The 21 Best New Books Including Obama's Latest Memoir
on
Oct 27, 2020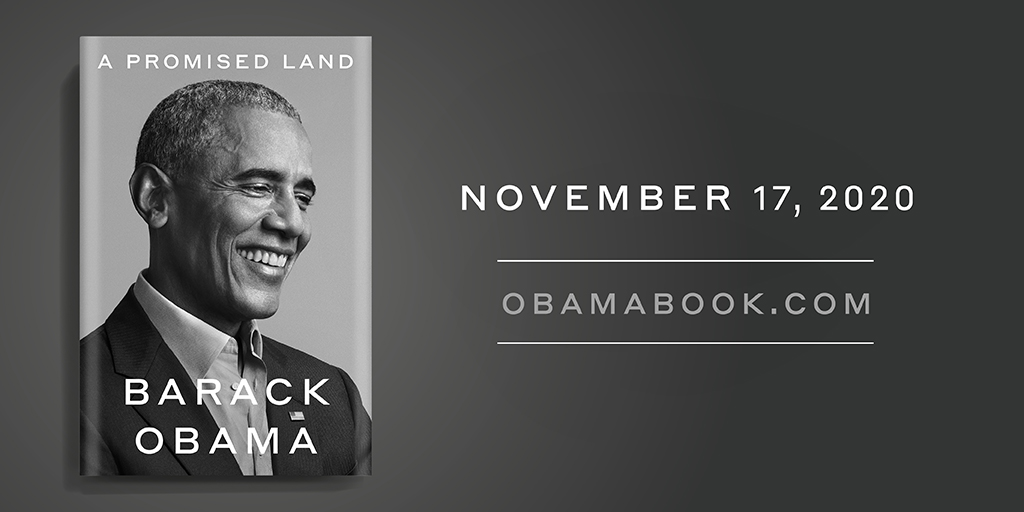 The year is winding down, but the must-read books just keep coming. This November brings the publication of former President Barack Obama's highly anticipated new memoir, a collection of thought-provoking poems by Margaret Atwood, and the latest novel from 
Gossip Girl
 scribe Cecily von Ziegesar. Add in a handful of stunning debuts, a pair of engrossing true crime stories, and a moving tale of sisters traveling through Tuscany, and it becomes clear that we're all going to need to invest in a second TBR shelf before December. Read on to discover the 21 books that you need to read this November.
Spellbreaker by Charlie N. Holmberg
If you find yourself craving a magical world every bit as rich and whimsical as the one found in the Harry Potter books, then prepare to fall in love with Charlie N. Holmberg's dazzling 
Spellbreaker
. When she's just a child, Elsie Camden learns that the world has two kinds of wizards: those who are born with magic (like her) and those who pay for it. As an adult, Elsie is the Robin Hood of the magical community, fighting against the elite even though she doesn't have a license to practice her spells. However, when she stumbles upon a dangerous mystery involving the murder of wizards, she may have to team up with a man who seems to stand for everything she's fighting against.
Collected Stories by Shirley Hazzard
Collected Stories
 by Shirley Hazzard gathers 28 of the acclaimed author's short stories together for the first time. This expansive collection combines her previous two volumes of short stories, 
Cliffs of Fall
 and 
People in Glass Houses
, alongside two previously unpublished stories and other uncollected works in one tome that's perfect for new and seasoned fans of Hazzard alike.
The Enigma Game by Elizabeth Wein
Elizabeth Wein's 
The Enigma Game
 is another engrossing World War II-set novel from the author who gave us 
Code Name Verity
. In 1940, 15-year-old Louisa Adair is searching for a way to contribute to the war effort when she takes on the job of caring for an elderly German woman in Windyedge, Scotland. At first, Louisa feels as if she should be doing something more worthy, but she soon finds herself embroiled in a code-cracking mission of epic proportions.
The Preserve by Ariel S. Winter
Full of smart commentary about the current state of America, Ariel S. Winter's 
The Preserve
 is set in a not-too-distant future after a plague led to a robot uprising. With robots now the ruling class, they set up preserves where humans can live without interference. But when a murder occurs on one of the preserves, Chief of Police Jesse Laughton will have to unravel a conspiracy if he wants to keep the robot government from shutting down the preserve experiment for good.
White Ivy by Susie Yang
Susie Yang's 
White Ivy
 is a coming-of-age tale that's packed with dark twists you won't see coming. As a child, Ivy Lin's grandmother taught her how to take the things she wanted. Now an adult, Ivy has her heart set on reconnecting with her high school crush, but a secret from her past threatens to crumble her carefully constructed facade of perfection.
The Butchers' Blessing by Ruth Gilligan
Steeped in the rich history of Ireland, 
The Butchers' Blessing
 by Ruth Gilligan is a gothic thriller about the cost of keeping traditions alive. Úna's father is one of the Butchers, a group of men of who travel around Ireland's farmlands slaughtering cattle in accordance with the ancient ways. However, not everyone supports the Butchers and their archaic methods, and when a photographer captures a violent scene, the group and Úna's life will be forever changed.
Cobble Hill by Cecily von Ziegesar
Gossip Girl
 author Cecily von Ziegesar returns to New York in her new novel, 
Cobble Hill
, but this time the focus isn't on fashionable teens. Instead, the author turns her attention to four families living in a wealthy neighborhood where secrets are as plentiful as the one-upmanship among neighbors.
Dearly by Margaret Atwood
Margaret Atwood is a master storyteller who is known for novels and short stories, but she's a poet as well. In 
Dearly
, Atwood uses poetry to delve into life's most complex issues, covering everything from the nature of love to the heartbreak of loss — and she somehow still makes time for an ode to zombies.
The Factory Witches of Lowell by C.S. Malerich
C.S. Malerich's wholly unique novel 
The Factory Witches of Lowell
 mixes witchcraft with the quest for fair wages as a group of female mill workers go on strike in Lowell, MA. This isn't the first strike that Judith Whittier has taken part in, so when she suspects the other women might waver, she enlists the help of her friend and potential first love, Hannah, to use a little magic to keep them on the picket line.
Here the Whole Time by Vitor Martins
Prepare to fall in love with Vitor Martins's 
Here the Whole Time
. The charming YA romance follows Felipe, a teen who struggles with body-image issues, as he tentatively opens up his heart to Caio, the neighbor he's had a crush on for years — and the person who will be spending 15 days in his family's apartment while Caio's parents are on vacation.
Little Threats by Emily Schultz
Emily Schultz serves up a taut thriller in Little Threats. After spending 15 years in prison for allegedly murdering her best friend, Kennedy returns home to a media circus and inescapable doubt about what really happened in the woods the night she supposedly killed her friend. With new details about the case emerging, Kennedy is beginning to question everything — including her family and their motives.