Ten spooky books to read this Halloween
on
Nov 01, 2021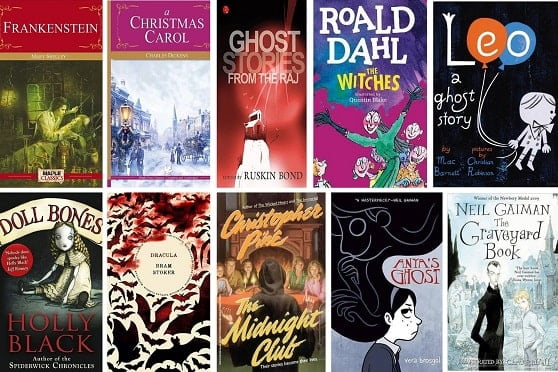 Do you love ghost stories? Is curling up with a horror read your favourite holiday activity? Then these books are perfect for you. And what better time than Halloween to catch up on this reading list
1. Frankenstein by Mary Shelly
This 1818 Gothic, sci-fi novel is about a scientist named Victor Frankenstein who instils life into a creature but it turns out to be horrible-looking. Frankenstein abandons it and it becomes a monster that goes about killing Frankenstein's own people. Where does it end? Read the book to experience the thrill, horror and complexities of human psychology.
2. A Christmas Carol by Charles Dickens
A light-hearted read, this novella is for those who don't want to feel too scared. The story is about an old miser named Ebenezer Scrooge who hates Christmas. He is visited by his business partner's spirit who tells him that he is wandering the Earth even after death, chained by greed and selfishness. He tells Scrooge that he will be visited by three Christmas spirits of the past, present and future and he must listen to them. This book is for all, from school children to elders.
3. Ghost Stories from the Raj by Ruskin Bond
The anthology of 19 short stories from British colonial India includes stories written in a combination of horror and comedy. It is again for those who like spookiness over horror. The supernatural creatures mentioned in the stories are very familiar to the ones we have often heard from our grandmothers. Ruskin Bond is not limited to any age. Anyone from nine to ninety will enjoy these short stories.
4. The Witches by Roald Dahl
This is a children's dark fantasy novel but can be an enjoyable read for everyone. The story is about an orphaned boy living with his grandmother. A child-hating society of witches has plotted to turn all children into mice and thus the little boy's grandmother tries to protect him. The story finally becomes a battle between the leader of the witches and the grandmother.
5. LEO: A Ghost Story by Mac Bernett
A heart-warming story of friendship between a ghost and a child. Leo is a ghost who likes to be friendly but is often misunderstood. When he fails to befriend the new family who moves into his home, he wanders out. He meets Jane in the outside world and their adventure together begins. This story is sure to make you go 'aww' rather than feeling eerie.
6. The Graveyard Book by Neil Gaiman
This book is another Young Adult fantasy that narrates the story of a toddler called Nobody Owens whose family has been brutally murdered. The little boy goes to the graveyard and dwells with the spirits of his family where he grows up with the freedom of the graveyard. He gets the power of being invisible, to haunt other people and to control people's dreams. The story is sure to keep you hooked till the last page.
7. Anya's Ghost by Vera Brosgol
This is a more modern-day ghost story where an unpopular girl named Anya befriends Emily, the ghost who helps her in her regular activities. The ghost helps Anya pass tests and keep an eye on her crush. Soon they become best friends and enjoy a cheerful time until Anya finds out the reality of Emily. Their friendship has to end if Anya wants to live a normal life.
8. The Midnight Club by Christopher Pike
The Midnight Club by Christopher Pike is a story of five terminally ill teenagers at a hospice. The boys and girls promise each other that the first one to die will make all possible efforts to contact the rest. The actual story begins when one of them dies. The story is a spine-chilling one and is perfect if you like a gut-wrenching experience.
9. Dracula by Bram Stoker
Halloween without a vampire story is incomplete. This epistolary novel narrates the story through letters, newspaper articles and diary notes. The story begins with a solicitor visiting Count Dracula in his castle and soon realising that he is a vampire. The vampire has only one aim, to look for new blood and for that he has to move from Transylvania to England.
10. Doll Bones by Holly Black
This story is about three children who play make-believe. They imagine pirates and mermaids, thieves and warriors. Their adventure begins when one of them starts saying that a China doll haunts her. She claims that the China doll is made up of the powdered bones of a real girl who wishes to be buried with the rest of her family. Will they be able to give her salvation?
Source : www.telegraphindia.com