Frontlist | Ten business books to inspire entrepreneurship
Frontlist | Ten business books to inspire entrepreneurship
on
Feb 18, 2021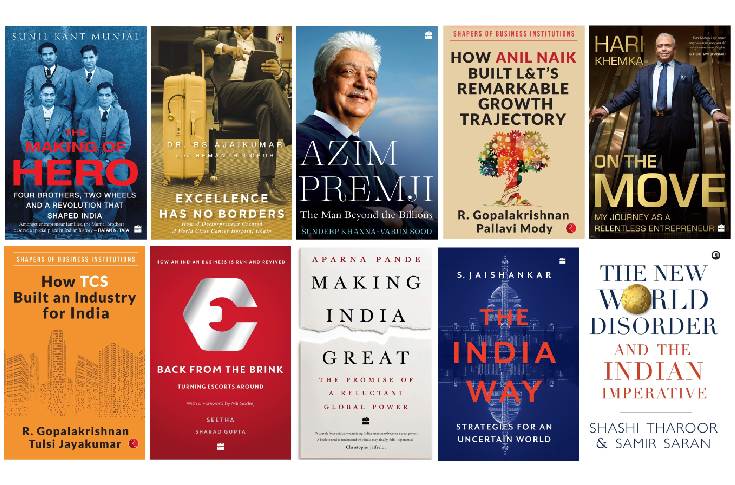 This is not a top-ten list, but ten insightful books on entrepreneurship published in a year marked by a pandemic — to remind us again the old cliché — tough times don't last, tough people do.
The Making of Hero: Four Brothers, Two Wheels and a Revolution that Shaped India by Sunil Kant Munjal: 
From the bylanes of Kamalia and the rugged landscapes of Quetta in India of the 1940s which later became Pakistan, they escaped to the Partition-ravaged cities of Amritsar, Agra, Delhi and finally settled in Ludhiana with little more than the shirts on their backs. From here, four of the six Munjal brothers built their business, part by part. There was no grand vision of building a world-scale enterprise; their aim was simply to survive and provide for their families. Hero began with trading in and then manufacturing bicycle parts, evolved into bicycles, mopeds, automotive parts, motorcycles and scooters, and today the restructured group also encompasses service businesses and infrastructure. In 1986, thirty years after its inception, Hero Cycles became the largest bicycle maker in the world. In the next fifteen years, the motorcycle venture Hero Honda also became the largest in the world. This is an authentic 'Make in India' story about overcoming many odds: labyrinthine red tape, tepid economic growth and later, global competition. It follows the lives and times of the four Munjal brothers who lived together and scripted a dramatic revolution on two wheels without any formal education or resources.
Excellence Has No Borders: How a Doctorpreneur created a World-Class Cancer Hospital Chain by BS Ajaikumar
: As a fledgling doctor, what would you choose: practising medicine in rural India or going abroad in search of financial security? How would you face the people who depend on you if your wealth is wiped out in the stock market? How would you pursue a dream project, knowing the many challenges that lie ahead? In this book, Dr BS Ajaikumar, an oncologist, answers these questions in an inspiring and fascinating narrative. He details how he has made cancer treatment accessible to all and created a chain of world-class cancer hospitals across India. Providing a captivating account of his entrepreneurial journey, Dr Ajaikumar recounts the challenges and successes on the path to becoming a doctorpreneur. The book, containing lessons from his life, shows how tenacity, hard work and self-confidence can go a long way in achieving the unimaginable.
Azim Premji: The Man Beyond the Billions by Sundeep Khanna and Varun Sood: 
For over five decades, Azim Hasham Premji has been one of the trailblazers of India Inc. Taking over his family business of vegetable oils at 21, he built one of India's most successful software companies along with a multi-billion-dollar conglomerate. As of 2019, he was the tenth richest person in India, with an estimated net worth of USD 7.2 billion. Yet, the one facet of the man which has overshadowed even his business achievements is his altruism. His commitment to the Azim Premji Foundation, a non-profit focused on education, totals around USD 21 billion, making him one of the world's top philanthropists. The book shows how Premji is a philanthropist at heart and a businessman by choice — a man who wanted to give away his billions but realised early enough that he would first have to earn them.
How Anil Naik Built L&T's Remarkable Growth Trajectory by R Gopalakrishnan and Pallavi Mody
: How is a 'shaper' different from a manager and a business leader? A shaper operates with a long-term vision and successfully changes the trajectory of the company to make it future-ready, in the way Anil Naik shaped the future of Larsen & Toubro (L&T). The narrative traces the spectacular five-decade-long journey of Anil Naik as a junior engineer from the shop floor to the position of MD, CEO and chairman. The story traverses through the parallel life journeys of L&T and Naik and witnesses their trials and tribulations. Naik built the growth trajectory of L&T on the foundation of 'value creation' and transformed the company into an agile and competitive business conglomerate. Based on a series of personal interviews with Naik and his team, the book explores Naik's mindset and actions that transformed L&T into a leading Indian MNC with a global footprint in fields as diverse as defence, nuclear power and aerospace to financial services, IT and engineering services. The book reveals 'The Naik Way'—new theories of leadership and management as a catalyst to growth.
On the Move: My Journey as a Relentless Entrepreneur by Hari Khemka: 
Every entrepreneur's story is different; each follows a unique path to success. Even so, Hari Khemka stands out, because of the sheer range of his entrepreneurship. From textiles to paper to household goods to steel to IT (hardware and software) to real estate to sound technology to surveillance equipment, he's 'been there and done that'. A one-man army, he always stays ahead of the curve, finding newer and ever more profitable paths. Accurately reading markets and entering and exiting at the right moment, today he dominates the field of security and surveillance through his flagship company, CP Plus. 
On the Move
 is Hari Khemka's account of his personal and professional life, peppered with anecdotes of his business triumphs and failures.
How TCS built an industry for India by R Gopalakrishnan and Tulsi Jayakumar:
 What makes some organisations long-lasting? How come some chart a new course which others like to follow? Does this characterise them as 'business institutions' rather than merely 'good companies'? How do two business leaders with radically different management styles embed values and practices into the sinews of a corporation through their thoughts and actions? These are some vital questions for India's economic growth that find resonance in the incredible journey of India's largest software exporter, Tata Consultancy Services (TCS). The narrative relives the highs and lows in the life of this multi-billion dollar enterprise, as seen through the eyes of its architects — Faqir Chand Kohli (96), the founder, and his successor, S Ramadorai (75). Between them, they spent 40 years making TCS an admirable industry leader and a corporation with agility, innovation and scale.
Back from the Brink: Turning Escorts Around by Seetha and Sharad Gupta: 
The Escorts Group, one of India's iconic business houses, has seen its fair share of major setbacks. Founded in Lahore in 1944, Escorts was first a victim of Partition. In 1960, it set up its manufacturing base in Faridabad, and over the years was associated with leading global players such as Ford, JCB and Yamaha. The Rajdoot bikes it produced were a rage in the 1980s. But the same decade also witnessed a hostile takeover bid by Lord Swraj Paul. No crisis, though, compared with the downturn that followed the economic liberalisation of 1991, with the group exiting several of its business. At one point, the financial crisis was so deep that power supply to its office was cut off for non-payment of bills. From then to now, Escorts has seen a remarkable turnaround, led by Rajan Nanda and his son Nikhil. 
Back from the Brink
 is the story of how Escorts was turned around — an eye-opening account of management, with crucial lessons for practitioners, professionals and students looking to understand how a quintessentially Indian company is run and revived.
Making India Great: The Promise of a Reluctant Global Power by Aparna Pande
: India will be the world's most populous country by 2024 and its third largest economy by 2028. But the size of our population and a sense of historical greatness alone are insufficient to guarantee we will fulfil our ambition to become a global power. Our approach to realise this vision needs more than just planning for economic growth. It requires a shift in attitudes. The book examines the challenges we face in the areas of social, economic, military and foreign policy and strategy. She points to the dichotomy that lies at the heart of the nation: our belief in becoming a global power and the reluctance to implement policies and take actions that would help us achieve that goal. The New India holds all the promise of greatness many of its citizens dream of. Can it become a reality? The book delves into this question.
The India Way: Strategies for an Uncertain World by S Jaishankar: 
The decade from the 2008 global financial crisis to the 2020 coronavirus pandemic has seen a real transformation of the world order. The very nature of international relations and its rules are changing before our eyes. For India, this means optimal relationships with all the major powers to best advance its goals. It also requires a bolder and non-reciprocal approach to its neighbourhood. A global footprint is now in the making that leverages India's greater capability and relevance, as well as its unique diaspora. This era of global upheaval entails greater expectations from India, putting it on the path to becoming a leading power. In this book, S Jaishankar, minister of external affairs, analyses these challenges and spells out possible policy responses.
The New World Disorder and the Indian Imperative by Shashi Tharoor and Samir Saran
: The world is in a state of disorder. As we approach the end of the second decade of the twenty-first century, all about us is chaos. The rise of the East is viewed with scepticism and fear by the West. The international liberal order is facing a moment of crisis. With Darwinism (or the survival of the strongest and fittest) having guided the construction and management of international systems of governance for seven decades, it is no surprise that as sweeping change overtakes the world. Globalisation is confronted by economic nationalism. A zero-sum approach to development and the securitisation of growth are creating new potential for conflict at a time when the institutions of global governance are weaker than ever before. This book is a major study of this new world order. In tracing the roots of our current predicaments to the inequity of the post-war international structure, it explains the situation that obtains at present. The book identifies the new actors and ideas that will emerge from the remnants of the old dispensation to script the architecture of the twenty-first century. Read More:
Schools Can Open at all Levels if Covid Guidelines Followed Strictly
Source: Print Week