Telangana can emerge as a hub of AI skills
Telangana can emerge as a hub of AI skills
on
Apr 08, 2021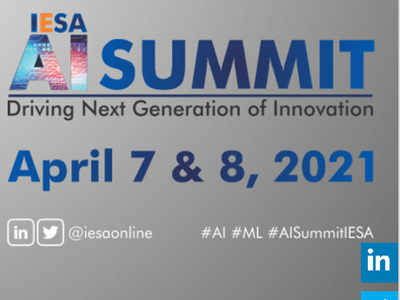 HYDERABAD: Telangana can emerge as a hub for
Artificial Intelligence (AI)
talent due to various initiatives of the state-run Telangana Academy for Skill and Knowledge (TASK) as well as other educational institutions in the state such as JNTU, IIT-Hyderabad as well as IIIT Hyderabad, Jayesh Ranjan, principal secretary, IT & industries, Telangana, said while addressing participants virtually at the IESA AI Summit 2021 on Wednesday. He pointed out that AI has become important for all sectors and is slated to play an important role in the post-Covid economic recovery in India. However, the only factor that could impact the growth of AI is the lack of adequate skills and the state government has been working with various public as well as private institutions to build a strong AI skills base in the state, he said. Ranjan said that AI will offer opportunities not only for researchers but even for the ones with a minimum level of education because with adequate training they will be able to work in the area of data cleaning jobs.
Read | The Best Comedy Books of 2021 (So Far)
Along with developing skills, the state government is also looking at providing high performance computing (HPC) infrastructure along with private partners to boost the AI research area. It has installed HPC in IIT Hyderabad and JNTU and in the case of JNTU, it is working with the institute to make it available for everyone. He said that Telangana has taken the lead in being the first state in the country to develop a dedicated AI framework and had declared 2020 as the year of AI, as part of which it had carried out various activities. In the middle of the pandemic outbreak last year, the state government used an AI-based predictive analysis tool, which was put together by a Nasscom-based consortium, for Covid management, he said. "It would give us a warning 15 days in advance about the new Covid hotspots… so, we could move equipment such as ventilators there and ensure that fatalities remain low," he added. Besides, he said that the state government is working on various use-cases of using AI in agriculture with a potential of augmenting farmers' income.
Source: timesofindia