Frontlist | TAISI virtual event: Impact of architectural designs on learning
Frontlist | TAISI virtual event: Impact of architectural designs on learning
on
Feb 10, 2021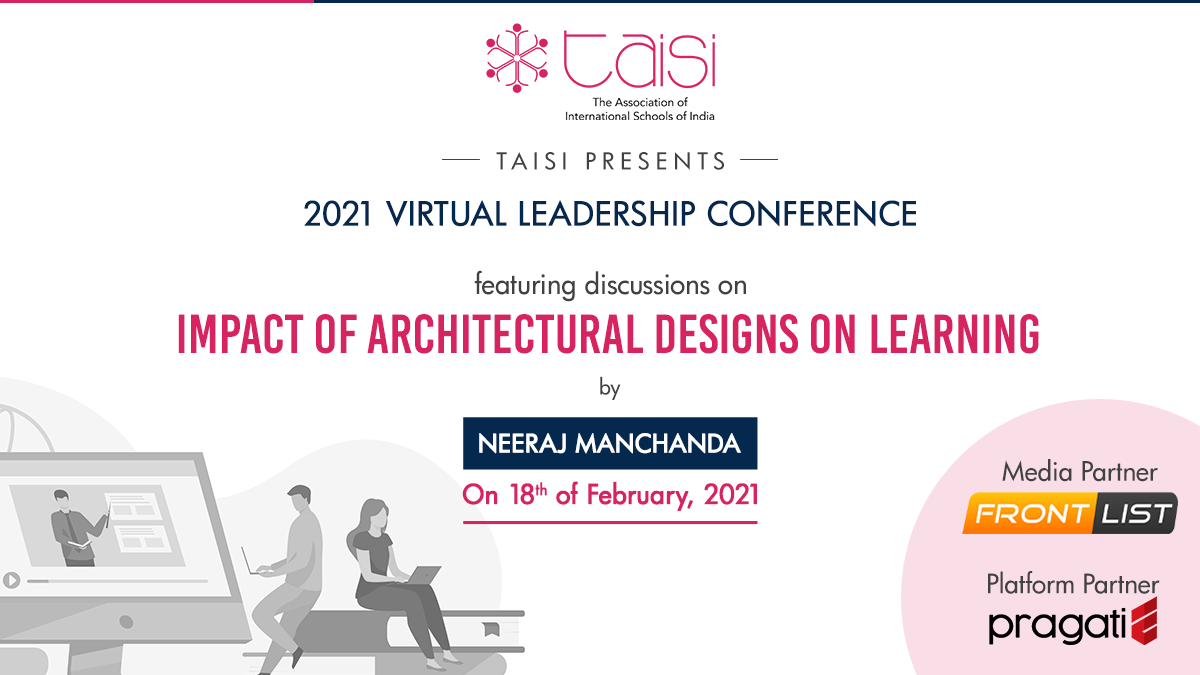 The Association of International Schools of India - India's first professional development platform for international schools is back with its coveted annual leadership conference. This year's conference is going online, being hosted at the virtual exhibition platform - pragatiE.
TAISI Virtual Leadership Conference will focus on the theme - Diversity in Education. Speakers from all over the world will share their thoughts, building models and examples to explore a truly diverse educational ecosystem and direction that may be the best way forward.
Read More:
Must attend TAISI Annual Leadership Conference this February
PRE-CONFERENCE PROGRAMME
The Annual Leadership Conference 2021 will hold a pre-conference event for three days. This will host IB, mid-level leadership, Cambridge and NEASC seminars. These seminars will be held from February 15th to 17th, 12:00-6:00 pm. There will be networking breaks in between for attendees to meet with each other.
The pre-conference will discuss -
Supporting IB schools by Stuart Jones
This 45 min session by Stuart Jones will talk about how the IB world schools department is supporting IB schools across India through these challenging times.
Understanding leadership by Margaret Alvarez
A 3 day programme to understand leadership from its core.
The first day begins with an introduction to the capabilities & intelligences, core themes & leadership processes that are considered to be most supportive of effective leadership in a range of IB contexts.
The second day aims to develop an investigative mindset, become more inquiry-based and reflective practitioners while modelling lifelong learning.
On the final day, action research will be introduced to help identify major issues that leaders may face, while planning possible responses that reflect an awareness of local context. Participants will be encouraged to develop and articulate a deeper understanding of their own philosophy, and draft a personal philosophy statement.
Developing middle leadership program by Dr. Helen Kelly
This 2 day workshop led by Dr. Helen Kelly will teach how to deepen understanding of the role in leading and increase our ability to lead, manage and develop confidence in having difficult conversations. This plans our own personal leadership development.
NEASC by Jeff Bradley
The 2 day session on Accreditation by NEASC (New England Association of Schools & Colleges) is for anyone interested in learning more about how NEASC has redesigned the school review process with the future in mind. Schools on the NEASC journey are introduced to compliance-oriented Foundation Standards before engaging in deeper explorations. This inspires rich conversations about impactful learning in each school's context both now and into the future.
TAISI
has been restlessly working to develop a strategy to promote diversity, inclusion, and equity throughout their member schools, most notably in ways that create impact among students - the ultimate beneficiaries. Join them on this year's virtual learning journey to find answers to some of the important questions related to Diversity in Education! The conference is relevant to all schools, regardless of the curriculum they follow!