Stratford Literary Festival Announces Spring Festival Line-Up
Stratford Literary Festival Announces Spring Festival Line-Up
on
Apr 05, 2021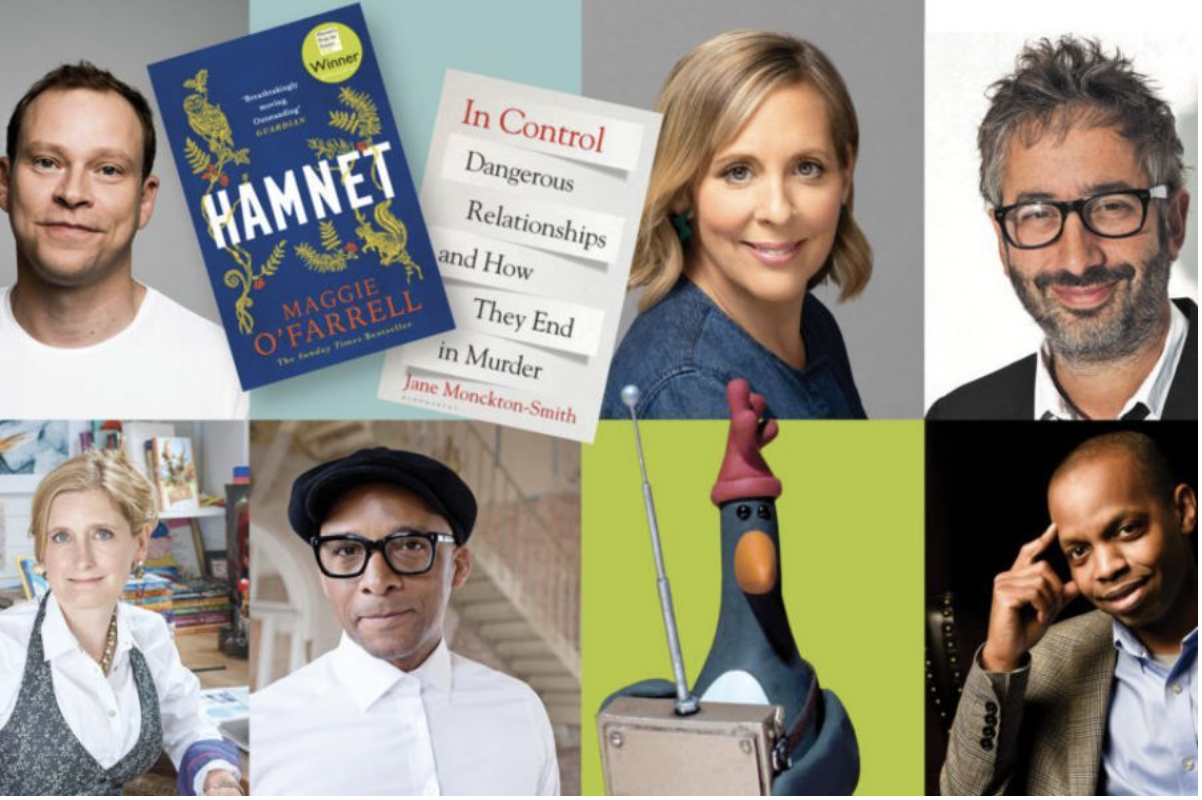 The Stratford Literary Festival has announced its sparkling Spring Festival line-up with a mix of digital and live events as Government restrictions begin to ease. The Festival, which runs from 8
th
 to 16
th
 May, will feature pre-recorded events, live and interactive online streaming, and in-person workshops, adhering to Covid-19 safety guidelines, the following week. Major headliners will feature across the Festival including the winner of the Women's Prize for Fiction, 
Maggie O'Farrell
, discussing her latest novel 
Hamnet
 and the central role  Stratford-upon-Avon plays in the story, and Women's Prize founder, 
Kate Mosse
, will also be discussing her latest novel 
The City of Tears
. Presenter of BBC's hugely popular 
The Repair Shop
, 
Jay Blades
, discusses his inspirational memoir 
Making It
 and 
Nick Crane
, presenter of 
Coast
 and 
Great British Journeys
, recounts the extraordinary 18
th
 century expedition to discover the shape of the world. The Yorkshire Vet, 
Julian Norton
, shares the challenges and hilarity of working with animals revealed in his new book 
All Creatures,
 and the Poet Laureate, 
Simon Armitage,
 will be reading from his latest collection. On the lighter side, the programme includes several comedians. Writer and former 
Bake Off
 presenter, 
Mel Giedroyc
, introduces her deliciously warm and funny first novel, 
The Best Things
, and 
David Baddiel
 talks to Edward Stourton about the failures of identity politics outlined in his new book 
Jews Don't Count
. One half of the 
Peep Show
 comedy duo, 
Robert Webb
 discusses his fiction debut 
Come Again
 which follows the huge success of his memoir 
How Not to Be a Boy.
The Festival will explore a variety of current issues this year with several extremely topical events. 
Penguin
 will be showcasing their new 
Black Britain: Writing Back
 series and celebrating three authors, 
Jacqueline Roy, Judith Bryan, 
and
 Nicola Williams
, whose novels have been overlooked until now. In the wake of the Sarah Everard case, women's voices are also central to the line-up this year. MP 
Jess Phillips 
will be discussing domestic violence with 
Jane Monckton Smith
, while journalists 
Mary Ann Sieghart
 and
 Annabelle Williams
 ask why women are still struggling for equality in the workplace. On the other side of the gender debate, 
Martin Robinson
 and 
Johnny Benjamin 
will consider the crisis in men's mental health and why suicide is the biggest killer of men under 45. Needless to say, it's been a difficult year to bring out your first book, so the Festival is celebrating debut authors with a number of events this year. Publisher 
Quercus and Riverrun
 will be presenting two 
debut panels
: one representing the best of their Spring fiction debuts and another showcasing what the US has to offer. Plus, representing the best of British, 
Catherine Menon 
and 
Neema Shah
 discuss their historical fiction debuts around family secrets. During lockdown many of us have turned to gardening and pets and gardens for comfort and legendary and multi award-winning garden designer, 
Arabella Lennox Boyd
, will reflect on the gardens she's admired most over her career, while the dogfather himself, 
Graeme Hall
, will be answering questions on how to train your pooch. And, although many of us have been forced to stay local this year, the Festival thinks global with BBC US Reporter, 
Nick Bryant
 trying to make sense of the divisions carving up the US, and former Sky News Diplomatic Editor, 
Tim Marshall
, exploring geopolitics in 
The
Power of Geography
, the follow up to his best-selling 
Prisoners of Geography
. For those who love a good thriller, BBC Security Correspondent, 
Frank Gardner
, will be discussing his latest novel 
Outbreak,
 and leading psychologist 
Thomas Erikson
 takes us inside the mind of a psychopath and will ask what personality we are. Leading writer and evolutionary biologist, 
Richard Dawkins
, will look back over the best science writing of a generation, or professional futurist 
Tracy Follows 
provides insight into how technology and global brands will affect our personal identities. Also, after a year glued to our screens and living in the virtual world, BBC Technology Reporter, 
Rory Cellan Jones
, explores how the smartphone has already and will evolve to rule our lives. Fiction features strongly on the programme with acclaimed author 
Sally Bayley 
sharing her Shakespearean-inspired memoir, 
Kate Mosse
 and 
Josh Cohen
 discuss what life lessons we can learn from our favourite characters in fiction, and 
Caroline Lea
 and 
Alan Judd
 will talk about how far a novelist should fictionalise when a story is based on real people and events. Committed to supporting emerging writers, the Festival will be holding live 
creative writing workshops
 with Caroline Lea, tutor at the University of Warwick and Sally Bayley, tutor at the University of Oxford, in the week of 17
th
 May once restrictions permit. As always there will be many events on offer for families too. Children's Laureate 
Cressida Cowell, Sir Michael Morpurgo, 
and
 Liz Pichon
, amongst others, will be sharing their latest books and author
 Christopher Lloyd
 will be running a Family Quiz to challenge old and young minds alike. The Family programme also includes storytelling through drama and the Festival rounds off with the return of the brilliant 
Aardman
 team for clay modelling classes. Many festival favourites will be back including a local writers' showcase, the annual Festival Book Club featuring 
The One Hundred Years of Lennie and Margot
 by Marianne Cronin (with free copies for the first 20 to book), and the – online - General Knowledge Quiz with the chance to win a bottle of the Poet Laureate's sherry donated by Simon Armitage! The Festival is partnering with Kenilworth Books so audiences can buy a signed copy after each event. 'The Festival is very steeped in Stratford and, with so many events and performances not able to go ahead because of Covid, we are very pleased to be able to bring such a varied offering for everyone, and to be able to hold live events for the first time in months.' says 
Festival Director Annie Ashworth
. 'We've been busy all year with online events and a free resource for children home learning, but we've been looking forward to staging the May Festival and to giving everyone something to look forward to.' Source: https://ftnnews.com/