Star Wars Announces 4 New High Republic Books
Star Wars Announces 4 New High Republic Books
on
Apr 13, 2021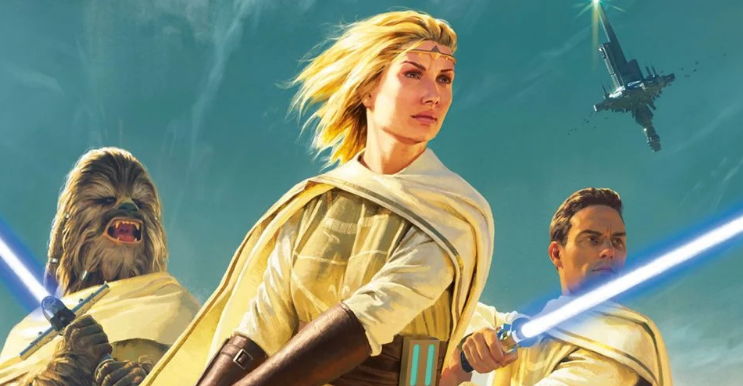 Star Wars has announced four new books for their High Republic line. The High Republic was first announced in 2019 and the first book,
Light of the Jedi
 by Charles Soule, was published on January 5, 2021, and became a New York Times Best Seller. The book led to a multi-part story that spanned multiple books and comics. The story takes place 200 years before the events of 
The Phantom Menace
 and is kicked off by The Great Disaster, where a ship is destroyed while traveling through hyperspace and the debris threatens to destroy an entire planet. The series highlights the expansion of the Republic into the Outer Rim territories with the Jedi in their prime and the emergence of a new threat, a set of space Vikings called The Nihil. Since 
Light of the Jedi
, the series has published three novels:
 Into the Dark
, 
A Test of Courage
, and
 The Great Jedi Rescue
. According to Slashfilm, new details have been given about the release dates on the next wave of 
Star Wars
 novels set during The High Republic. Dubbed Wave II, the flagship novel, 
The Rising Storm
 by Cavan Scott, is a sequel to 
Light of the Jedi
 and will hit shelves on June 29, 2021. 
Race to Crashpoint Tower
, a middle-grade novel by Daniel José Older and artist Petur Antonsson, will also arrive on June 29. 
Out of the Shadows
 by Justina Ireland, a young-adult novel, will be out on July 22. Lastly, 
Showdown at the Fair
, an 8x8 storybook by George Mann, focuses on the Wookie Jedi Burryaga Agaburry, and will hit bookstores on October 5, 2021.
The next wave of stories will be building off the previous line and start to feature various characters from other books interacting. 
Out of the Shadows
 will be a crossover story between the character, Vernestra Rwoh, who was introduced in Justina' Ireland's book, 
Test of Courage
, and Reath Silas from the novel 
Into the Dark
. With the news that the upcoming series, 
The Acolyte
, will take place at the end of The High Republic Era, there is a chance that characters or plotlines introduced in these stories will make their way into that story. Currently, the only 
Star Wars
 productions currently set to air in 2021 are 
Star Wars: The Bad Batch
, premiering on May 4, and 
The Book of Boba Fett
, which is set to air in December 2021. Since the launch in the first week of January, The High Republic makes up a majority of the 
Star Wars
 material for fans to enjoy this year before the slew of upcoming programming coming to Disney+ in 2022. Much like 
The Clone Wars
, 
Rebels
, the prequel trilogy, and the sequel trilogy, The High Republic books have been the entry point for new fans into a galaxy far far away.
Source:  https://screenrant.com/