Shortlists for the 2022 Alberta Book Publishing Awards released
on
Jun 22, 2022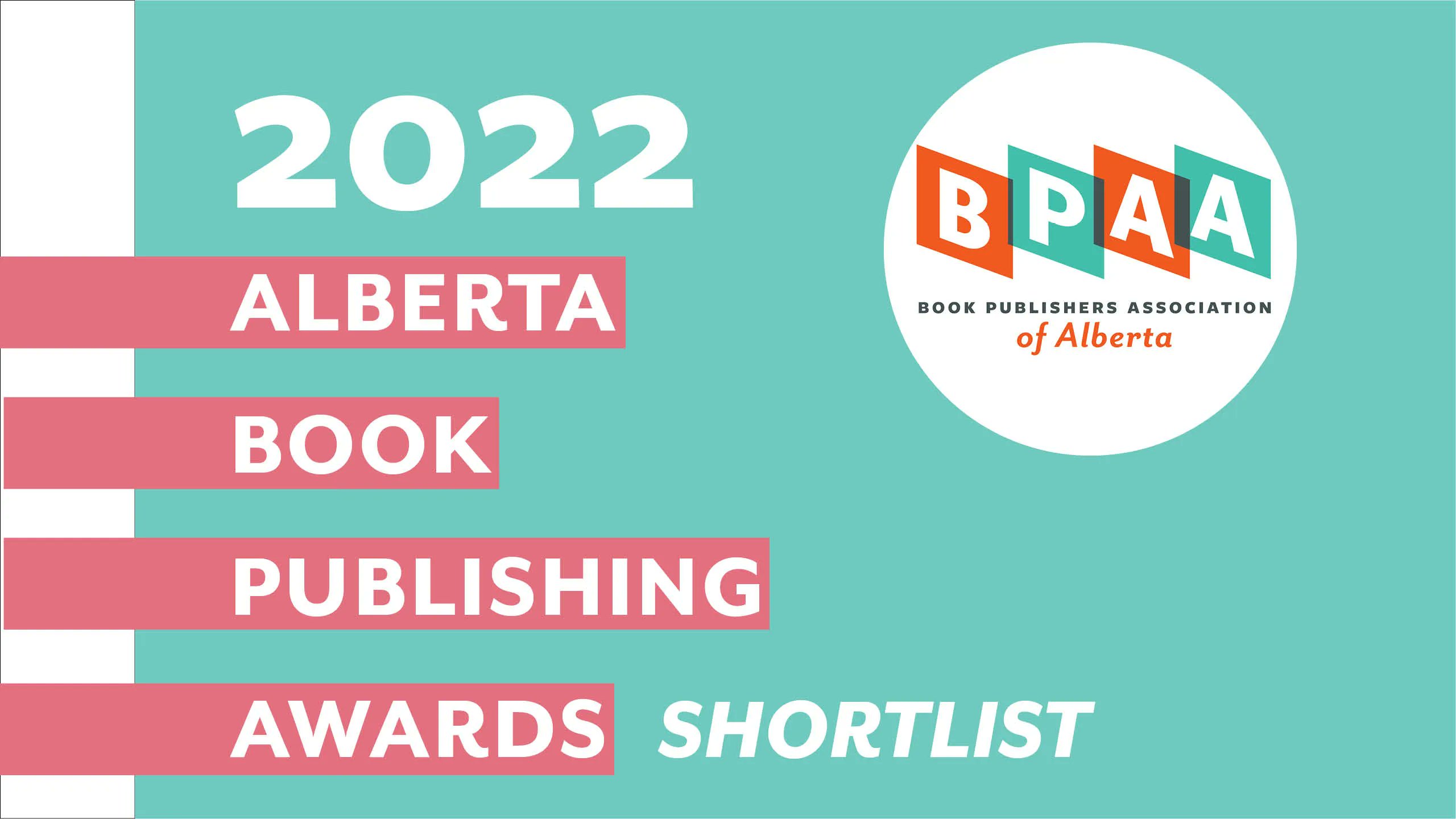 The Book Publishers Association of Alberta has released the shortlists for the 2022 Alberta Book Publishing Awards (BPAA).
This year marks the inaugural year of the renamed Douglas Barbour Award for Speculative Fiction (previously the Speculative Fiction Book of the Year Award).
The winners of the Children's & Young Adult Book of the Year, Emerging Publisher of the Year Award, and Lifetime Achievement in Publishing Award will be announced at the awards banquet, in addition to the winners of the categories listed below.
The gala reception, which is open to the public, will take place on September 16 in Calgary.
Learning Book of the Year
Dying in Good Hands: Palliative Massage and the Power of Touch by Christine Sutherland (Brush Education)
Ethics for the Practice of Psychology in Canada, Third Edition by Derek Truscott and Kenneth H. Crook (University of Alberta Press)
Introduction to Early Childhood Education and Care: An Intercultural Perspective by Carole Massing and Mary Lynne Matheson (Brush Education)
Trade Non-Fiction Book of the Year
Big Reader by Susan Olding (Freehand Books)
Bucking Conservatism edited by Leon Crane Bear, Larry Hannant, and Karissa Robyn Patton (Athabasca University Press)
Impact: Women Writing After Concussion edited by E. D. Morin and Jane Cawthorne (University of Alberta Press)
On Foot to Canterbury: A Son's Pilgrimage by Ken Haigh (University of Alberta Press)
This Strange Visible Air: Essays on Aging and the Writing Life by Sharon Butala (Freehand Books)
Trade Fiction Book of the Year
A Brief View From the Coastal Suite by Karen Hofmann (NeWest Press)
Happy Sands by Barb Howard (University of Calgary Press)
The Prairie Chicken Dance Tour by Dawn Dumont (Freehand Books)
Unlocking by Amy LeBlanc (University of Calgary Press)
Douglas Barbour Award for Speculative Fiction
Seasons Between Us: Tales of Identities and Memories edited by Susan Forest and Lucas K. Law (Laksa Media Groups Inc.)
Tying the Knot by E.C. Bell (Tyche Books )
Water: Selkies, Sirens, and Sea Monster edited by Rhonda Parrish (Tyche Books )
Robert Kroetsch Award for Poetry
A Selected History of Soul Speak by Andrea Thompson (Frontenac House)
Bearmen Descend Upon Gimli by D.A. Lockhart (Frontenac House)
Tell the Birds Your Body Is Not a Gun by Rayanne Haines (Frontenac House)
The Bad Wife by Micheline Maylor (University of Alberta Press)
Graphic Novel of the Year
Genghis Con by Yi-Sung Oliver Ho, Daniel Reynolds; Chris Peterson and Ruth Redmond, ill. (Renegade Arts Entertainment)
Hell's Flaw by Lovern Kindzierski and John Bolton, ill. (Renegade Arts Entertainment)
Pass Me By: Electric Vice by Kat Simmers & Ryan Danny Owen; Kat Simmers, ill. (Renegade Arts Entertainment)
Scholarly & Academic Book of the Year
Appealing Because He Is Appalling: Black Masculinities, Colonialism, and Erotic Racism edited by Tamari Kitossa (University of Alberta Press)
Indigenous Women and Street Gangs: Survivance Narratives by Amber, Bev, Chantel, Jazmyne, Faith, Jorgina, and Robert Henry (University of Alberta Press)
Regime of Obstruction: How Corporate Power Blocks Energy Democracy edited by William K. Carroll (Athabasca University Press)
Regional Book of the Year
Bucking Conservatism edited by Leon Crane Bear, Larry Hannant, and Karissa Robyn Patton (Athabasca University Press)
Coconut by Nisha Patel (NeWest Press)
Sustainability Matters: Prospects for a Just Transition in Calgary, Canada's Petro-City by Noel Keough with Geoff Ghitter (University of Calgary Press)
Book Cover Design
Deriving by Jennifer Bowering Delisle; design by Alan Brownoff (University of Alberta Press)
Impact: Women Writing After Concussion by E. D. Morin and Jane Cawthorne; design by Alan Brownoff (Athabasca University Press)
Last Tide by Andy Zuliani; design by Kate Hargreaves/CorusKate Design (NeWest Press)
Plastic Legacies: Pollution, Persistence, and Politics edited by Trisia Farrelly, Sy Taffel, and Ian Shaw; design by Derek Thornton (Athabasca University Press)
The Party Is Here by Georgina Beaty; design by Natalie Olsen/Kisscut Design (Freehand Books)
Book Illustration
Alberta Blue by Pat Hatherly and Jesse Horne, ill. (Red Barn Books)
Pass Me By: Electric Vice by Kat Simmers & Ryan Danny Owen; Kat Simmers, ill. (Renegade Arts Entertainment)
The River Troll: A Story About Love by Rich Théroux (Durvile & UpRoute Books)
Book Design
Coconut by Nisha Patel; designed by Natalie Olsen/Kisscut Design (NeWest Press)
Great Adventures for the Faint of Heart by Cary Fagan; designed by Natalie Olsen/Kisscut Design (Freehand Books)
On Foot to Canterbury: A Son's Pilgrimage by Ken Haigh; designed by Alan Brownoff (University of Alberta Press)
rump + flank by Carol Harvey Steski; designed by Natalie Olsen/Kisscut Design (NeWest Press)
Situating Design in Alberta edited by Isabel Prochner and Tim Antoniuk; designed by Alan Brownoff (University of Alberta Press)