Ruskin Bond shares the secrets for writing
on
Aug 10, 2022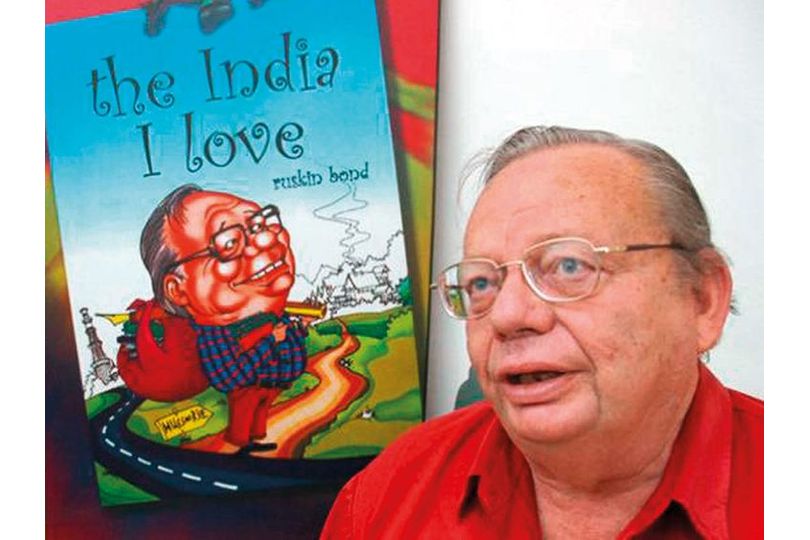 Ruskin Bond, India's most read writer, has penned more than 500 short stories and over 50 books for children, shares the secret of writings for today's generation as well as various memorable anecdotes of his life.
When asked about him being related to James Bond, the award-wining author guffawed in delight, clearly tickled by the question. 'Several years back, when James Bond was all the rage, people would often ask me if I was related to him in any way, and I'd say I was not,' he says, the mirth in his voice palpable in a telephone interview from his home in Mussoorie.
Nevertheless, he revealed that he did have an uncle named James Bond but was a dentist, not a secret agent. The uncle passed away in the 1930s and was buried in Mussoorie itself.
'His grave is still here,' said the author adding, not without a tinge of pride, 'I wrote an epitaph for him. It reads: 'Stranger, approach this spot with gravity; James Bond is filling his last cavity.'
'Being a dentist I thought that would be an appropriate epitaph,' the Padma Shri and Padma Bhushan award-winner said, with a chortle.
At 88, one of Ruskin's most endearing qualities clearly is his ability to laugh easily and experience joy in the simplest of pleasures, one of them being taking walks in the mountains.
Born to a British couple in Himachal Pradesh's Kasauli, a quaint town boastinf picturesque hiking trails and snow-topped mountains, his love for mountains, too, was perhaps born here for they would become his favourite retreat while growing up and was establishing himself as a writer. So, when the time came to choose a place to settle down to write, he did not have to think twice for the call of the hills was too strong to ignore.
'Live close to nature and your spirit will not be easily broken, for you learn something of patience and resilience. You will not grow restless, and you will never feel lonely,' he wrote these words in A Book of Simple Living, which surely came straight from his heart.
Ruskin admitted that he has always nurtured a passionate bond with mountains and nature in general, and, as he said in Rain in the Mountains: 'Once you have lived with [mountains] for any length of time, you belong to them. There is no escape.'
Being single (he lives with an Indian family), there are few things that give the author more joy than walking in the countryside. 'Alone, rather than with others, because you might miss seeing a ladybird or a small flower, for instance,' he said.
Love for walking
For Ruskin, walking is more than just a way of losing himself in nature, taking time to stop and smell the flowers along the route; it is therapeutic and healing, too.
'[Initially], I often took walks because I was unhappy,' he said. 'I'd go for a walk if I was feeling lonely or if I had a problem or a quarrel at home. I'd walk on endlessly. And I must say it used to help. It definitely helped. I'd go for a walk, a lonely one, and would return feeling a bit better.'
The first time a hint of pain in his voice can be noticed was when he mentioned that lately he doesn't go on walks as much as he used to because his home town of over five decades has now become busy and congested. 'The traffic, the congestions… Nowadays, I don't walk a lot because I don't enjoy it,' he said sadly. Instead, on most days he gets a good friend to drive him to the outskirts of the town from where he sets off on foot on a less travelled trail up the mountains. 'You know, you'll never feel lonely if you live close to nature,' he said again.
Surely, it is a reason he is reluctant to even consider moving to a different city. '[Before the pandemic] I used to travel quite often to other parts of the country, but never with an intention to settle there. Having lived here for over 50 years, I am not going to change my lifestyle or place of residence dramatically. I'm always happy to travel. For a change. But I like to come back to the hills and to my home in the mountains.'
Living in the hills has also helped his career: 'It surely gave me more to write about. In fact, I never run out of ideas of what to write about.'
Benefits of a good memory
Experiences can also fuel ideas and he strongly believes in this. For him, an advantage of growing old is that it gives one more to write about. 'You have so much to look back upon. You never run out of material. Of course you need to have a good memory too,' he said, before chuckling cheerfully.
This has surely served him well with the recently published Listen to Your Heart, The Little Book of India and How To Be A Writer being a testament for his words.
Also, his another recent work Life in Landour is pretty relaxed for Ruskin, a self-admitted 'lazy fellow'.
'A lot of people think I am working all the time because, over the years, I have produced so much. And there are several more books in the works. But basically I am a lazy fellow. I hate hard work,' he said with a laugh.
Starting his day at around 8 or 9 in the morning, the first thing he does is 'write 500 words every day,' before admitting that 'today I did not do well. I wrote just 300.'
As a write, he believes authors must explore different genres and to that end, he is now trying his hand at writing limericks. 'Nonsense verse and worse,' he said, chortling at his little joke. 'It could end up as a book of rhymes for children. And, maybe, adults too.'
Apart from this, he is also writing a book for children, and one for adults, the latter 'something on the lines of telling people that life is not so bad when you get to your eighties'.
With the day's writing over, he digs into breakfast. Somedays it is parantha with a little pickle, or idli or dosa. Or bread and eggs. But 'there's nothing worse than a fried egg gone cold,' he said, repeating a line from his recent book on life lessons that he learnt.
A couple of hours checking correspondence and replying to mail later, he adjourns for lunch and then a nap. On days that he doesn't go for a walk, he reads for about three hours a day. 'I read 3 to 4 books a week. Because I am reading for pleasure, I read old favourites or crime fiction, travelogues, detective mysteries, anything.'
He admitted he is not much of a political person, nevertheless but mentioned of watchting 2 or 3 international news channels in the evening to know what is going on around the world.
He prefers hitting the pillow by 10pm. 'But last night I got reading a book and when I looked at my watch realised it was 12 o' clock, and that says something about the book.' he admitted sheepishly
A glance at the string of titles he has written would surely say something about how prolific he is. Fifty books for children, more than a hundred stories for grown-ups, three of his works made into movies and so much more.
'Not very different,' said the writer, who wrote his first book when he was just 17 after asked about whether it is difficult to write for children or adults. The Room on the Roof, a semi-autobiographical story of an orphaned Anglo-Indian boy named Rusty, bagged him the John Llewellyn Rhys Prize awarded to a British Commonwealth writer under 30.
'I don't deliberately write a book for children or adults. But yes occasionally I do write a story about children which could be suited more for children.'
While admitting that 'writing for any age is a stress', he said, 'I just write a story and it might turn out to be good for kids or for older people.
That said, when he pens stories for kids, he ensures he avoids using coarse or abusive language. 'I try to make the stories meaningful, if not all the time. You know, they must enjoy the story.'
Among other techniques he employs when writing for youngsters is aiming to get their attention right from the beginning. 'You got to get into the story very quickly otherwise they won't continue reading it. And you need to get on with it. You cannot have a lot of padding on or description.
'Young readers also like to identify with the young characters. That's important. So including young, interesting characters is important.'
Dislike for PT
Like his protagonists, Ruskin himself is quite an interesting character. 'You know, one thing I hated at school was the early morning PT [physical training] classes,' he said. Then, in an almost conspiratorial voice he added: 'I'll tell you a secret.'
The 'secret' relates to an incident that happened when he was a school boy. 'I suppose I was really wicked when I was young,' he began. 'One night I got up from bed, and went down the field to my school, removed the school bell from the place where it was hanging and rolled it down the hillside,'
'The next morning with no bell to ring to rouse students for PT, they enjoyed the free extra time they got sleeping in. 'Of course, there was chaos in school, and I had to confess to the crime. Yes, I got properly caned by the headmaster.' he added with laughter.
Any occasion that led to missing PT was an occasion for celebration. Ruskin had a word for such moments: Shazam! 'We would use that expression to describe something extraordinary that happened,' he said. 'like the school's main roof being blown away in a storm, or an explosion in the science lab caused by a leaking gas tank....' In short, anything that meant he could stay away from school.
'Looking back now, I think I was not the ideal student,' he admitted. 'Now I remember my school days with affection but at that time I was quite rebellious. When we look back of course, nostalgia creeps in over everything.'
Ruskin's aversion for PT was perhaps a reason he was not keen to join the army, although his mother was hoping he would when she packed him off to London after he graduated from high school in Shimla in the early 1950s.
'When I finished school, becoming a writer was not a fashionable choice,' he said. 'Today, there is a certain glamour to it because a writer can become a celebrity thanks to the visual media. You can become a public figure if you are successful. But 60 or 70 years back, a writer was known only by his name not by his face. So it attracted only people who were fond of writing. [But] very few actually made a living out of it.'
Pursuing a profession in writing was a gamble and a risk. 'But if I had joined the army, you would have definitely had another Beetle Bailey,' he said, laughing whole-heartedly. 'I'd be getting into trouble and making a mess of things.'
Filmy capers
After getting reminded about a mess of sorts he made while on the sets of Saat Khoon Maaf, a movie starring Priyanka Chopra that was based on his short story, Susanna's Seven Husbands, it immediately triggers another round of chortles from the writer.
'Yes, I [had a cameo in the film] and had to give Priyanka Chopra a fatherly peck on the cheek. Erm, you don't get many opportunities to kiss glamorous film stars like Priyanka Chopra on the cheek. But I did it rather clumsily.
'The director said, 'please do it again Mr Bond'. So I did it again. It was better, but apparently not perfect. So we went for a retake. And another. By the end of it all, I had seven kisses on this lady's cheek. And then the director said, 'Mr Bond, I think you are doing this deliberately'. he chortles
Towards the end, he is asked if he nurses any regrets in his illustrious life. For once, he pauses for few second before answering. 'No,' he said, 'no. I don't have major regrets.
'I think I've been lucky. But then I'm a person who has accepted life as it comes and am cheerful about it. So I'd say I'm a writer without regrets.'
There's silent for a moment, but he continued, 'Yes, I'd have liked to have had my father a little longer.' (Ruskin's father died when he was 10 years old and has often said that being with his father was the happiest moment in his life, losing him had left the author heartbroken). 'Some friends too.'
He again paused for a moment. 'Maybe my love life could have been more fulfilling,' he said a tad wistfully, but quickly regains his usual spirit of bonhomie and added, 'But by and large I have lived the life I wanted to live. I have done what I wanted to do. I have written the things I have wanted to write. So no major regrets.'
With the author nudging the nineties, the author recalls a few moments from his rich and interesting life that he fondly cherishes.
'I guess one moment was when my first novel was accepted for publication when I was 19. Another was when I returned to India [from the UK] and came to live in the hills." He said
He added, 'And now, every morning when I see the sun come up and the sun rays come to my window. I take life now one day at a time. You can't plan too far ahead, you see. Every day is a new day for me. Every morning I say 'Happy birthday world'.'