Rising demand for children's literature in the publishing industry
The face of Children's literature is constantly evolving and adapting to newer technological advancements.
on
Mar 07, 2023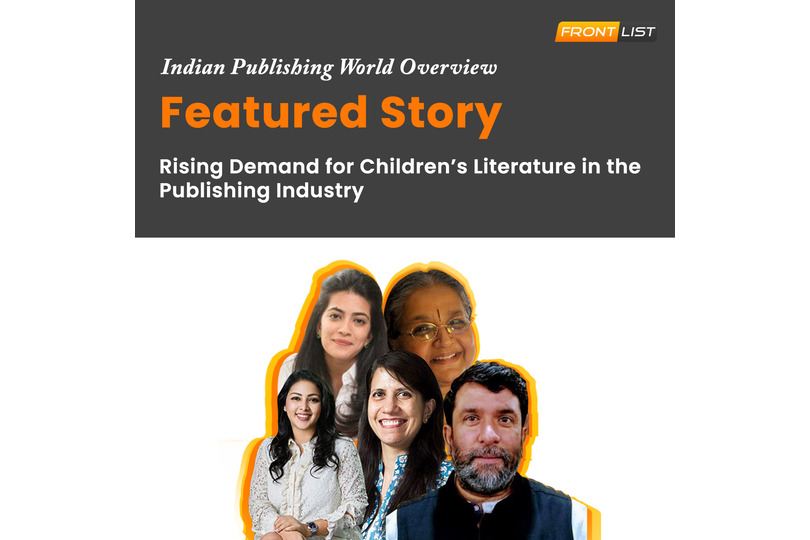 India's Children's literature universe is filled with vibrant stories, ranging from tales about the mightiest superheroes to the mystical beasts. Books have been a medium for children to learn and grow for a long time. The colorful pages of the books expand their minds to new horizons and augment their overall development.
They acquire empathy, learn values and uncover a world similar to their own and yet different. Books have the power to transform young minds, and it aids their cognitive abilities, ignites their curiosity, and enriches their vocabulary. Hence, it becomes extremely critical to expose children to good books and inculcate reading habits in them.
According to Chitwan Mittal, Publisher at Adidev Press, 'Children's literature, whether in the form of stories or poetry, has an enormous role in introducing children to aspects of their own culture. Well-produced books highlighting India's diversity, cultural practices, and traditional festivals can help kids connect with their roots meaningfully. These books can also help build knowledge and spark kids' curiosity about other cultures, which is crucial to making them global citizens. Good books can impact kids profoundly, making them more accepting, inclusive, and empathetic toward different people. Independent publishing has been a forerunner in this regard by producing books that are centered on Indian contexts and tell stories that haven't been told before.'
She adds, 'Unfortunately, so many kids in India don't have access to children's books; many organizations are helping to bridge this gap through print and digital publishing. At AdiDev Press, we're committed to putting books into children's hands and have tried to expand beyond the metros and distribute books to organizations working with underprivileged communities. Through such efforts, we can ensure children grow up with access to stories.'

Current Scenario of Children's Literature
The face of Children's literature is constantly evolving and adapting to newer technological advancements. Amar Chitra Katha and Tinkle reported that during the stressful times of the Covid-induced lockdowns, reading apps paved the way for children's literature. Parents worldwide downloaded these apps to keep the book-reading culture alive.
Digital publishing offers greater growth prospects to publishers, reducing printing costs and allowing them to produce more significant amounts of content.

Frontlist Media took the opportunity to discuss the dynamics of the world of children's literature with industry professionals.
Tina Narang, Children's Publisher of HarperCollins India, said, 'Books and stories are one of the most effective ways of making children understand their culture. Stories with relatable characters and themes introduce children to India's diverse states and regions. This makes it easier for them to understand and assimilate these differences and eventually helps them become more tolerant as they grow up.'
She further stated, 'There has been significant growth in the reading culture over the last couple of years, and the pandemic also helped fuel this change. However, accessibility to books outside the curriculum is still limited, and this area needs to be targeted. A primary step is a school library with a curated set of age-appropriate books. The next step would be to provide public, neighborhood libraries, reading spaces, and clubs for children whose schools cannot offer such facilities. There is much to be gained by introducing books and reading to children early.'

Himanshu Giri, CEO of Pratham Books, highlighted the significance of creating books in regional languages and stated, "We are acutely aware of the need for engaging storybooks for children in their mother tongue languages. While a large part of our catalog is translations of English books into 24 Indian languages, we are now working towards publishing more storybooks created and conceptualized in regional languages. We have seen firsthand the difference in engagement between a child and a storybook written in her mother tongue versus a storybook translated from a mainstream language. When characters, places, and contexts are familiar and recognizable, a child is immediately drawn into the storyline and the narrative.
We are consciously working towards nurturing ecosystems of authors, illustrators, and editors in regional languages to create a body of work that can help us reach children who have never had access to a storybook in their mother tongue."
On asking how independent publishing contributes to promoting children's literature, Sanya Podar, Founder of Daffodil Lane Books, said, "As an independent publishing house, we have recognized the importance of creating relevant and relatable books for Indian children by localizing the content to reflect Indian culture, values, and customs. It has helped create a deeper connection between young readers and their books, which can encourage a love for reading."
"Moreover, we have helped to fill the gap in the representation of diverse voices in children's literature by publishing books that showcase children's experiences from different regions, religions, and backgrounds. It has helped to create a more inclusive and diverse range of books that reflect the rich cultural heritage of India."
In response to the question of how the Lack of access to free books affects the reading culture of the nation, Radhika Menon, Publishing Director at Tulika Books, said, "Lack of free access to books is one of the most significant problems children in the lower socio-economic segment face. Very few government schools they attend have libraries, nor are there community libraries. Several non-profit organizations are working towards this cause, and Tulika Books collaborates actively with many of these initiatives."
Post-pandemic India has acquired an appetite for greater supply and demand for children's books. The parents have started acknowledging the advantages of imbibing children with reading habits. Schools and even small towns are hosting book fairs and literature festivals to help students interact with the authors and cultivate a more profound bond with books.