Home in the World By Amartya Sen :Book Review
Home in the World By Amartya Sen :Book Review
on
Jul 13, 2021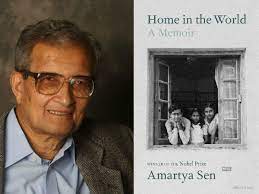 Amartya Sen's Memoir 'Home in the World' takes us on an inspiring journey that will hold every reader till the end.
From growing up in Dhaka, to being raised by his grandparents in Santiniketan, to going to Calcutta where he first studied economics, to moving to Trinity College, Cambridge, for Sen home has been many places. 
In "Home in the World" book, Sen detailed about how Rabindranath Tagore gave him his name Amartya.
As an undergraduate at Cambridge, he engaged with many of the leading figures of the day. Bengal's historic culture is well explored in the book where Sen witnessed the Bengal famine and its disastrous development. Some of Sen's family were imprisoned for their opposition to British rule: not surprisingly, the relationship between Britain and India is another main theme of the book.
Forty-five years after he first arrived at 'the Gates of Trinity', one of Britain's greatest intellectual foundations, Sen became its Master.
Tap to buy this Book:
https://bit.ly/3r68qrK