Frontlist | Real Heroes: 10 Great Comics Based On True Stories
Frontlist | Real Heroes: 10 Great Comics Based On True Stories
on
Feb 26, 2021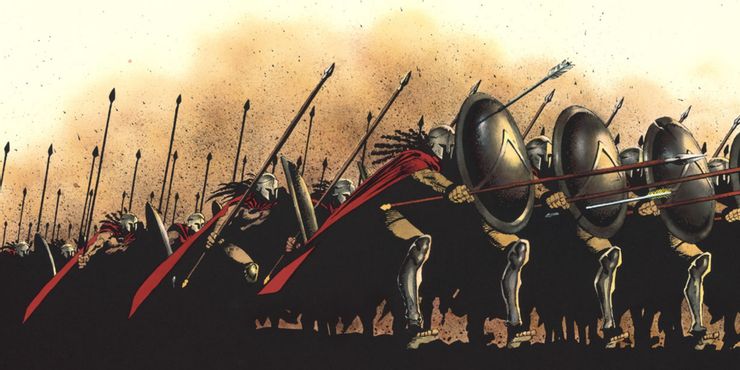 Although comic book characters often inspire real people, the same is true of the opposite, with many true stories inspiring comic heroes.
Comic books are best known for stories of heroic men and women doing fantastic things that defy the laws of physics to save the day and keep the world out of the hands of evildoers. From Superman to Invincible, the superheroes are the face of the four-color page. And while true stories that don't have the likes of Marvel's Mightiest Mutants and DC's most powerful teams may not get as much attention, they fill a much-needed spot in the history of comics. These comics based on true stories can teach us about the world in ways documentaries, autobiographies, and movies never can. From Art Spiegelman's Pulitzer Prize-winning Maus to Alan Moore and Eddie Campbell's From Hell, these comics cover everything from personal tales of triumph and loss to shocking stories of the past that should never be forgotten.
Read More:

Godzilla vs. Kong comic book prequels scheduled
March
Racial equality is a long and ongoing fight in the United States, and the three-volume series March, told from the perspective of civil rights leader and U.S. Congressman John Lewis, gives readers a chance to experience the struggle in a way never seen before. Written by Congressman Lewis and Andrew Aydin, and illustrated by Nate Powell, March focuses on the Civil Rights Movement of the 1960s, showcasing the Birmingham Church Bombing of 1963, the passing of the Civil Rights Act of 1964, and Bloody Sunday 1965. By turning his story, and the story of so many others, into a comic, Congressman Lewis opened a piece of history to new generations of readers.
They Called Us Enemy
Best known for playing Sulu on the original Star Trek, George Takai became an internet celebrity through his Twitter account, but he wanted the world to know that there was more to him than snappy jokes and memes. In They Called Us Enemy, Takai, along with writers Justin Eisinger and Steven Scott and artist Harmony Becker, tells the all too true story that he and over 100,000 Americans of Japanese origin suffered during World War II when they were sent to internment camps after being shut out from their own homes. Takai's story reveals a little-discussed part of American history, where the country let the fear of others turn into the imprisonment of innocent victims for years.
Blankets
An autobiographical graphic novel by Craig Thompson, Blankets is a coming-of-age story where Thompson shares what it is like to grow up in an Evangelical Christian family, and the fears and doubts that arise as he began to experience the human urges everyone has. Focused primarily on his first romance with a girl at a winter camp, Blankets captures the harsh realities that come with growing up and not knowing how to handle the things life throws at you along the way. For his work in Blankets, Thompson won three Harvey Awards and two Eisner Awards.
Persepolis
Created by Marjane Satrapi, Persepolis tells a true story not often seen in any form of entertainment, let alone comics. In the two-volume graphic novel, Satrapi delves into her life in 1980 as a child in Iran during the Islamic Revolution and her teen years living in a boarding house and attending high school in Vienna. Persepolis is an amazing look into two very different worlds through the lens of one person, and the culture shock that comes with living in such disparate places. Satrapi is open about the struggles she faced - both physical and mental - on her way to discovering herself.
Alice In Sunderland
While most true stories focus on the life of a person or a specific event in history, Bryan Talbot's Alice in Sunderland covers the story of an English town that was once the greatest shipbuilding port in the world and helped birth Lewis Carroll's Alice in Wonderland. Along the way, Talbot, best known for his work on Neil Gaiman's Sandman and the Eisner Award-winning The Tale of One Bad Rat, centers on the importance of a single theater in the middle of Sunderland, and how it has changed over the decades.
My Friend Dhamer
True crime is a popular subject these days. In truth, it's been a popular subject for hundreds of years, but with podcasts and Netflix documentaries, the genre has been growing leaps and bounds. And while there are plenty of ways to learn about Jeffery Dahmer, aka the Milwaukee Monster, no story is more interesting than My Friend Dahmer by John Backderf, better known as Derf. Derf was high school friends with Dahmer and knew the cannibal on a level that none of the other biographers or documentarians ever could. What Derf reveals is the story of a troubled and morbid kid from the suburbs who was unable to fight off his darkest urges and became a horrific serial killer.
Hip Hop Family Tree
Written and illustrated by Ed Piskor, Hip Hop Family Tree is a series of comics that delve into the early history of hip hop culture. So far, Piskor has covered hip hop from its origins in the 1970s up to the mid-1980s, exploring everything from DJ Kool Herc's famous parties at 1520 Sedgwick Avenue in New York that kicked everything off to the musical style's explosion into the mainstream with artists like the Beastie Boys, Dr. Dre, Salt-N-Pepa, and Hollywood's attempts to cash in on the scene with movies like Breakin', Breakin' 2: Electric Boogaloo, and Krush Groove.
It's A Bird...
In all comics, there may not be a harder job than writing Superman. The hero who kicked it all off still looms large in the minds of just about everyone in the world, and having to deal with the decades of stories and interpretations of the Man of Steel while putting your own spin on it is no easy task. But for writer Steven T. Seagle, it proved to be more than he could have thought. In the 2004 graphic novel, It's a Bird... by Seagle and artist Teddy Kristiansen, Seagle reveals the mental struggle he faced when DC Comics offered him the chance to write Superman while dealing with a disease that has haunted him and his family for generations. It's a Bird... is an honest and heartfelt look into what it must be like to try and write an immortal hero while facing your own mortality.
American Splendor
Created by Harvey Pekar and drawn by a treasure trove of great artists, American Splendor gave Pekar a way to tell the world all about his life in Cleveland and all the things he loved and hated. Pekar's cynical wit and wry humor turned him into a minor celebrity, earning him appearances on Late Night with David Letterman in the 80s and a critically acclaimed and Academy Awards nominated movie in 2003. The best-known story from Pekar's comics is undoubtedly the graphic novel Our Cancer Year, which he co-wrote with his wife Joyce Brabner and was illustrated by Frank Stack. The story follows Harvey and Joyce as they deal with Harvey's medical and mental struggle to overcome lymphoma.
300
Created by Frank Miller with colors by Lynn Varley, 300 is a visceral and beautifully rendered retelling of the Battle of Thermopylae where 300 Spartans and 700 Thespians faced off against some 150,000 Persian soldiers. Miller based his story more on the 1962 film The 300 Spartans than on what actually happened, and he takes many liberties with his representations of the Greeks and Persians, but he still captures the heart of the true story of King Leonidas and his army. Miller's 300 became the first comic book adaptation to be helmed by director Zack Snyder, who would go on to make Watchmen, Man of Steel, Batman v Superman and the four-hour version of Justice League.
Source: CBR.com