"Read at least a book in a month," said District Collector of Khammam, RV Karan!
"Read at least a book in a month," said District Collector of Khammam, RV Karan!
on
Nov 21, 2019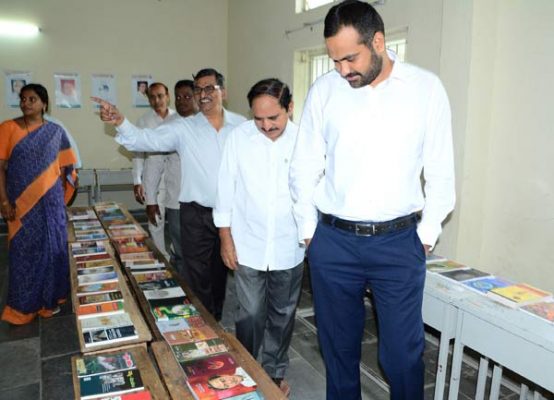 National Library Week celebrated in Khammam, Telangana. Book exhibitions have been conducted in different colleges of the district from November 14
th
to 20
th
. District Collector RV Karan inaugurated a book exhibition at Government Girls' Junior College in the city on Saturday. The book exhibitions were jointly conducted by the district administration and Hyderabad Book Fair Society. RV Karan advised the students to read at least a book in a month apart from their academic books. Books related to history, the Indian Constitution, autobiographies of great leaders and personalities would help the students to prepare for competitive tests. He also added, "this year Hyderabad Book Fair Society had provided as many as 40, 000 books to government schools, colleges and Kasturba Gandhi Balika Vidyalayas (KGBVs) in the district. As part of the initiative, 200 books were given to the Girl's Junior College on Saturday." A heartfelt request was made by him to students to utilize the facilities being provided at school and college libraries to pave way for a better future. He also presented books to students who excelled in first-year Intermediate examinations. Khammam Mayor G Papalal stated that the initiative by the Collector by providing books available at libraries of schools and colleges in the city was useful for students in preparing for competitive examinations. The book exhibitions were also conducted at Junior Colleges at Yerrupalem, Bonakal, Mudigonda, Karepalli, Kamepalli, Penuballi and other mandals.