Read A New Book Month : Top Romance Novels
Read A New Book Month : Top Romance Novels
on
Sep 29, 2021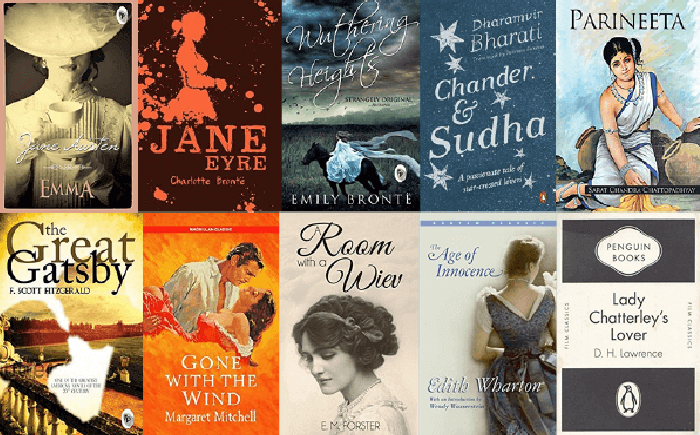 Hey Readers, your love for Romance Novels are incomprehensible. Who doesn't want to feel tender love, first-sight romance, steamy hot scenes with a partner, romantic dinner date, petty -  cute fights, and beautiful love story ending? You can find all these sweet things in a novel. Yes, it's true. You are able to taste all these delights through a romantic Book. 
Get ready to sweep off your feet and allow yourself to get lost in the magic of love, hate, and friendship games that can only be discovered through romantic novels. 
However, Light up your scented candles, we've listed some amazing Romantic Novels that have been pounding our hearts till today- 
Romeo and Juliet By William Shakespeare
Romeo and Juliet is the world's beloved play, written By William Shakespeare. Romeo and Juliet' is a tragic and romantic story set in Verona, Italy. In the story, two young people fall in love but their family disapproves of them because of the Blood Feud. This play is the ideal story of young love that does not need any introduction. It's Shakespeare's first play that has been written exquisitely and has a lot of poetry in it. 
The Notebook By Nicholas Sparks
Written by Nicholas Sparks, The Notebook is the story of Noah Calhoun and Allie Nelson and their tender and enduring love. This tale is enough to break you down into tears. After a long time, Noah and Allie meet together again and confront their feelings. Now, Allie is engaged to someone else that makes their love more complicated to happen. 
Pride and Prejudice By Jane Austen
Pride and Prejudice is a world-famous novel in English Literature, written by Jane Austen. This book is the most romantic one yet satirical too. The main story starts when Elizabeth Bennet meets Fitzwilliam Darcy for the First Time at a ball and declares him as an obnoxious man. 
But life plays its own game and Darcy begins to fall for Elizabeth's intelligence. 
When Darcy saves her youngest sister, Lydia, from a scandal, Elizabeth starts to wonder if her pride has prejudiced her opinion of Darcy. Austen weaves a Satirical love story of two warring hearts
that continues to captivate readers to this very day.
Wuthering Heights By Emily Bronte
Wuthering Heights is an English Classic novel, written by Emily Bronte and published in 1847. The main story plot is narrated by the Novel character, Nelly. The story begins when HealthCliff, a tenant of Lockwood, comes to Wuthering Heights. But his subsequent visits yield an accident and supernatural encounter that intrigues Lockwood. So he decided to ask Nelly Dean, a servant who lives there. She narrates the history of Heathcliff to Lockwood. 
Outlander By Diana Gabaldon 
Claire Randall is a woman who lives two lives. In one century, she has a husband, while in another, she has a lover Claire Randall, a veteran battlefield nurse, is returning from the war and on her second honeymoon with her husband when she accidentally touches a boulder in one of the ancient stone circles that dot the British Isles in 1945. In the year of our Lord, she finds herself a Sassenach—an outlander–in a Scotland torn by conflict and raiding border tribes... 1743. Claire's fate is soon intricately linked with Clan MacKenzie and the forbidden Castle Leoch. She is thrown headlong into the intrigues of lairds and spies, which could endanger her life...and ruin her love. Claire becomes a woman divided between fidelity and desire . Outlander by Diana Gabaldon is not just romance, though romance is a big part of it and it's one of the best things about it. This book is about seeing the gap of generations, seeing how in 200 hundred years so many things have changed, not only epochal but also people. Her captivating and detailed writing is incredible.
Tap to buy these Books -
Click Here