Read a new book month: Top 5 Mystery Books
Read a new book month: Top 5 Mystery Books
on
Sep 22, 2021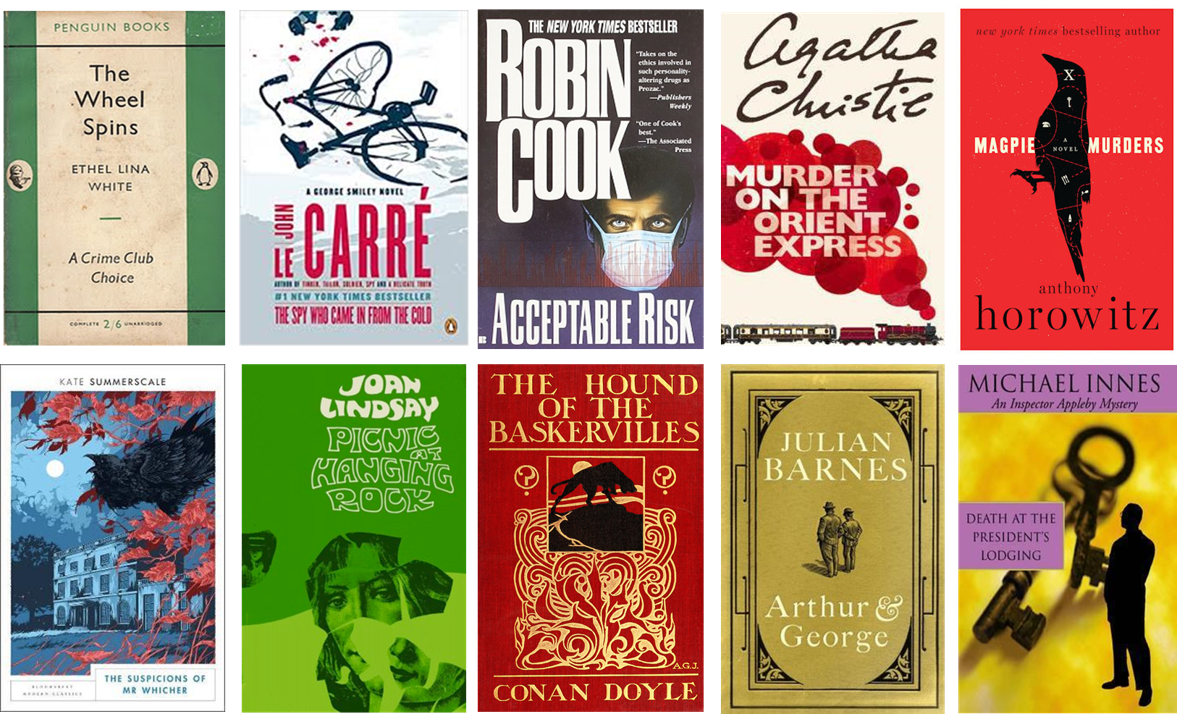 There are a lot of book genres that we can explore but when it comes to mystery and thriller stories, it has a different impact on reader's minds. Mystery Book Lovers become impatient to know what is gonna happen next and keep leafing through pages until they know the ending. 
Mystery books never cease to capture the attention of readers and give shivers down their spine. 
In the month of read a new book, we've listed top mystery books that can include in your to be read list - 
And Then There Were None By Agatha Christie
Agatha Christie is known as "the goddess of mystery". She has received a lot of recognition for her work. "And Then There Were None" is the best-written mystery novel by Agatha Christie. The story plot revolves around a group of strangers who accept an invitation from an acquaintance and go to Indian Island. Everyone was oblivious that a little and suspicious trip is awaiting big surprises which lead them into solving the murder mystery. It is one of the most famous mystery works thus far with an enthralling ending. 
The Girl on the Train By Paula Hawkins
Written by British author Paula Hawkins, 'The Girl on the Train is a psychological thriller that narrates by three women about relationships and drinking problems. The story's protagonist - Rachel takes the same train every morning and evening. The train always stops at the same signal, overlooking a row of houses. She is especially fascinated by one of the houses of the Perfect couple - Jess and Jason. One day, something unusual happened, and all of sudden she caught up in the probe involving the same perfect couple. You couldn't stop reading the book as Hawkins portrays the characters in a vivid and realistic description. 
Gone Girl By Gillian Flynn
Gone Girl is the most acclaimed suspense book, written by Gillian Flynn. It is a very engrossing story which one can never stop reading till the end. The story started when
All of sudden, Amy Dunne disappears from her fifth anniversary and her husband, Nick, falls under suspicion. She mentioned in her diary some clues that only Nick reveals. No one has trusted that Nick is innocent. In the end, the story unfolds how marriage has gone terrible to possess someone in their life.  This book illustrates perfectly that every story has two sides that need to be discovered before making any decision. 
The Complete Adventures of Feluda By Satyajit Ray 
Written by Satyajit Ray, the greatest Film director in 1970,  'The complete adventures of Feluda' is the collection of short stories featuring
the master sleuth Pradosh C. Mitter, AKA Feluda. In this story, Feluda and his adolescent cousin Topshe travel to Darjeeling and meet Rajen Babu, an elderly friend. He receives a threat letter stating that he will die shortly. Rajen Babu enlists the assistance of Feluda, a young and dashing detective, to figure out who penned this letter. In the end, the story discovers that the most unlikely person was behind the entire operation.
This book is a favorite book for teenagers who like reading detective and mysterious stories.
A Simple Favor by Darcey Bell 
Published in 2017, A Simple Favor is the debut thriller novel by Darcey Bell. This book is an outstanding chronicle with twists and turns, secrets, love, loyalty, murder, and revenge. In the story, Stephanie is a widowed, single mother who works as a vlogger in Connecticut, and her best friend, Emily, seems to have it all -- a successful career, a loving family, and a glamorous lifestyle. Emily mysteriously disappears one day, Stephanie launches her own investigation by digging into her friend's past -- and finding a few surprises along the way. If you are looking for a suspenseful yet hilarious book, it's an apt book to read. 
Tap to buy these books -
Click