Frontlist | Ratan Tata, Chandrasekaran dedicate Novel Tata Hockey Academy to nation
Frontlist | Ratan Tata, Chandrasekaran dedicate Novel Tata Hockey Academy to nation
on
Mar 04, 2021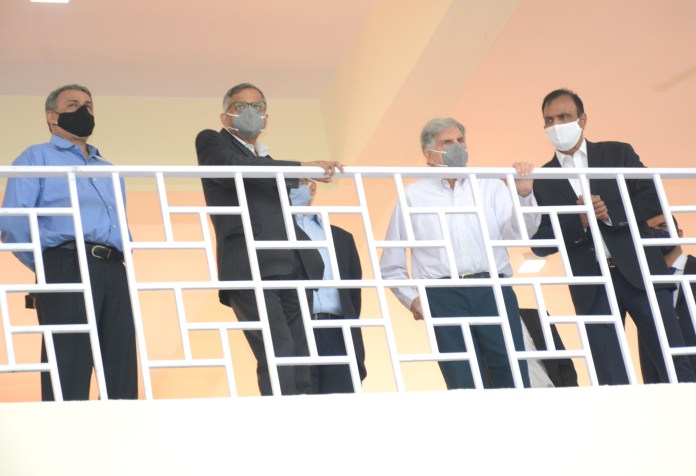 Ratan Tata, Chairman Emeritus, Tata Sons along with Natarajan Chandrasekaran, Chairman, Tata Sons inaugurated Naval Tata Hockey Academy (NTHA) in Jamshedpur on Tuesday, March 2. Also present were TV Narendran, CEO & Managing Director, Tata Steel, Chanakya Chaudhary, Vice President, Corporate Services, Tata Steel and senior officials of the company. They also took a guided tour of facilities. The foundation stone for NTHA Jamshedpur was laid by Ratan Tata, Chairman Emeritus, Tata Sons and Chairman Tata Trusts in the presence of N Chandrasekaran, Chairman, Tata Sons and T V Narendran, CEO & Managing Director, Tata Steel on March 2, 2018 on the eve of Founder`s Day in 2018.
NTHA Jamshedpur has been set-up through a joint collaboration between Tata Steel, Tata Trusts and Indian Steel & Wire Products (ISWP), a subsidiary of Tata Steel with a vision to professionalize grassroot hockey in the talent rich tribal belts of Jharkhand and Odisha.
Naval Tata and sports
Naval Tata contributed immensely to the development and pursuit of excellence in Sports in India and globally. Naval Tata served as the President of the Indian Hockey Federation for over 15 years- the longest till date. Under his Presidentship, the Indian Hockey team won three Olympic Gold medals.
 World-class facilities at NTHA
NTHA strives to become one of the recognised centers of excellence for field hockey player development in the country & strengthen the standard of Indian Hockey by providing world class practices and technical facilities. It brings world-class facilities that include an Fédération Internationale de Hockey (FIH) global quality artificial turf with floodlights, international coaches, nutritionists, as well as mental and physical trainers to provide high performance hockey training. The academy is being built in 3 phases and will be equipped to cater to 52 boy and girl cadets each. It is spread over 10 acres of land and has a spectator gallery of 200 seats. The hostel building having capacity for 52 boy cadets, rooms for 9 coaches, gymnasium, teaching room, Hall of Fame, office, dining & kitchen, infirmary, massage room, etc. have been set-up in the academy. The second floor has a board room with excellent views of the turf. It also has a viewing balcony for about 20 people. First 2 phases of the project have been completed and very soon accommodation for 52 girl cadets and a practise field will be added in the 3rd phase of the project.
Training and coaches
Bovelander Hockey Academy led by legendary drag-flicker Floris Jan Bovelander, former Olympian and Assistant Coach of the Dutch national team, has been engaged to develop the training curriculum for delivering high performance coaching. A three-tier structure has been set-up starting with a grassroots programme for 10 to 12 yrs age group followed by a training at the District Level Regional Development Centres (RDCs) and finally getting selected into the Academy at an age of 14 yrs to 17 yrs. To begin with, the first batch of 28 boys were selected from the villages of Simdega, Khunti and West Singhbhum districts. They have undergone a year-long programme of rigorous training provided by Dutch coaches and Indian hockey legend Sandeep Singh. Presently, NTHA Jamshedpur has 32 boy cadets. Girl cadets will be inducted towards the end of 2021.
NTHA Odisha
In June 2019, NTHA expanded its horizons and was set-up in Odisha in partnership with the Government of Odisha. NTHA Odisha has 61 cadets that includes 30 girls and 31 boys. Boys programme was started in Jan'21.
Performance of cadets of NTHA
Over the past 3 years, NTHA has successfully resulted in 17 players representing their respective states at various National level tournaments. NTHA aims to become a "Centre of Excellence" for hockey by creating a professional environment that enables young players to achieve their full potential. Players emerging from the Academy are free to pursue the game at the highest levels – playing for the country as well as clubs around the world. Read More:
India woos Tesla with offer of cheaper production costs than China
Source: The Avenue Mail