PVLF Returns with New Categories and Exciting Lineup for 2024, Nominations will begin on 10th August
Join India's prestigious PragatiE Vichaar Literature Festival 2024 – A 5-day Author Marathon celebrating talent and literature on a leading virtual platform. Discover and promote exceptional works.
on
Aug 21, 2023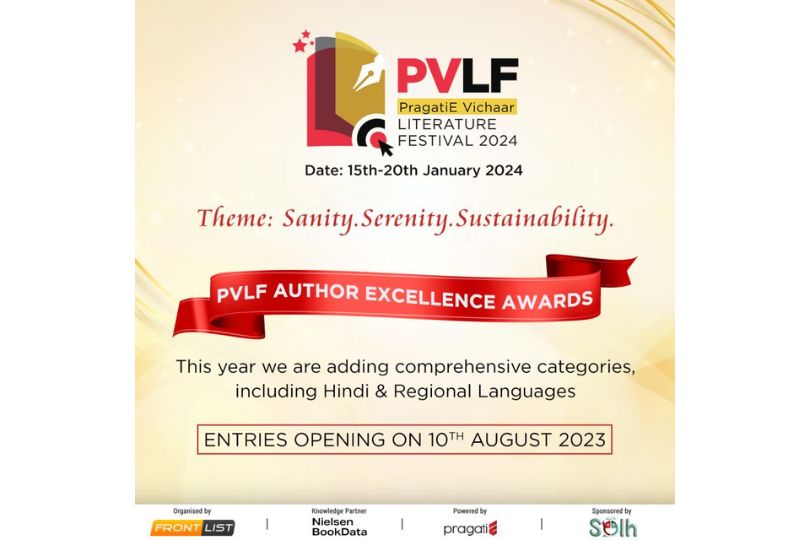 Frontlist Media, India's pioneering E-News portal for the publisher, author, and reader ecosystem, is thrilled to announce the return of the PragatiE Vichaar Literature Festival in its grand 2024 edition. Hosted by PragatiE, one of the leading virtual exhibition platforms, the event promises to be a five-day Author Marathon dedicated to providing talented authors with a platform to promote their work and gain recognition.
In this edition, PVLF 2024 introduces an exciting addition to its lineup, a new award nominee crafted to celebrate the contributions of regional authors to literature. The festival aims to acknowledge and honor the unique voices that enrich the literary landscape through regional storytelling. The credibility and transparency of the awards are ensured through the association with Nielsen Bookdata, the event's esteemed Knowledge Partner.
The overarching theme for PVLF 2024 is "Sanity. Serenity. Sustainability." Under this theme, the festival will feature a series of sub-theme sessions during the Author Marathon. Some of the thought-provoking sub-themes include History & Mythology, Wars & Famine, Nationalism & Patriotism, and Equality & Racism. These sessions aim to engage authors, readers, and literature enthusiasts in insightful discussions, providing a unique platform to explore diverse perspectives on contemporary issues.
PVLF 2024 will distribute awards in three prominent categories: PVLF AUTHOR EXCELLENCE AWARDS, PVLF People's Choice Publisher Awards, and PVLF READERS' CHOICE BOOK AWARDS 2024. Nielsen's acclaimed Bookdata will ensure the credibility and fairness of the awards, reflecting the festival's commitment to celebrating exceptional literary achievements.
In the PVLF 2023, a total of 79 speakers and 27 publishers participated in the festival. 63 were part of the virtual literature festival from the 9th to 13th January, and 16 joined the physical event on the 14 January. There were 30 sessions, which accumulated over 600,000 minutes of viewership with 200k+ views on the virtual literature festival.
Attendees can look forward to a plethora of valuable experiences at PVLF 2024. The festival promises engaging author panels, stimulating discussions, and a diverse selection of books to explore. Professionals in the publishing industry, booksellers, readers, and aspiring authors will find a wealth of insightful content to enhance their knowledge and connections within the literary community.
The PVLF team invites authors, readers, publishers, and literature enthusiasts to join the grand celebration of literature, knowledge, and creativity. For participation and further inquiries, interested individuals can email navita@frontlist.in