PVLF Excellence Awards 2022, organised by Frontlist Media held with much fanfare
on
Mar 11, 2022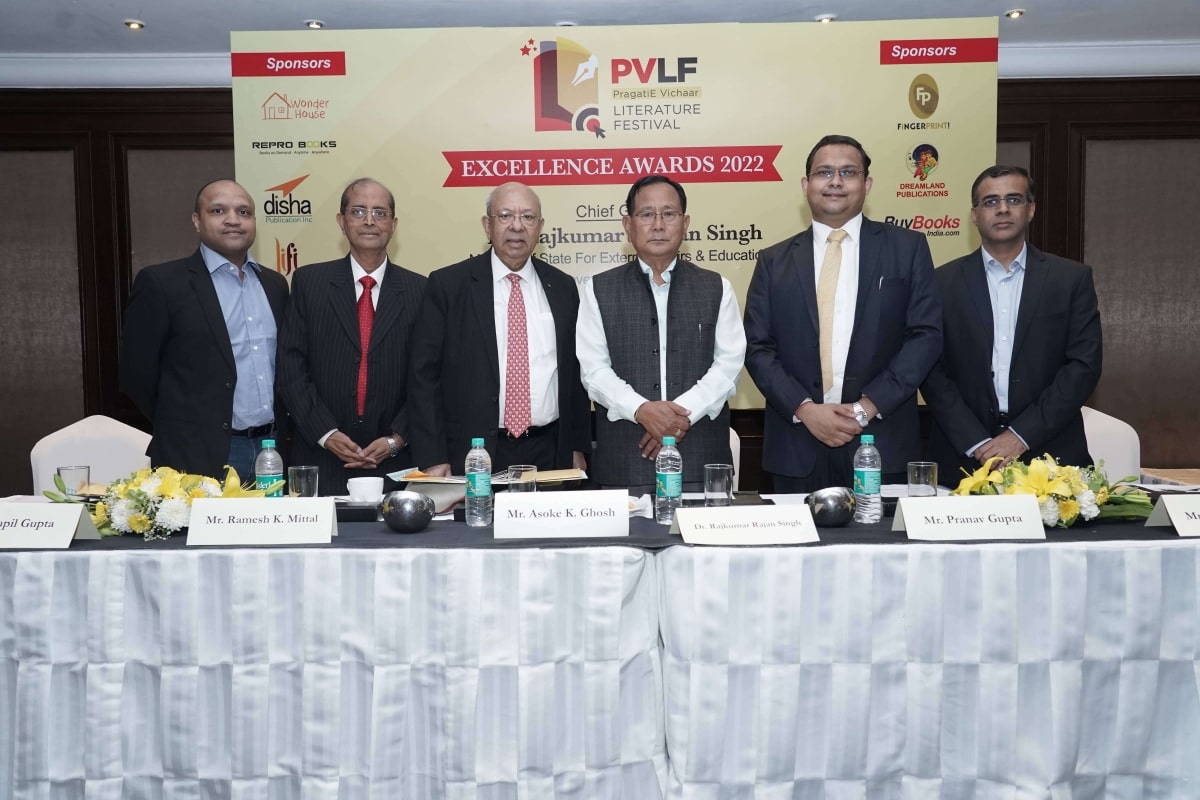 The Publishing Industry Celebrates PVLF Excellence Awards 2022 Organised by Frontlist Media

Hon'ble Chief Guest, Dr. Rajkumar Ranjan Singh, Minister of State For External Affairs & Education, Felicitated winners at PVLF Excellence Awards 2022
Intending to promote literary works and industry, PragatiE Vichaar Literature Festival initiated PVLF Excellence Awards 2022. Frontlist Media organised the PragatiE Vichaar Literature Festival, joined hands with the Federation of Indian Publishers [FIP], and brought Nielsen BookScan India as the knowledge partner.
Due to the unfortunate long pause because of the lockdown, Frontlist was unable to hold the physical event for the PVLF Excellence Awards in January. However, finally the awards ceremony and winners felicitation took place on March 9th 2022. The event was honoured and inaugurated by our Chief Guest, Dr. Rajkumar Ranjan Singh, Minister of State For External Affairs & Education.

In a country where risk-averse publishers choose to promote only the famous authors, where the debut authors are asked to pay hefty amounts to get their book published and then struggle further to promote it, PVLF 2022 was conceptualized as a welcome event for all new and emerging authors. It was a one-of-a-kind event that initiated a 24-Hours Author Marathon, consisting of 48 sessions. The 24-Hours Author's Marathon was the awe-inspiring idea from Team Frontlist that got executed with a motive to provide a platform and give recognition to debut authors. The event was held on January 6th, 2022.

PVLF Excellence Awards 2022 was a part of PVLF 2022 that received industry-wide support from publishers such as WonderHouse Publishing, Repro India, FingerPrints Publishing, Disha Publications, Dreamland Children Books, Prints Publications, LiFi Publications, Solh Wellness, BuyBooksIndia, and Advit Toys joining as sponsors. All the top publishers around the country had participated with their books, inviting their readers to vote for them and the coveted PVLF Excellence Awards.

The physical event of the PVLF Excellence Awards was a spectacular and successful Awards Night. It commenced at 6 pm at Hotel Claridges, Delhi. Renowned personalities across the publishing industries graced the event with their presence.

PVLF Excellence Awards 2022 featured two book cover launches. The Federation of Indian Publishers launched a Book Cover of '75 Years of Indian Publishing Industry', which is getting published on the occasion of completion of 75 years of the Publishing Industry in India. Along with this, a Book Cover of the 'Nielsen India Book Market Report' was also launched at the event. Nielsen BookScan India and FIP partnered together to publish a Second Edition of the Nielson India Book Market Report. Their collaboration promises to deliver an in-depth report to provide a business-critical analysis of the market.

Here is a list of awards and the winners:
PVLF Author Excellence Awards: These awards were based on nominations by authors, who were allowed to nominate themselves into a maximum of 2 categories. The nominations were shortlisted by a jury along with the Nielsen Bookscan Data. The final winner in each category was awarded based on public voting.
WINNERS Of PVLF Author Excellence Awards
Category
Book Name
Author Name
Publisher Name
Best Debut Fiction
Janaka and Ashtavakra: A Journey Beyond
Ashraf Karayath
Rupa Publications
Best Debut Non-Fiction
Delhi Heritage: Top 10 Baolis
Vikramjit Singh Rooprai
Niyogi Books
Best Fiction
Mafia Premier League
K. Vijayakarthikeyan
Rupa Publications
Best Non-Fiction
Going Solo - Raising Happy Kids
Sujata Parashar
Vishwakarma Publications
Best Poetry
Dear Silver Lining
Shalini Chhabra Jain
V & S Publishers

PVLF People's Choice Publisher Awards: According to Pranav Gupta, Co-founder of Frontlist Media, "Publisher awards were meant to specifically recognize the Indian Publishers. Going beyond some of the international publishers who dominate all awards, we chose only the Indian Publishers in this category and decided upon them strictly based on the Nielsen Bookscan Data."
There were 3 categories under this award section and the top 3 Indian Publishers in each category were selected.
WINNERS of PVLF People's Choice Publisher Awards
Awards
Trade (Non-Academic) Publishers
Top Indian Children Publishers
Top Indian Academic Publishers
First Prize
Prakash Books India (P) Ltd
Prakash Books India (P) Ltd
Arihant Publishers
Second Prize
Manjul Publishing House
Dreamland Publications
Disha Publication
Third Prize
Rupa Publications
Om Books International
S Chand & Co Ltd

PVLF Reader's Choice Book Awards: These awards were to recognize the most sold books across all categories. The results were based on the Nielsen definition of Silver, Gold, and Platinum Books. The final winner amongst these categories was selected by public voting.

WINNERS of PVLF Reader's Choice Book Awards
Category
Book Name
Author Name
Publisher Name
Platinum (250,000+ copies sold)
Indian Polity
M. Laxmikanth
McGraw Hill Education
Gold (200,000 - 250,000 copies sold)
Oxford Student Atlas for India
Oxford Editorial Board
Oxford University Press
Silver (150,000 - 200,000 copies sold)
Raavan: Enemy of Aryavarta
Amish Tripathi
Westland Publications Ltd

We would like to congratulate all the supremely talented authors who participated in the event. Heartfelt thanks to all our guests, partners, and supporters who made this event a huge success.