Pragya Gogoi - The author who took the least time to write a bestselling book
Pragya Gogoi - The author who took the least time to write a bestselling book
on
Mar 31, 2021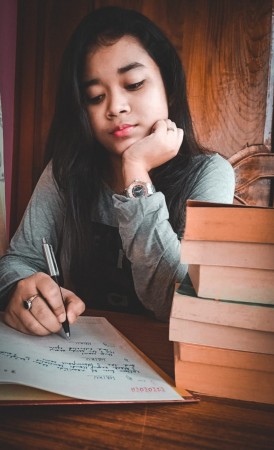 "Poetry doesn't have to rhyme; it just has to touch someone where your hands couldn't."
How does writing a debut book in just 3 days feel like?  Meet
Pragya Gogoi,
a 20-year-old writer from Assam, India who holds the record of being the youngest Indian author to write a best-selling debut book in 3 days. A passionate writer since childhood, she has taken the literary world by storm, winning one award after the other, ever since the release of her book "Whispers of a Nyctophile". An Amazon best-seller in multiple categories within just a month of publishing, "Whispers of a Nyctophile" is a staggering collection of poetry exhibiting a plethora of emotions of love, heartbreak, strength, nostalgia, childhood, harsh realities plaguing the world and beauty of nature- all under one roof. Comprising of wonderfully penned long and short poems, woven with strong vocabulary, wordplay and varied concepts, Pragya's debut book contains poetry that people can relate to, poetry that speak of emotions people can reflect upon and poetry for those voices that go unheard.
Read: 'Minimum Books, Maximum Revision': Delhi Cop's Mantra For Acing UPSC Exam
The talented, young author is enamoured of experimenting with manifold genres and styles of writing and has shown her versatility as a writer over the years in many platforms. Pragya wrote her first poem when she was in the 3rd standard and since then, she has written for myriad National and International platforms and magazines. She has co-authored 11 amazing books of poetry too, out of which one is going for World Records. Winner of several literary competitions since school, she has bagged 10 covetous awards at the National level in a span of just 1 year for her books and contribution to Indian literature. Pragya's multiple award-winning debut book has been featured among 13 most impactful books in modern literature by the Hindustan Times. She has also been featured in The Daily Hunt, International Fox Reviewer and various celebrity magazines. When queried about her next book, Pragya said in one of her interviews that she is currently setting up a mysterious, suspense-filled, dark plot with unimaginable twists and turns for her next book which is a gripping romantic thriller. This multi-talented young lady is not only a great, budding writer but has also been a skilled stage performing singer, violinist, a CAD designer, debater, swimmer and an efficient management executive who is currently pursuing her Bachelors in Mechanical Engineering. She is a huge robotics enthusiast who manages, designs and manufactures interesting robots for National and International Robotics Championships, representing her University along with her team. Pragya, along with her team have won laurels and excellent international and national rankings in various competitions like ABU Asia-Pacific Robocon, World Robotics Championship Technoxian, International Rover Challenge, Roboprix, International Mars Hackathon, Indian Rover Design Challenge etc. Brimming with an unquenchable thirst and passion for literature, Pragya says this is just her humble beginning and she is ready to take the literary world by storm with her upcoming creations. She is active on social media and can be contacted at pragyagogoi2016@gmail.com or her Instagram handle- @pragya__gogoi.
Source: english.newstracklive