Penguin Random House: RHCB To Publish New Picture Book Series With Dylan Dreyer, NBC's TODAY Co-Host And Meteorologist
Penguin Random House: RHCB To Publish New Picture Book Series With Dylan Dreyer, NBC's TODAY Co-Host And Meteorologist
on
Apr 01, 2021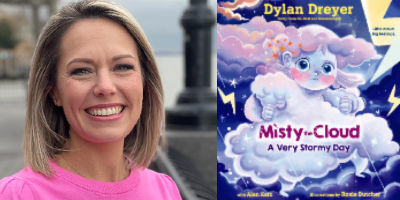 Random House Books
for Young Readers, an imprint of Random House Children's Books, will publish a new series of social-emotional learning picture books written by NBC's TODAY co-host and meteorologist Dylan Dreyer, it was announced today by Michelle Nagler, Vice President & Associate Director. The first title in the publishing program,
MISTY THE CLOUD
: A Very Stormy Day, will be released on September 14, 2021. A second picture book will be published in 2022, followed by additional titles in board book and early-reader formats. Sara Sargent, Senior Executive Editor, acquired world rights from Albert Lee at United Talent Agency and will edit the project.
Read | Covid-19 test mandatory to attend Utkal University convocation
In this new
picture-book brand
, Dylan Dreyer combines her extensive weather knowledge with her experience as a mom, introducing readers to Misty the Cloud. When Misty feels so gloomy that her dreary mood turns into a giant thunderstorm, she must learn how to calm down so that she doesn't rain on everyone else's day. This accessible story combines the topic of weather with lessons on emotional intelligence and navigating feelings, at a time when childhood anxiety is on the rise. "We are thrilled to publish Dylan's debut picture book and to establish Misty the Cloud as a household name," Sargent said. "We know parents and educators are looking for more books that teach both science and emotional development to their youngest readers—we love how Misty is a perfect learning tool, helping children better understand their feelings through the simple concept of weather. Misty is a mirror for kids, showing them that it's perfectly okay to have feelings (including anger!) and that those moods will always pass."
Dylan Dreyer
is a meteorologist for NBC News, a co-host of the 3rd Hour of Today, and the host of Earth Odyssey with Dylan Dreyer. She's covered hurricanes with 130 mph winds, but she loves a nice breeze when she walks her dog, Bosco. She's stood out in six-foot snowstorms (which is taller than her!), but she loves to go sledding with her sons, Calvin and Oliver. She's watched roads turn into rivers during strong thunderstorms, but she loves to splash in puddles. She's traveled the country (and been to 49 states!) and the world . . . she's even been to the North Pole! She loves the weather and thinks the world is a fascinating place.
Source: https://indiaeducationdiary.in/