Outside the Lines: A Literary Festival for Teens for the First Time
Experience Mumbai's inaugural 'Multi Storied' Young Adult book festival at the historic Malabari Hall, brimming with passion, reason, and vibrant interactions.
on
Sep 21, 2023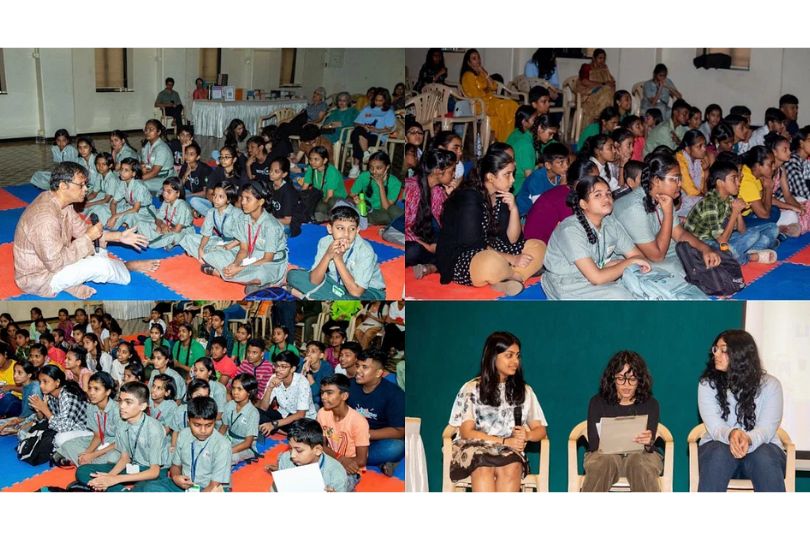 On Saturday afternoon, the city's first-of-its-kind book festival, By A Teen 'Multi Storied' for Young Adults (YA) by a Young Adult, resonated through Mumbai's gorgeous heritage Malabari Hall.
Mumbai: The city's first-of-its-kind literature festival, 'Multi Storied' for Young Adults (YA) by a Young Adult, reverberated through the beautiful heritage Malabari Hall in Mumbai on Saturday afternoon with voices of passion and reason, sounds of humanity and tolerance, plenty of fun and vibrant interactions, and a garrulous energy.
Navya Banga, a 12th grade student at the American School of Bombay (ASB), curated the one-day festival, which was supported by Peek A Book, Mumbai's only literature festival for children and young adults. Each session was unique and included a wide range of themes, including a quiz about our city, visual storytelling, and a look into the life of a writer. A Teen Lit panel featuring first-time YA authors Sanaa Gandhi and Mann Tandon in dialogue with Navya was a highlight.
Navya thinks that through Multi Storied, she may share her passion of literature with other young pupils, engage them in creative thinking about the world around them, and bring significant concerns to light in order to stimulate collective action.
Throughout her youth and education, she was deeply touched and impacted by art and literature. Navya is particularly interested in women's empowerment, and she uses writing as a platform to explore and share her different experiences and tales.
"When I first conceived of the concept that evolved into this festival, I knew I wanted to create a space for young people who loved literature." "I wanted to create a space where they could meet other people who shared their interests, have interesting conversations, and listen to and engage with speakers who had an incredible depth and breadth of knowledge to share," Navya explained.
"A peer-curated festival is a unique idea with a lot of potential, and we were delighted to support Navya's pioneering effort," says Lubaina Bandukwala, founder of the renowned children's literature festival.