Nine Year Old Anahita Bajaj Wrote An Interesting Book – Tummy Tales
on
May 13, 2022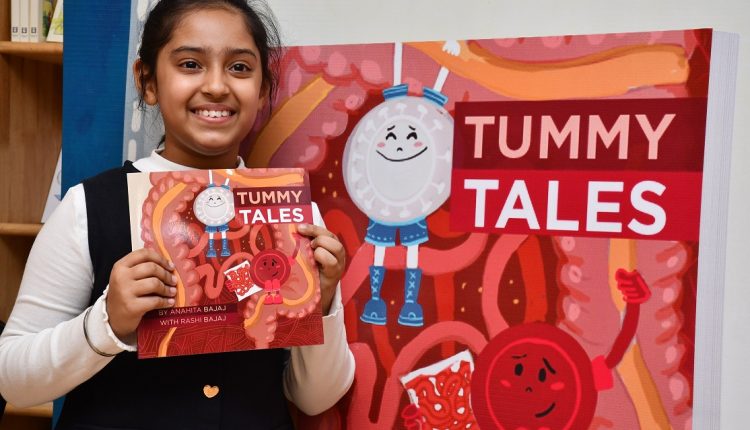 Anahita Bajaj, a nine-year-old girl from Gurgaon, has created an intriguing fictitious story book titled Tummy Tales, in which she attempted to pen down her adventure in her mother's tummy. What started out as a simple bedtime story turned into a literary partnership between Anahita and her parents, who pushed her to observe, think, and write.
Anahita's book, 'Tummy Tales,' is a fascinating account of her travels while in her mother's womb for nine months. 'Tummy Tales,' which was recently launched at the Om Book Store in Gurgaon, was recently published by Embassy Books. Om Books, as well as Amazon, Flipkart, FirstCry, and Snapdeal, have the book available.
The book's whole profit will be donated to charity. Apart from the womb story, Anahita's book describes how she became friends with numerous bodily parts during her tummy-stay and gives her unique perspective on the digestive and nervous systems (of what she experienced in the tummy vis-a-vis what she is learning now in her school, DPS International, Gurgaon).
Ask this little author about where she got the inspiration to write a book on such a unique concept, and she said, "My father inspired me," adding that my father used to narrate numerous interesting stories of the times when she was in her mum's womb. "And I built up on that," adding further she said, "I love to read, listen and write stories, and my parents have always encouraged me to do what I love doing."
"I used to tell Anahita fictional bedtime stories, including one where I went to God and asked for her. Interestingly, one day she started sharing her experience of staying in her mummy's tummy and how she made friends with all the body parts. Her imagination was so vivid and powerful that I asked her to write it down. This is how 'Tummy Tales' was born," says Deep Bajaj, the proud father of the little author Anahita Bajaj.
Anahita, like any other child, has a special tie with her parents, Mr Deep Bajaj and Mrs Rashi Bajaj, but what sets her bond apart is the 'connection' they have formed with her.
Anahita's parents have always pushed her to think and observe. They provide her the freedom to imagine and allow her to expand her imaginative universe. So she decided to return it to them in the form of a book about their journey together, which began with the umbilical chord and will continue indefinitely.