National Tribal Literature Festival organised by Chattisgarh government
on
Apr 20, 2022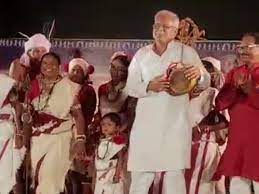 National Tribal Literature Festival hosted by the Chhattisgarh government was organised in the state capital on Tuesday. Prominent voices from Tribal literature addressed the occasion with an aim to preserve and promote the tribal language, culture, and civilisation.

The festival is being organised for the first time in Chhattisgarh. It will act as a bridge for cultural exchange between other communities and tribal communities.

The CM said that from Sarguja to Bastar, Chhattisgarh is home to many tribal communities. All these communities have their own unique languages and cultures. He added that the state is now known for its rich culture across the country and abroad. As the tribal culture and civilisation are an important part of Chhattisgarh's identity, the government is making every possible effort to preserve and protect it, he added.

At the National Tribal Literature Festival, Chief Minister Bhupesh Baghel felicitated eminent poet Padma Loknayak HaldHar Nag, litterateurs Sakini Ramachandra, and Arjun Singh Dhurve by presenting them a shawl and coconut. Baghel welcomed eminent litterateurs, creators, university scholars, researchers, subject experts, dancers, and painters, who arrived from all over the country to participate in the event.