National Book Trust, India and FICCI organize a WEBINAR
National Book Trust, India and FICCI organize a WEBINAR
on
Apr 25, 2020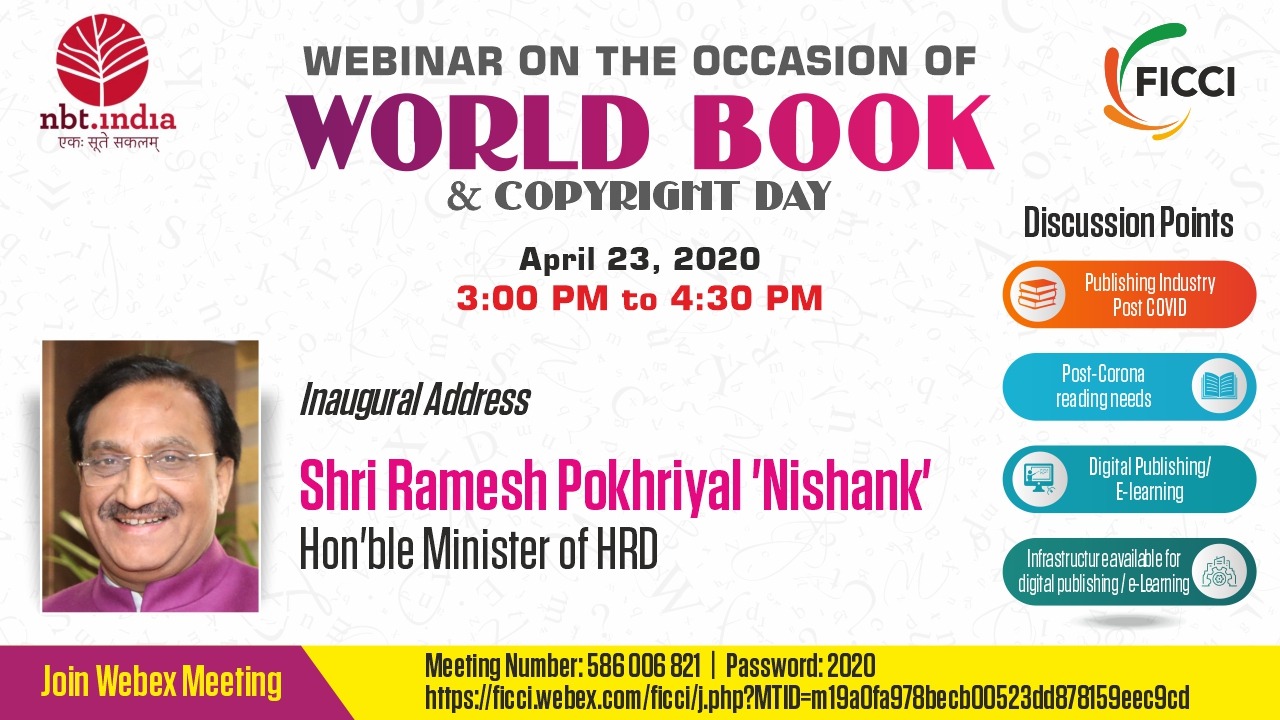 A WEBINAR on Post-COVID Publishing Scenario on the occasion of WORLD BOOK & COPYRIGHT DAY on 23 April 2020
The Webinar provided insights on the post-Covid scenario for the publishing Industry and probable shift in publishing, teaching, learning methods, while understanding ways in which education will be re-looked with the rising e-learning practices.
Dr Ramesh Pokhriyal 'Nishank', Hon'ble Minister of Human Resource Development, Government of India
 said that India is a superpower of knowledge. 
Thanking the publishers and writers, Dr Nishank said that we all have to strive together to make India a proud knowledge economy of the world
. Emphasizing on the need to 
promote reading in the country
, he said that children should be encouraged to believe that books are their best friends. He also added that the youth of India outnumber the total population of some of the western countries, and therefore it is important that the teachers, authors, publishers and educationists ensure that correct knowledge is disseminated to them, to create a New powerful India. Delivering the keynote address, 
Prof. Govind Prasad Sharma, Chairman NBT
 said now the time has come that society accepts e-learning as a method of knowledge dissemination. He also said that as the pandemic has taken a toll on all of us and has changed the way we function, with students being taught over online classes, etc. the industry has come to a standstill. 
We publishers need to make sure that we keep imparting knowledge through e-content for students and teachers, support the publishing Industry, and stick together to help each
 other during and post Covid times.
Shri Yuvraj Malik
, in his special address said that 'Change is the only constant in life'. Referring to the difficult times that the world at large and the publishing industry is facing these days, and it may well take a long time to get back, he said we must accept the demand of the hour, 
and as publishers, it is our duty to disseminate information and knowledge to the society, it may well be through digital and e-publishing mediums.
 He added that what we create today will become an important historical document for tomorrow.
Mr. Ratnesh Jha
, Chair,
FICCI
Publishing Committee and CEO, Burlington Group (India & South East Asia) delivered the welcome address. 
Ms. Monica Malhotra Kandhari
, Co-Chair, FICCI Publishing Committee and Managing Director, MBD Group, 
Mr Dilip Chinoy
, Secretary General, FICCI
and
Mr. Neeraj Jain
, Co-Chair, FICCI Publishing Committee and Managing Director,
Scholastic India Pvt. Ltd
. discussed various issues of Publishing Industry Post-Covid, Post-Corona reading needs, Digital Publishing/E Learning, and the Infrastructure available for Digital publishing/E-Learning. Over 180 participants logged-in to join the webinar across India, which included Publishers, Authors, Editors, Teachers, Booksellers, Digital Content Creators, and Publishing professionals from different areas Read Latest news at
Frontlist.in