Frontlist | Most anticipated comic characters & moments of 2021
Frontlist | Most anticipated comic characters & moments of 2021
on
Dec 21, 2020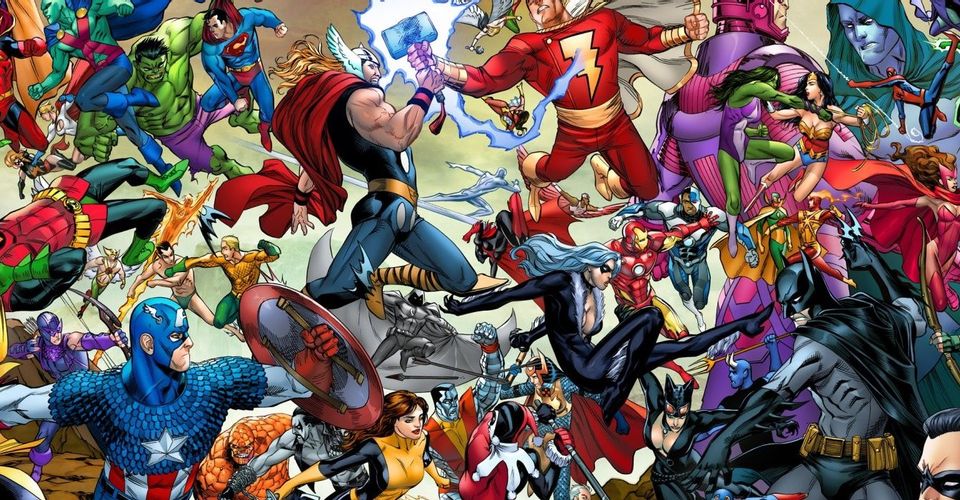 Comic book publishers are still keeping quiet about their 2021 plans, but here are the most exciting characters and events we know about!
There's a lot to look forward to in the world of comics next year, so here's just a selection of the most anticipated comic book characters, events, and moments in 2021, focusing on the Big Two of DC Comics and Marvel Comics. The coronavirus pandemic caused major disruption to the comic book industry in 2020, with publishers shutting down for vast portions of it. There's a sense that even Marvel and DC may still be reacting and recovering, as can be seen by the fact they're currently avoiding teasing anything more than a couple of months in advance. As a result, comic book fans know less about 2021 than they normally do at the beginning of a calendar year.

Whatever the case may be, there's still a lot to be excited about. Both Marvel and DC are planning some pretty major initiatives, some of which have the potential to literally redefine the industry as a whole. The X-Men franchise is going from strength to strength, although superstar writer Jonathan Hickman - whose relaunch has been so very successful - is avoiding giving anybody any real idea of what comes next in the so-called Reign of X (or even how long this reign will last, given Hickman has a plan running for at least the next four years). So here are the eagerly anticipated highlights of 2021 - from unexpected versus matches to exciting character introductions, plus a few un-missable events thrown in for good measure.
9. Mary Jane Versus Gwen Stacy (Yes, You Read That Right)
Back in 2014, Marvel introduced Spider-Man fans to a character who was initially dubbed Spider-Gwen but has more recently been named Ghost Spider by Marvel. In this timeline, Gwen Stacy was the one bitten by the fateful radioactive spider, not Peter Parker. Jason Latour and Robbi Rodriguez took great delight in reinventing the entire Spider-Man world, with this universe's Gwen playing in a band with lead singer MJ. The relationship between MJ and Gwen has grown rather strained of late, and it's about to get pretty nasty when MJ becomes the Spider-Gwen version of Carnage. After all these years,
Gwen Stacy and Mary Jane Watson are going head-to-head
. This is all part of the 
King In Black 
saga, a stunning event orchestrated by Donny Cates in which Knull, the God of the Symbiotes, launches his attack upon the Multiverse. In truth, the event itself would appear on this list if not for the fact it's already begun.
8. The Truth About Spider-Man's New Nemesis, Kindred
Nick Spencer took over as writer of 
Amazing Spider-Man
 back in 2018, swiftly introducing a brand new villain named Kindred. Spencer has taken a slow-burn approach, so much so that it's taken two years for him to begin to reveal the truth about Kindred. The villain is none other than Peter's old friend Harry Osborn, but apparently the Harry from the pre-One More Day timeline. This has led to some speculation Marvel could be about to overturn their worst decision of the 2000s; the undoing of Spider-Man's marriage to Mary Jane. This would be a lot higher on the list if not for the fact Spencer seems to be enjoying taking his time, so it's entirely possible the Kindred story will continue for a few more years yet.
7. The Next Phoenix Host
Jason Aaron's 
Avengers
 run is moving into its next epic, with the Avengers set to fight it out for possession of the Phoenix Force. According to writer Jason Aaron, 
The Phoenix is back and in its spirit of fiery rebirth, it's seeking a brand new avatar. So begins the greatest tournament the world has ever seen, as some of Marvel's most powerful heroes and villains are called to battle for the right to become the all-new Phoenix. All will be transformed. But who will burn?
More to the point, though, who will become the next host of the Phoenix Force? Will it be a known and loved member of the Avengers - or will it be a brand new character? Aaron has teased that the Avengers will choose the host, but let's face it, cosmic entities like the Phoenix aren't exactly known for their cooperative attitude.
6. The First Meeting Between Phantasm & Catwoman
The Phantasm was Batman's most personal nemesis, introduced in the beloved animated movie 
Batman: Mask of the Phantasm
. She's finally made the jump into the comics themselves in 
Batman/Catwoman
, and that's undoubtedly going to cause serious problems for the Dark Knight. Andrea Beaumont is Bruce Wayne's ex-lover, the one who even tempted Bruce to give up his vow to protect Gotham as Batman, and you never forget your first love. Writer Tom King has hinted her arrival could have dire consequences for the relationship between Batman and Catwoman. So what will happen when Batman's current partner meets his ex? When the woman who has accepted his mission as Batman meets the woman he almost gave it up for?
5. The High Republic
January will see the launch of the High Republic transmedia initiative, an exciting step forward for 
Star Wars
. This involves both books and comics, with both Marvel and IDW publishing books set roughly 200 years before the events of 
Star Wars: Episode I - The Phantom Menace
. The High Republic Era is set to redefine the Force, with Charles Soule - who's effectively the Grand Master in charge of it all - promising the Jedi of the time had a very different understanding of the Force to those of the prequel era. Excitingly, Lucasfilm's television arm has decided to get in on the act as well, signing off on a Disney+ TV series set during the High Republic Era.
4. The Return Of Milestone Comics
Launched by DC Comics back in 1993, Milestone was an exciting initiative to add diversity to the DC Universe. The most famous Milestone character was undoubtedly Static, a teenage everyman hero who essentially explored what life would have been like for Spider-Man if he was black (remember, this was decades before the creation of Miles Morales). Milestone's books were noted for their willingness to tackle social and political issues, but unfortunately the line died due to lack of promotion and a glut of new superhero franchises. But DC is bringing Milestone back after all these years, with Static receiving a new ongoing series and graphic novel in February 2021 to coincide with Black History month. Original founders Denys Cowan, Michael Davis, and Derek T. Dingle are all returning with new talent such as writer Reginald Hudlin on board as well.
3. DC Future State
January 2021 will see DC Comics launch one of its boldest initiatives to date, 
Future State
. The entire normal DC line will be suspended for the first two months of the year, replaced with comics that explore the future of the DC Universe. Expect new iterations of Batman and Wonder Woman, Jonathan Kent taking over as Superman, and the Justice League and Green Lantern Corps to find themselves in crisis. The concept is reminiscent of one Marvel famously adopted in 1995 when they replaced the X-Men line with the 
Age of Apocalypse
 books, and that's viewed as one of the best events in comic book history. DC has assured readers this will be no What If? story, though. Future books will reveal just how the DC Universe of today became the one of 
Future State
. This is an event that should be on every DC fan's radar.
2. The New Wonder Woman
One of the most interesting characters in 
Future State
 is Yara Flor, Diana's replacement as Wonder Woman, champion of the Amazons in the year 2050. She appears to originate from a never-before-seen tribe of Amazons who live in the Brazilian rainforest, and it's currently unknown how she will come to embody Diana's legacy. Intriguingly, DC and The CW seem so confident Yara Flor will be a hit that they've already commissioned a 
Wonder Girl
 TV series starring her to become part of the Arrowverse. It will be thrilling to see just why DC and The CW think this new character will be so well-received.
1. The Next Batman
DC's 
Future State
 features the introduction of Tim Fox as the next Batman. This new iteration of the Dark Knight will serve in a future Gotham where vigilantes are outlawed, and where a ruthless criminal organization called the Magistrate rule. But that's not the main reason for being excited about this book; the principal reason is the stellar creative team. It's being written by 
12 Years A Slave
 screenwriter John Ridley, who's teaming up with Nick Derington and Laura Braga to release a book that could well be the most important comic of the year, at least in terms of social impact.