Michael Gifkins Prize 2022 shortlist announced
on
May 16, 2022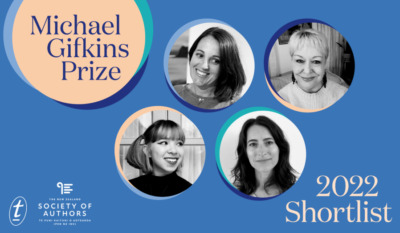 The shortlist for the 2022 Michael Gifkins Prize for an unpublished novel has been revealed by Text Publishing and the New Zealand Society of Authors Te Puni Kaituhi O Aotearoa (PEN NZ Inc).
The following manuscripts have been shortlisted:
Tiffany Brown's novel "The Shape of the World" is "an innovative, futuristic tale tracing numerous generations of a family through times of turmoil and cultural transformation from a modern world to 2050."
'Rabaul,' by Maria B Joseph, is described as "an interesting look into New Zealand's history and character, following a diverse collection of personalities who occupy one of the most beautiful villages in the South Pacific from 1937 to 1946."
'Backwaters,' by Emma Sidnam, is described as "a compelling novel about past, present, and finding one's place in the world, told through the eyes of a Chinese–New Zealander lady in her twenties who is beginning to look more thoroughly into her parents' and grandparents' life."

Anna Woods' 'Apple Moon' is "an beautiful, contemplative picture of two adult sisters and their mother over the course of a week spent in a tropical resort, as previous familial traumas surface and long-held secrets are disclosed."

The winner, who will be announced in July, will get a contract from Text for world rights and a NZ$10,000 (A$9000) advance.
Text Publishing chose the selection from a longlist of 13, which was curated by New Zealand writers Paula Morris and Vanda Symon, who were "impressed with the originality, range, and engagement with story of the entries."
The prize, now in its sixth year, recognises Michael Gifkins' commitment to New Zealand literature and writers.
'A manuscript prize is all about providing writers with additional paths to publication,' said Text publisher Michael Heyward. 'It's about creating demand for new work. It's about identifying and applauding talent, and we have been able to do that again this year with the announcement of the shortlist for this year's Michael Gifkins Prize. We believe that every year the quality of the entries for the prize continues to rise'.