Frontlist | Merseyside author Natalie Reeves Billing launches new children's book for World Book Day
Frontlist | Merseyside author Natalie Reeves Billing launches new children's book for World Book Day
on
Mar 02, 2021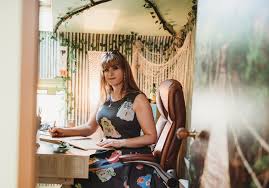 Merseyside children's author Natalie Reeves Billing will be celebrating World Book Day on 4th March in style with the launch of her new children's book.
Natalie says she's planning a "joyously understated launch, due to the fact that we are all apart again," adding that: "This time I am fighting back by finding ways of being with those I love, and including their love and support in a different way." She has been delighted to receive messages of support from friends, loved ones and fellow authors ahead of World Book Day.
The award-winning Merseyside author has written eight previous books, one of which can be found on permanent display at the Museum of Liverpool. Her latest title is a flip book called 'My Brother is a Monster' and 'My Sister is a Monster' which is part of Natalie's 'Monstrous Me' Collection. Natalie will celebrate her World Book Day launch virtually at a Bristol school, and then her blog tour will begin with a digital celebration of friendship, complete with monster themed prize giveaways to promote the latest title.
The author, who has donated much of her time to supporting children throughout the pandemic through her social enterprise, Split Perspectivz, as well as writing her popular children's books, admits that it has been challenging to stay motivated and productive throughout the latest lockdown, saying: "It's been tough, working out how to continue to achieve in isolation. So far, I haven't celebrated a single book launch in person. However, my writing and community projects have given me a clear focus, and that feeling of progression has kept despair at bay, and powered me through." She added: "A positive from this strange time is how communities have pulled together. Usually, book launches are a joyous celebration, connecting us with our readers and supporters. I wanted to replicate that, albeit digitally. I'm overwhelmed by the sheer volume of video messages I've received from writers and creatives, reminding me I'm not alone."
Following her book launch, Natalie will be busy preparing her latest collaborative project alongside Bernie Hollywood OBE, who has raised £42 million for UK and overseas charities. She will be donating her time to 'The Boat of Hope,' which will see Bernie cross the Atlantic on a solo row, in support of child mental health. Natalie said: "I'm honoured to be writing the picture book that will accompany this amazing feat. Being part of this project allows me to work with inspiring people who dedicate their lives to improving the lives of others. The book will launch later this year at Liverpool Town Hall where the boat's name will be officially unveiled." The author says she is pleased to have reached so many young readers through her books and through donating her time to a series of online events at schools, and with her ninth book launch under her belt, she is looking forward to a future in which she is likely to have more opportunities to meet with her readers, "and maybe even to celebrate the next book launch with a hug!" Source: The Guide Liver Pool