Members of the US Literary Community Signs an Open Letter Protesting Against the Book of Judge Amy Coney Barret
on
Oct 28, 2022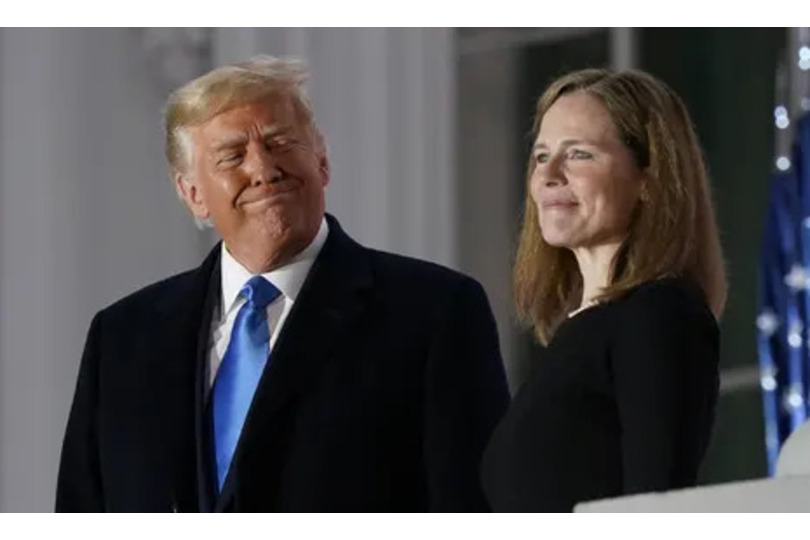 An open letter criticizing the purchase of a book by the conservative supreme court judge Amy Coney Barrett by Penguin Random House has been signed by more than 250 members of the US literary community.
The staunch Catholic conservative was Donald Trump's third appointment, and Senate Republicans hurriedly approved her nominee when the liberal hero Ruth Bader Ginsburg passed away just before the 2020 presidential election.
The next year, it was made public that Barrett had a book contract worth allegedly $2 million.
The open letter focuses on Barrett's most significant contribution to the court, which was her involvement in the 6-3 majority that eliminated the right to abortion this past June.
"Publishers must fulfill their commitment to freedom of expression with a responsibility of care," the signatories write.
However, they add, "we know that damage to democracy is done not just via censorship, but also through the assault on inherent human rights. As a result, we are requesting that Penguin Random House reconsider its decision to publish the upcoming book by Supreme Court Justice Amy Coney Barrett in light of its business history and obligations.
Neil Gorsuch, Brett Kavanaugh, Clarence Thomas, Samuel Alito, and John Roberts also voted to overturn Roe V. Wade, the 1973 decision that legalized abortion. The judges "dismantled [the] protections for the human rights to privacy, self-determination, and bodily autonomy together with the statutory right to an abortion in the United States," according to the open letter.
Worldwide, abortion access is acknowledged as a fundamental human right, and the top court's ruling has been denounced by international human rights organizations.
The Universal Declaration of Human Rights, to which Penguin Random House's parent company Bertelsmann commits itself in its code of conduct, states that "the human rights on which a right to abortion access is predicated." Human Rights Watch, which was established by Random House's second publisher, Robert L. Bernstein, makes this point.
According to reports, Barrett will discuss "how judges are not meant to put their sentiments into how they rule" in his book.
But Barrett belongs to the covert Catholic organization People of Praise. In the open letter, it is claimed that she has been paid $2 million by Penguin Random House to "impose her own religious and moral agenda upon all Americans while adopting the vocabulary of even-handedness."
"Many of us work every day with literature we find objectionable to our politics," the signatories continue. Instead, in this instance, a company's outrageous profits were used to secretly finance the erosion of human rights.
"Barrett is free to say anything she wants, but Penguin Random House must choose whether to support her views at the expense of human rights to boost its profits or to firmly uphold the principles it so ardently claims to uphold. We cannot passively watch as our sector abuses free speech to curtail our rights.
According to a spokeswoman, the letter was sent in the hopes that it would "urge others in the field to come up." Random House Penguin declined to respond.
Barrett has spoken out in the media against politics and the judiciary. She stated to an audience in Kentucky in September of last year that justices must be "hyper-vigilant to make sure they are not allowing personal prejudices intrude into their conclusions, since judges are humans, too."
"My objective today is to persuade you that this court is not made up of a bunch of political hacks," she continued.
The event was hosted at a facility with a notable political name: Mitch McConnell, the Republican Senate leader who successfully defended three of Donald Trump's court nominees after successfully blocking Barack Obama's previous selection.