Lockdown had added to Indian education system's woes
Lockdown had added to Indian education system's woes
on
Mar 26, 2021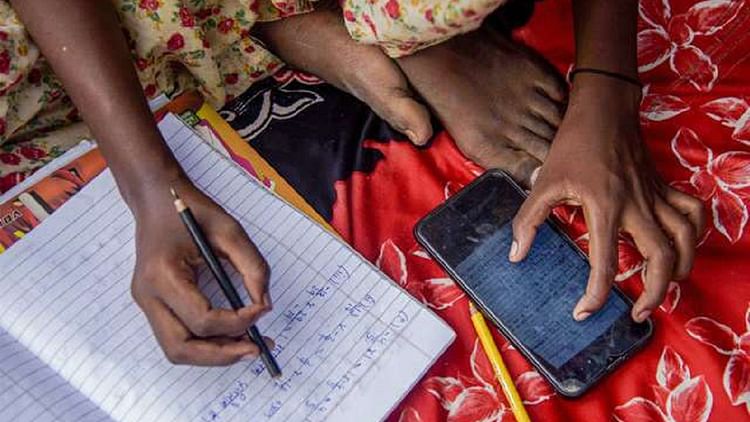 Exactly one year ago on March 24, 2020, when lockdown was announced in India, all schools, colleges, and
educational institutions
were also shut down. Closure of about 1.5 million schools imparting primary and secondary education affected 286 million children, and closing of 993 universities, 39,931 colleges and 10,725 standalone educational institutions affected 37.4 million students. Everybody felt it to continue for a very short time. However, the general lockdown had to be extended until May 31, and the unlocking started from June 1, could not be extended for general opening of classes until now. The announcement of the lockdown came at a time when school students were waiting either for their results, or very much enthusiastic about entering new session from April 1. However, closure of schools, bookshops, and stationers prevented them from guidance of a teacher, having books, and stationery item such as copies, pens, pencils etc. Booksellers and stationers were allowed to reopen in the first phase of unlocking from June 1.
Read: Elon Musk sets record straight on emerald mine and apartheid narrative
Their opening did not work for majority of school students because of a range of problems in getting the reading and writing materials, which included impoverishment of guardians and parents and transport restrictions still in place. It was exam time for students of higher classes, and all the exams were postponed indefinitely. The lack of access to reading and writing material hampered not only their academic attainments but also their preparations for their career and competitions along with postponement of all sorts of academic and competitive exams.
In the meantime, many of the government and private institutions came forward with the ideas of online classes and exams. However, it could not be done for the majority of students because of many issues including non-availability of mobile phones or computers, poor internet connectivity or no access and shortage of money with the household to purchase these things. Though digital mode of education, which was hitherto peripheral in India's education system, came into centre stage to fill the void left by classroom teaching, it is by and large unable to even fully cover the urban areas, and the rural areas are almost left behind. It is saddening to note that the situation has not improved even after one year. A recent UNICEF study has estimated that about 7 million school students in India will become permanent dropouts. There is no chance for them to return to schools. Almost half of them would be girls in primary education. The dropout rates of girls in secondary and higher education was already much higher which the outbreak and closure of the educational institutions have worsened. Many of the girls are being married off without education. In comparison to the boys, girls' education in India has become more challenging. The pattern is the same in higher education too.
India's education system had already been plagued with too many issues even before the lockdown, such as school dropouts, learning deficiencies, teacher absenteeism, unavailability of teachers, unacceptably low teacher-student ratio, gender disparity, lack of educational infrastructure and material etc. The introduction of digital education has added the new issue of digital divide between the urban and rural, and between the boy and girl students. Even in the national capital territory, attendance could be reached only between 25 and 30 per cent during the lockdown. It would be anybody's guess what is going on in other states and in the remote areas without much facilities. It's a lifelong disruption for students. Putting students back on track would need great efforts and special plan, which is unfortunately still not a priority area for our government. A global education network Quacquarelli Symonds has said in its recent report that Indian internet infrastructure is still far from ready to support the shift from classroom to online education. Just before the outbreak of the pandemic, India had only 24 per cent household with internet access, and for rural India it was only 4 per cent.
According to a 2018 NITI Aayog report 55,000 villages have no mobile coverage, and a survey of the Ministry of Rural development conducted in 2017-18 had found 36 per cent of schools without electricity. It shows the enormous work to be done for digital education to succeed in the country. However, the callous approach of the government of India is reflected in the Budget 2020-21 when e-learning budget was slashed to Rs 469 crore from 604 crore in the previous year. Budget 2021-22 did not allocate any funds separately for either NEP implementation or education technology, despite all the institutions struggled while imparting digital education during pandemic in 2020. GST on online education continues at 18 per cent. At the time when digital education needs financial and other government support, the government is looking in some other way. A Word Bank report has tried to quantify the loss to India due to closure of schools and put it at $440 billion in earnings. Educational institutions are slowly reopening but the recent spike in infection is threatening a new wave of the pandemic, closures, and containment measures. There are also several other issues connected to it, like deteriorating level of nutrition among school children because of their unable to get mid-day meal, psychological problems cropping up due to disruption in education, and job and financial loss, or infection in the household making the issue complex. We therefore need a new comprehensive plan and implementation mechanism. Source: nationalheraldindia