The rightwing Missouri senator Josh Hawley has found a publisher for a book dropped by Simon & Schuster over his role in attempting to overturn the US election on the day of the Capitol riot – and Simon & Schuster will distribute it.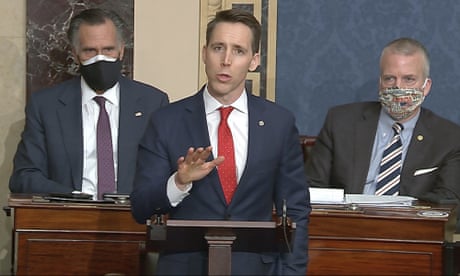 The Tyranny of Big Tech will now be published by Regnery, a conservative press, in a deal first reported by the Federalist, a rightwing outlet.
But under a distribution agreement announced in 2018, Simon & Schuster "handles distribution for Regnery titles in all markets and territories around the world" and "sales in Canada and export markets".
Simon & Schuster declined to comment.
The publisher dropped Hawley's book a day after the attack on the Capitol by supporters of Donald Trump left five dead. More than 100 arrests have been made, amid reports some rioters planned to kidnap and even kill lawmakers. Trump was impeached for a second time over the riot, charged with inciting it.
Hawley was photographed raising a fist towards Trump supporters at the Capitol on the day of the riot. Later, with the Capitol in lockdown, he went through with his objections to electoral college results, in support of Trump's claims the election was stolen, which have repeatedly been thrown out of court.
Source: The Guardian