Jashn-e-Rekhta- The biggest Urdu literature festival of 2019
Jashn-e-Rekhta- The biggest Urdu literature festival of 2019
on
Dec 19, 2019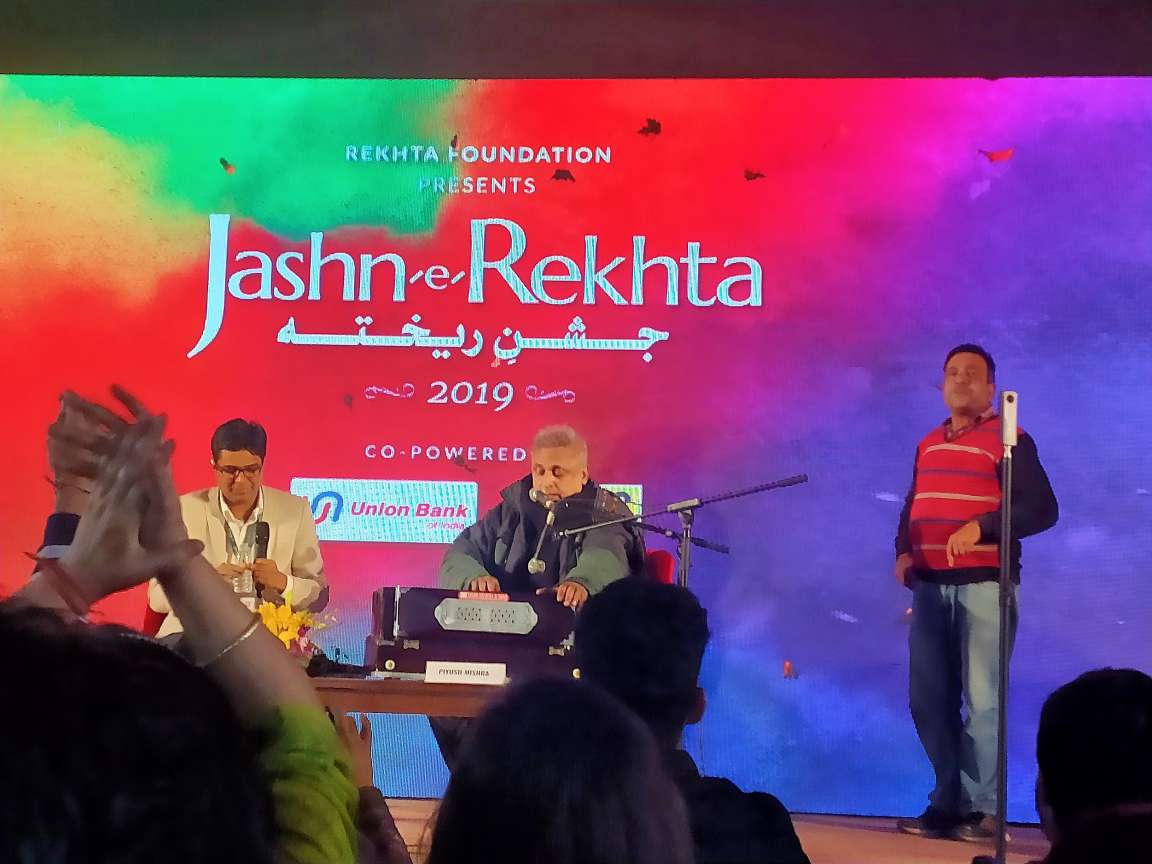 The biggest Urdu Literature festival, 'Jashn-e-Rekhta', 2019 was full of power-packed performances and books. The Lit festival was organized by Rekhta Foundation. It was inaugurated by the
politician, philanthropist, and poet Dr Karan Singh.
Rekhta launched 10 new books in the event and also announced its partnership with Rajkamal Prakashan for the better distribution and reach of the books.
One of the board members and company directors, Ashok Kumar Maheshwari said, "Rekhta is just not a website, portal, first Urdu literature festival, it is a whole movement of Indian languages. We all are seeing ourselves and our pride through Rekhta. We all can see that if our one language can create a stir in the whole country then what miracles can all languages perform."
He also added that they don't consider Urdu as the 'other language'. It is part of India and its literature. 
He also thanked Sanjiv Saraf, the founder of Rekhta for organizing the Rekhta Literature festival. 
From Javed Akhtar to Rahat Indori, the finest names of the literature world were present there.
Indian Publishers like, Rajkamal Prakashan, Rajpal & Sons, Sakshi Prakashan, Sahitya Akademi, Vaani Prakashan, Arshia Publications and others were part of the event.
Actress turned author Divya Dutta was also the speaker in the event. She talked about her book, "Me and Ma" which is about her late mother who passed in the year 2016.
She narrated a nostalgic paragraph from the book, remembering her childhood moments with her mother.
She also read a poem written by her brother which went viral on social media and said that people think that this masterpiece is written by her but actually it is written by her brother.
She also discussed her journey of becoming a writer from a columnist. From writing columns to writing a book. She quoted, "Writing is a huge responsibility" as she shared her experience of becoming a writer and actress at the same time.
Actor, writer, political activist, poet, lyricist, and screenwriter Javed Akhtar gave brief insights into the life of Sahir Ludhianvi who was the Indian poet and film songs lyricist who have written the songs like, Ek Ladki Ko Dekha, Ghar Se Nikalte, Ek Do Teen, Sandese Aate Hain, and many more. He won many National and Filmfare awards.
Javed Akhtar said that the most important person in Sahir's life was his mother. She has played a major role in his life. He also talked about the current situation of Urdu poetry in India. He stated that currently there is a decrease in the fame level of Urdu poetry. People are not interested in reading Urdu poetry, they consider filmy gazals as Urdu poetry. He also added that nowadays, a less amount of Urdu language is used in the film industry. 
There were several programs like cultural, discussions, book launch, quiz for the visitors so they can enjoy the event as much as they can.
Lyricist and poet, Rahat Indori and Morden Urdu poet Munawwar Rana discussed remembered their closest and dearest friend Jaun Elia, a Pakistani Urdu poet, philosopher and biographer. They talked about their friendship and the good time they spent together.
They also told about the evolution of the poetry industry through time.
Actor, writer, music director, lyricist, singer, and scriptwriter Piyush Mishra also narrated and sang the lines of one of his most famous pieces of writing, "Kuch Ishq Kiya, Kuch Kaam Kiya."
The literature festival, 'Jashn-e-Rekhta' was the place where people who love Urdu gather together and celebrate the beauty of the language. It is the most celebrated literature festival by book lovers. Especially those book lovers who are interested in the genre of poetry and ghazals.