Frontlist | Jairam Ramesh & Amit Ahuja- joint winners of NIF Book Prize
Frontlist | Jairam Ramesh & Amit Ahuja- joint winners of NIF Book Prize
on
Dec 11, 2020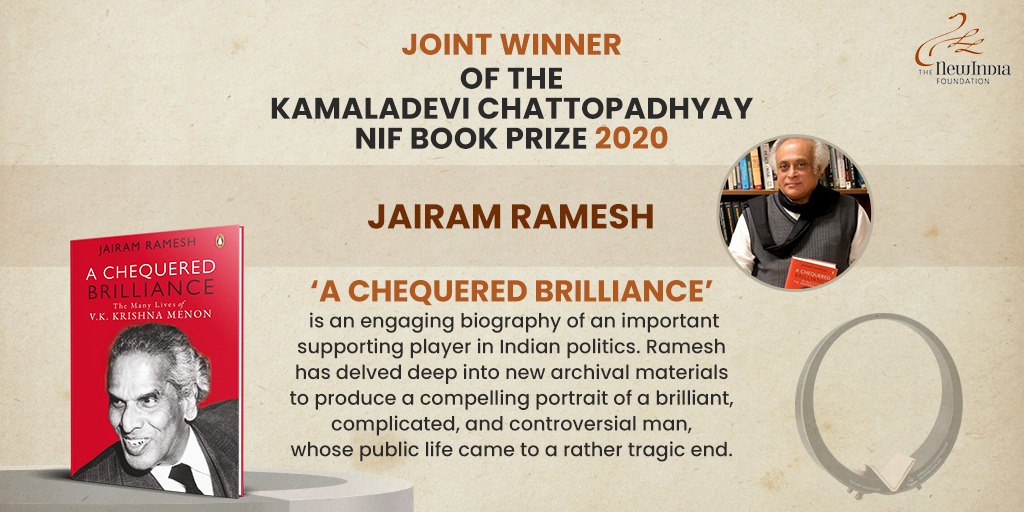 Ramesh was chosen for his biography of V.K. Krishna Menon and Ahuja for his study of social and political mobilisation in India
Jairam Ramesh and Amit Ahuja were jointly awarded the Kamaladevi Chattopadhyay-New India Foundation (NIF) Book Prize for 2020 on Thursday out of a shortlist of six writers. The winners were selected by a six-member panel of juries, including political scientist and author Niraja Gopal Jayal (Chair), historians Ramachandra Guha, Srinath Raghavan, Nayanjot Lahiri, entrepreneur and author Nandan Nilekani, and Manish Sabharwal, Chairman, Teamlease Services. The 2020 winners will share the prize money of 
₹
15 lakhs for their respective books and will each receive the trophy. Named after Kamaladevi Chattopadhyay—patriot and institution-builder, who contributed significantly to the freedom struggle, the women's movement, refugee rehabilitation and the renewal of handicrafts—the NIF book prize is awarded annually to an outstanding work of non-fiction that focusing on any aspect of independent India. Instituted in 2018, the first winner of the prize was the political scientist Milan Vaishnav for his book, 
When Crime Pays: Money and Muscle in Indian Politics
, followed by Ornit Shani in 2019 for 
How India Became Democratic
. This year the shortlist featured books such as 
Midnight's Machines: A Political History of Technology in India
 by Arun Mohan Sukumar, 
The Unquiet River: A Biography of the Brahmaputra
 by Arupjyoti Saikia, 
Bottle of Lies: Ranbaxy and the Dark Side of Indian Pharma
 by Katherine Eban and 
Wild Himalaya: A Natural History of the Greatest Mountain Range on Earth
 by Stephen Alter. The winning titles distinguish themselves as much for their original research as the choice of subjects. Ahuja, who is associate professor of political science at the University of California, Santa Barbara, explores the history of social and political mobilisation in his first book, published by Oxford University Press. As the citation from the jury puts it, Through extensive field research in four states, Ahuja unravels an intriguing puzzle: why is it that Dalit ethnic parties perform poorly in states where their social mobilization has historically been strong, yet perform well in states where such mobilization has historically been weak? Ramesh, a Congress member of the Rajya Sabha and former Union minister, is the author of several acclaimed books, including 
Indira Gandhi: A Life in Nature
 and 
Intertwined Lives: P.N. Haksar and Indira Gandhi
. In 
A Chequered Brilliance
, he chronicles the life of one of India's most enigmatic political figures, V.K. Krishna Menon, known as a diplomat, statesman and Union minister under Jawaharlal Nehru's prime ministership. The opprobrium surrounding [Menon's] role in the disastrous (from an Indian point of view) conflict with China in 1962 have tended to obscure from public memory his diplomatic achievements, especially his celebrated performance at the United Nations in the 1950s, and this book places on record the evidence on all these issues without partisan judgment, the jury note, adding that Ramesh has delved deep into new archival materials to produce a compelling portrait of a brilliant, complicated, and controversial man, whose public life came to a rather tragic end. In an interview with Mint earlier this year, Ramesh had described his subject as Nehru's comrade-in-arms, who participated in the freedom movement in the 1930s-50s, when Menon lived in Britain lobbying for Indian self-determination. Menon played a crucial role in the 1930s by making the idea of Indian independence acceptable to the Labour Party in Britain, Ramesh explained. The latter's commitment to India's self-determination came largely because of Menon, who was close to (British economist) Harold Laski and (British Labour politician) Stafford Cripps. Ahuja, in a recent essay written exclusively for Mint Lounge, outlined his hopes for the future of Dalit politics, as we head into 2021 after a year of pandemic and political pessimism. Born and bred under conditions of social hostility and state indifference, Dalit social and protest movements possess a strong survival instinct, he argued. These movements, and not Dalit parties, are the true flame-keepers of Dalit politics.