Interview with Prasanta Bhattacharya, author of "Am I What I Want To Be"
Interview with Prasanta Bhattacharya, author of "Am I What I Want To Be"
on
Sep 29, 2021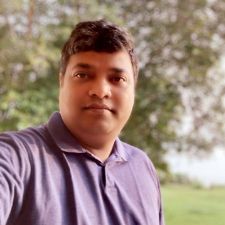 Prasanta Bhattacharya was born and brought up in West Bengal, eastern part of India. Graduated from mining engineering from Bengal Engineering College. His seniors at home hoped he would be a Doctor. He became an engineer and got into the Information technology profession in the last decade. His work in Information Technology touches millions across the globe. Prasanta founded Narendrapur Pathshala Education Society in Kolkata for helping Rural Kids achieve their Dreams. He lives in Hyderabad with his wife Baisakhi and son Mehul. His first Book 'Am I What I Want To Be' was launched in May, 2020. He aspires to connect many students across schools/colleges/universities and take some of his social services initiatives ahead in coming years.
Ques. Tell us something about your Book?
Answer: My first book 'Am I What I Want To Be', it's a fiction, influenced by few real-life heroes. I have tried to write it such a way that everyone can relate the story in their lives. Let me explain a bit more. Everyone has dream or aspiration. It is just that scale of aspiration varies depending on background / situation. During our journey we are touched by many people. We are inspired to be someone, to do something special. At times, we may get derailed due to change in priorities. But your inner self reminds you "am I What I want to be". As we mature, we realize that in this large universe we are just dots. Even the richest person on this planet cannot remove the poverty for all. What do we do then? The protagonist then understands it's all about doing small things on the ground from the front, setting examples. Do it together, share the fun. Make it inclusive. Then he starts focusing on many social initiatives. When other join hands, together they lead to larger social impact. That's how even ordinary person like "Aakash" can contribute a lot in the society. The book focuses on the fact that we chose to be who we are! We choose our future! What remains is a journey!
Ques 2."Am I What I Want To Be" depicts the journey of seeking who you are.  How did you come up with the idea of this book?
Answer: I have met many shades of people spanning across demographics, in various sectors of our societies. People, their struggle, dream, journey and life have touched me very deeply. More importantly many people and their actions motivated me in doing small things with great passion and love. End of the day, it is all about how much you tried and could accomplish that you always dreamt for. Before it is too late, we must rethink and realign our journey to ensure we try those small things. Even an ordinary person can achieve a lot through the power of consistent effort. At times it is easy to reflect through your writing. Through written communication we can connect with many others more effectively and that's how I started writing this book.
Ques3. Why did you choose Invincible Publishers as Publisher?
Answer: I used to think writing book is more important than anything else in the publishing journey. Actually, there is a lot…Editing, formatting, cover page design, publishing in Kindle, printing, distribution and marketing…So many people need to work with you to make the journey even better…You need an expert to guide you all through this journey! I am really thankful to Invincible for all the guidance, support. I could not ask for more. I am also grateful to those people who stayed in the background and gave their best to help me accomplish my goal.
Ques4. There are a lot of folks out there who have been doing work that they don't enjoy. Have you ever wondered why I am doing something you don't want to do? 
Answer: At times we have to do certain things although we may not like them most. However, if you do it from your heart, learn it deep, there is always something in stock for you. Nothing is wasted as such. However, in long run we must ask ourselves if this is what I want to do for ever. We must not forget our aspirations, just because we are busy with something else. It is okay to start them afresh however late they are. There is never a better time than starting it now!
Ques5. How was your experience as a debut author? Have you faced any challenges in your journey? 
Answer: Challenge is always there. It is not good to not have any challenge. Being first time author, there has been ups and downs, both internally and externally. Specially finding the right platform, getting genuine review and feedback is always a difficult part. However with patience, self-belief, support from your guide, mentor and encouragement from your readers, one can overcome all these challenges.