International Kolkata Book Fair in January-February; Bengal Publishers Rue Rising Paper Costs, Dhaka 'Barriers'
Bengal publishers lament not being given "reciprocal space" in book fairs held in Bangladesh, which shares the same language.
on
Dec 02, 2022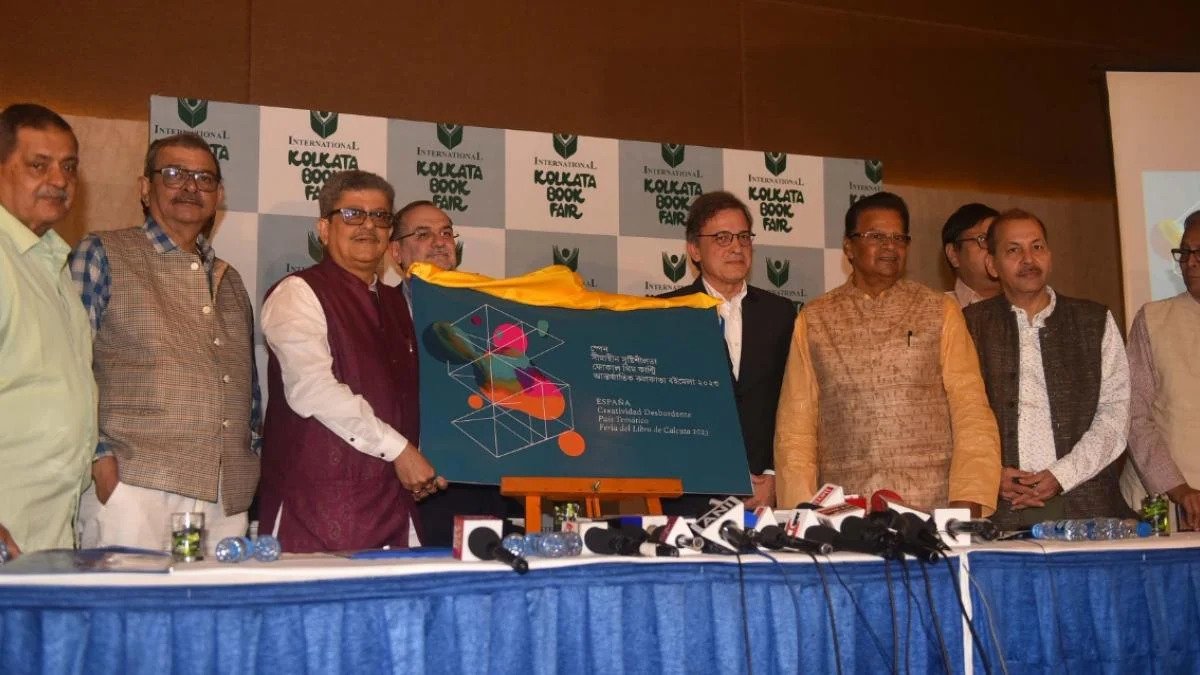 Kolkata: As preparations for the 46th International Kolkata Book Fair (IKBF) in Slat Lake begin in earnest, rising paper costs and "trade barriers" with neighbouring Bangladesh are weighing heavily on Bengal's book sellers and publishers.
Tridib Chatterjee, general secretary of the Publishers and Book Sellers Guild of Bengal, said at a press conference in Kolkata on Wednesday that the focus country this year was Spain. The focal country's logo was also unveiled at the event. Chief Minister Mamata Banerjee will officially open the fair.
However, Chatterjee claimed that neighbouring Bangladesh was given a large space in the IKBF or Boi Mela every year, but there was no "reciprocal" arrangement for West Bengal in that country.
However, in an interview with NewsClick, Hasan Mahmud, Bangladesh's Minister for Information and Broadcasting, refuted the allegation and stated that if this were true, he would take the responsibility of allowing stalls by Bengali publishers in the 21st Boi Mela, Bangladesh's largest book fair, and would discuss the matter with the Culture Ministry of Bangladesh.

Going back in time, Chatterjee told NewsClick that Bangladesh was made a focal country in the IKBF for the first time in 1998. When Sheikh Hasina became Prime Minister, the Booksellers and Publishers Guild approached her about reciprocal arrangements during Bangladesh book fairs. He added that Bangladesh has been the theme country in IKBF several times, but a reciprocal arrangement from Dhaka is still missing.
Last year, the Bangladesh Information Minister was approached, and piles of letters were written to their foreign affairs, cultural affairs, and information ministers, but in vain, he added.
Notably, Bengal and Bangladesh share the same language, and while Bangladesh publishers are permitted to conduct business in West Bengal, West Bengal publishers are not permitted to do so in the neighbouring country.
Chatterjee claimed that this was due to the mindset of a segment of Bangladesh's publishers who want to keep their country free of Indian influence. With 100 million Bengali-speaking people, Bangladesh is one of the most promising business fields for West Bengal's publishing industry. He added that there are 85 million Bengali-speaking people in West Bengal, Assam, and Tripura.
Chatterjee also bemoaned rising paper costs, which forced publishers to raise the price of books published in vernacular languages. Furthermore, online media has largely removed the lustre from the publishing industry in the state. As a result, West Bengal publishers are desperately looking for new business opportunities, and Bangladesh is one of them, he says.
Chatterjee stated that after the pandemic improved this year, the Kolkata Book Fair was held last year, which drew 2.2 million book lovers and sold books worth Rs 23 crore. A total of 570 stalls were set up.
Chatterjee previously stated that this year's IKBF focal country, Spain, would be their second appearance in the fair as the 'Theme Country.' The Embassy of Spain in India also signed a memorandum of understanding with Calcutta University in 2006, at the Spanish Pavilion of IKBF, after which the Government of Spain began providing a lecturer for the Spanish Language Department. Furthermore, the international examination DELE (Diplomas of Spanish as a Foreign Language) was launched in Kolkata by the Instituto Cervantes, Government of Spain.

H.E. Mr José Mara Ridao Domnguez, Ambassador of Spain in India, and other dignitaries informed the media about Spain's participation in the International Kolkata Book Fair 2023, saying that Spain's participation as the 'Theme' would strengthen cultural ties between the two countries.
Publishers from the United Kingdom, the United States, Japan, Vietnam, France, Thailand, Australia, Argentina, Guatemala, Mexico, Cuba, Peru, other Latin American countries, and Bangladesh will also be present in the international pavilion.
Publishers from India's states of Delhi, Haryana, Punjab, Tamil Nadu, Karnataka, Gujarat, Assam, Uttar Pradesh, Arunachal Pradesh, Maharashtra, Andhra Pradesh, Kerala, Madhya Pradesh, Bihar, Jharkhand, Telengana, and Odisha will also be present.
Another noteworthy feature will be numerous engrossing sessions, including panel discussions on literature, film, drama, music, and dance, among others.