Indian representatives at Frankfurt
Indian representatives at Frankfurt
on
Sep 26, 2019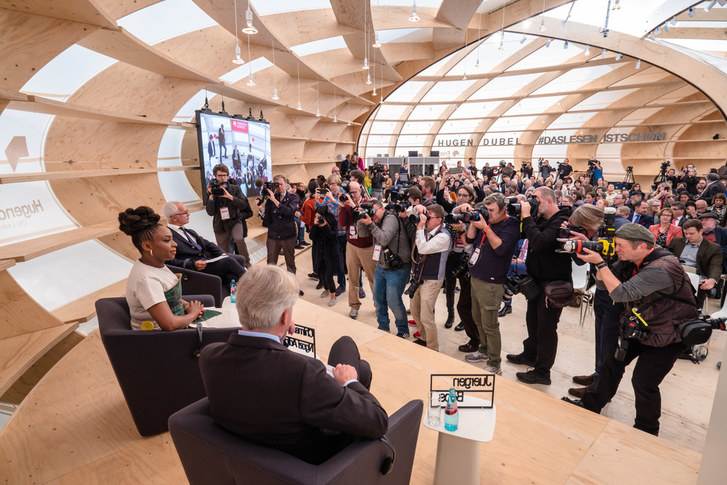 Anya Malhotra in Translators Programme
The Frankfurt International Translators Programme is aimed at international literary and non-fiction translators translating from the German language. Up to thirty translators from all around the world are selected by Frankfurter Buchmesse to take part in an exclusive exchange and networking Programme. The Programme will take place from 14 to 17 October 2019 in Frankfurt, and is organised by Frankfurter Buchmesse with the financial support of the German Federal Foreign Office.
Anya Malhotra from India is one of the other participants of the Translators Programme. Malhotra is an AIIC interpreter and has been working as a freelance translator for close to 25 years. She studied English literature and went on to do an MA in German translation and interpretation, studying in India and in Germany. She translates from German and Hindi into English. She has translated several German-language authors, such as Martin Mosebach, Anja Utler, Markus Kirchhofer, Anne-Marie Kenessey and Raphael Urweider. She has recently worked for Penguin Random House India, LIT Verlag, Social Science Press.
Esha Chatterjee in Fellowship Programme
First launched to mark the 50th anniversary of Frankfurter Buchmesse in 1998, the Frankfurter Buchmesse Fellowship Programme celebrated its 20th anniversary in 2018. So far, over 350 publishing experts from more than 60 countries have benefitted from this experience. The programme focuses on exchanging information, fostering professional dialogue and growing young international publishers' networks. The Fellowship participants visit publishing houses and booksellers in three German cities, attend market presentations, have matchmaking events and dinners, and benefit from many further networking opportunities. Esha Chatterjee from India, founder and CEO, Bee Books, head of marketing, Patra Bharati, is one of the Frankfurt Fellows 2019. Chatterjee runs the publishing house, BEE Books, and loves the art of making beautiful books. BEE Books publishes everything from translations, fiction, non-fiction, essays to graphic novels and corporate coffee table books. She also is the managing director for Patra Bharati and heads the marketing wing for the Bengali publishing press. "I expect to meet like-minded professionals who are contributing to innovative ways to the book industry, from Germany and all over the world. Meet, ideate and look for opportunities for collaborations through author exchanges, literature festivals, translations and explore methods of skill-building," Chatterjee said about her participation at the Frankfurter Buchmesse.
Vinay Kumar Diddee in Invitation Programme  
The Invitation Programme offers small independent publishing companies from Africa, the Arab world, Asia, Central and Eastern Europe, Latin America and the Caribbean the chance to participate in the world's biggest book fair. The guest publishers will attend a two-and-a-half-day seminar before the Fair begins, which not only prepares them for the event but also provides them with wide-ranging information on the German book market. As a discussion forum, the seminar gives them the opportunity to talk to experienced speakers from the industry on topics such as international sales, marketing, rights and licensing as well as book design. Vinay Kumar Diddee, founder and director of Little Latitude, is one of the participants of Invitation Programme. Founded in 2013, Little Latitude is a publisher focused on beautifully illustrated, carefully designed and well produced books for young children. They work with renowned writers and editors as well as established and emerging artists to create picture books which challenge and engage young minds, giving equal importance to image and text. Their books are stocked at stores in India, Singapore, UAE and the USA.