Frontlist | Indian Author "Chetan Bhagat" and Ritesh Rawal's discussion
Frontlist | Indian Author "Chetan Bhagat" and Ritesh Rawal's discussion
on
Jan 25, 2021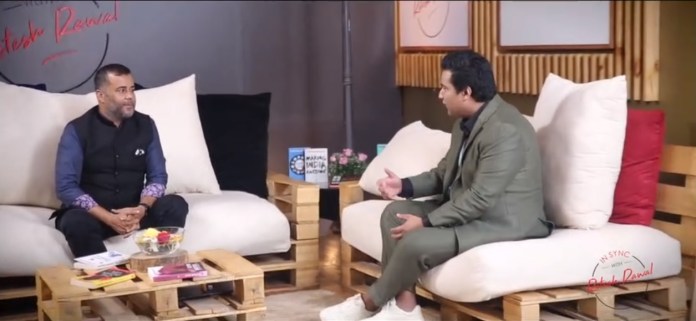 A candid conversation between Ritesh Rawal and Chetan Bhagat highlights that how both conventional and unconventional learning methods are important to shape the career of children from an early age. Ritesh Rawal an Education Philosopher, who is known for his education philosophy "Manifestism", one of its kind and first in class Early Childhood Education initiative "Dudes and Dolls The Cosmic School and social transformation work that he has been doing through Ritesh Rawal Foundation.
Ritesh curated "Insync with Ritesh Rawal" as a discussion platform to share his thoughts and insights about education and to explore the journey of individuals who have achieved significant things in life by leveraging conventional as well as unconventional methods of education. So far he has been able to do the discussion with the likes of Anil Swarup, Former Secretary, School Education and Literacy Government of India, Arjun Vajpayee (World record holder Mountaineer), Col. Satendra Verma (India's first base jumper), Sadhvi Bhagawati Saraswatiji and Chetan Bhagat And here are some of the highlights of his discussion with Chetan Bhagat an Indian author and columnist. Who was included in 
Time
 magazine's list of World's 100 Most Influential People in 2010.
During the discussion, Ritesh explored Chetan's journey. Chetan was an IIT, IIM student, and later gave up a successful banking career to pursue his passion in writing.
Writing is also one of Ritesh's passions, and he was interested in exploring and developing this talent at an early age but never got the complete direction and insights, Ritesh explored Chetan's journey as an author especially how it started. During their discussion Chetan Bhagat revealed that he wrote something for the first time as a writer when he was in class 5
th
 but at that time he didn't realize his full potential as a writer but the initial spark was generated at an early age, when his teacher asked him to write something for the school newsletter.
Ritesh asked him about the role school played in transforming a young boy "Chetan Bhagat" to the Chetan Bhagat that the world knows and admires today, In his reply, Chetan shared his thoughts that school education is one of the most important phases of education in an individual's life and in his life and experience at school provided him a platform from where he could gather all the relevant information about engineering colleges like IIT and how it helped him in shaping his career by using this information in a constructive manner.  In fact guidance and handholding at that stage is really critical and Chetan is thankful to his school and teachers who played an important role in channelizing his career in the right direction.
According to Chetan, School education played a very important role in his life, school helped in developing confidence, provided an environment to understand diversity, making friends with new people, working in collaboration with others, in fact, the overall personality development happened in School. Both Ritesh and Chetan agreed that schools and stakeholders involved in education need to start taking small and more common sense based initiatives to make education relevant and contextual for the future generation; for example, Chetan shared his thoughts about small initiative such as using google maps to teach geography in the classroom. In 2012, when Ritesh's  started one of its kind and first in class Early Childhood Education the initiative "Dudes and Dolls The Cosmic School", his basic idea was to make education development centric and relevant to the current context of education, Ritesh designed learning environment and space by keeping small things in mind which are relevant and great value addition for the students for example Ritesh created Six Sigma lab and introduced the concept of quality in the early childhood education. In sync with Ritesh Rawal is full of such practical insights, which are relevant; practical to implement can help in breaking down education transformation by creating building blocks.
Source: India Education Diary