How Kalachuvadu Kannan transformed Tamil book publishing
on
Sep 16, 2022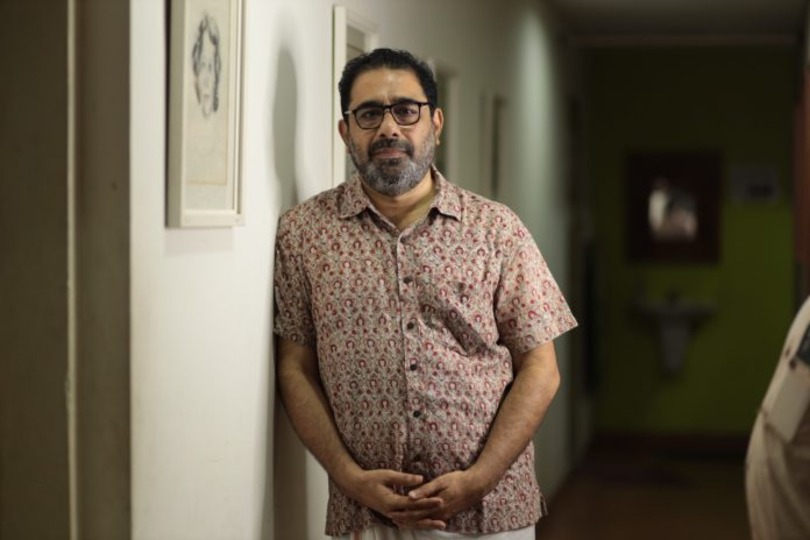 'Tamil has a rich and ancient literary culture that dates back over two thousand years. The earliest Tamil literature can be traced back to Sangam poetry, which includes anthologies of short lyrics known as Ettuthokai (eight anthologies) and longer poems known as Pathuppaattu (ten idylls), both of which deal in depth and detail with various aspects of life such as love, war, and social values...'
This succinct introduction to Tamil literary history is part of a five-paragraph short remark on Tamil that was prominently displayed in the translation rights catalog of Kalachuvadu Publications, a notable and recognised Kanyakumari-based Tamil publishing business.
Kannan Sundaram, publisher and managing director of Kalachuvadu, indicated that this introduction to the Tamil language is intended for worldwide publishers in order to pique their interest in Tamil-published works and entice them to translate the books into their native languages.
Kannan, a prominent figure in Tamil publishing circles, was recently awarded the Chevalier de l'Ordre National du Mérite, or Knight of the Order of the Merit, by the French government for his contribution to India-France publishing partnership.
"Only we keep bragging about Tamil, as if it were the world's first language or a widely spoken language." However, when I go to international book fairs, I find that many western publications do not even recognise our language. They are completely unaware of the existence of such a language. So, in order to expose the language to a global audience, we produced A Note on Tamil, which delivers merely facts without embellishment," Kannan explained.
Kannan, also known as 'Kalachuvadu,' is a renowned figure in Tamil Nadu. Kannan is well-known in Tamil literary circles and the publishing business for his monthly literary and cultural journal, Kalachuvadu. Sundara Ramasamy (also known as SuRa) founded the quarterly magazine in 1988, however it was canceled after nine issues in 1992. Kannan, his son, revived the journal in 1994. In 2000, it became bimonthly, and in 2003, it became monthly. The magazine will celebrate its silver jubilee in 2020.
Kannan, who also received the 'Publishing Next' Publisher of the Year Award 2018, spoke candidly with The Federal about how Kalachuvadu has been a game-changer in the Tamil publishing business. Excerpts have been edited:
How did Kalachuvadu go from a literary magazine to a publishing house?
SuRa, my father, founded the magazine. He was always respectful of and open to new ideas and philosophies. In turn, he desired that his views be broadly disseminated. Unfortunately, most of his publications were either out of print or scarce in the 1990s. So, in 1995, I established a book publishing firm with the same name as the magazine.
You previously worked in the garment industry; how did you earn the courage to create and operate a publishing firm from the deep south?
The decade in which we established the publishing business coincided with the beginning of new economic policies in our nation. It also created new prospects in the publishing business. For starters, DTP (desktop publishing) had arrived in Nagercoil (located in the Kanyakumari region), allowing us to design and print the books in the town itself. We were not required to fly to Chennai for this.
Second, the communication revolution began. Following STD booths came mobile phones and the internet, which made it simpler to contact individuals. This inspired us to organize 'Tamil Ini 2000,' a Tamil conference that would bring speakers from all around the world together.
These advancements rendered our physical presence in the city obsolete. However, we established an office in Chennai solely for the purpose of selling our books, which was closed during the epidemic. We may have gained greater traction if we had relocated to the state capital, but I believed it would have disrupted our concentration. We would have been required to hold several meetings, media talks, and so on. We were able to avoid all of this by operating from Nagercoil.
What was your business model in mind when you entered the industry?
We made the decision not to rely on government library orders. We chose, published, and sold the books to our readers – the general public. Many publishers professed to see publishing as a type of service to society and literature during the time. The act of publishing an author's work was seen as a tremendous benefit in and of itself. At the time, paying a royalty to the author was unusual.
They eventually got through to an unsuspecting Rushdie.
We wanted to present ourselves professionally. As a result, we entered into a deal with writers to obtain publishing and translation rights and paid a reasonable rate. This garnered us respect in the literary community. We also aggressively promoted our publications, despite criticism from many places that we were too 'business-minded.'
What is your general rule when choosing a book?
SuRa expressed concern in one of his emails that the Tamil publishing sector lacks a drive for 'quality material.' Though Kalachuvadu began as a sirupathirikai ('mini-magazine,' we aspired to expand beyond that designation. So, when we restarted it in 1994, we included not only literature but also works on politics, social concerns, the environment, and so on.
We adhere to the principle of 'biblio variety.' As a result, we have a diverse variety of titles from many sectors such as economics, science, and so on, and we do not reject new themes. The sole requirement is that the text be readable. We are surrounded by intellectuals from many disciplines, and before we publish a book, we send it out for peer assessment. We have therefore won the readers' trust.
There were just a few publications before us that were concerned about the book's substance and execution. For example, we will not publish any type of PhD thesis. Instead, we sit down with the author and collaborate to turn the thesis into digestible prose.
One of our first books was Kirithavamum Saadhiyum, which was essentially a chronicle of caste strife in one church. However, after speaking with the author, A Sivasubramanian, a respected historian, he repackaged the thesis as a history of caste among Tamil Nadu Christians. We put forth the same amount of work for each book that we publish.
Aside from diversity, Kalachuvadu is also on the receiving end at times...
I believe you are referring to the event involving Perumal Murugan. However, this is more recent. We got similar threats in 1995 for publishing a short article in our magazine. Even then, we supported the author. Similarly, we were chastised when we produced works on the topic of Sri Lankan Tamils, Periyar, Marx, and so forth.
Kalachuvadu believes in the right to free expression. We consider our critics as stepping stones to further success. 'Literature is nothing but life,' according to Manikodi's viewpoint (one of the earliest literary magazines in Tamil). There will be no attacks on writers if those who criticize comprehend this.
Aside from publishing, you also organize writer's workshops, send writers on cultural exchange programmes abroad, host writers in residency programmes, participate in international level book fairs, and so on. What benefit do these efforts have for you as a publisher?
I feel that pushing ourselves beyond merely producing books is essential. It is essential to foster a robust book culture in Tamil. Unfortunately, we are not receiving any funding from the state, the federal government, or any big corporate organizations to help expand the book culture in the state. The reason for this is that people do not regard the publishing sector as an intellectual endeavor, but rather as a business. As a result, no government award has been established at the national or state level to recognise the efforts of publishers.
However, the current disposition in Tamil Nadu organizes book fairs in every district and requests political officials to offer books instead of shawls, etc. It is encouraging to have a government that promotes reading. I hope that this will play a larger part in the development of a distinct book culture in Tamil.
What is the most important lesson Tamil publishers should take from foreign publishing houses?
To begin, they should cease repeating the mantra that books aren't selling. If a book does not sell, it is partially the fault of the publisher, and the writer should not bear the entire burden.
Also, I don't trust the oft-quoted idea that book readership is declining. We also publish our publications in both print and Kindle formats. However, a sizable proportion of our readers still prefer physical books. Spending $100 or $200 for a book is no longer a huge deal. Literacy rates are increasing. So, who is purchasing these printed books? People on their deathbeds or retired workers? No, it is the children.
Second, we have a relatively small number of publishing firms that only produce publications in specialized fields such as science, the environment, cinema, and so on. More specialist publishers are needed in the Tamil publishing business.
What are your thoughts on French translations of Indian works now that you've been granted the Chevalier?
In France, the translation market is continuously expanding and has now reached around 20%. Furthermore, the state provides funding to publishers for the publication of French translations. French publishers are now aiming to expand their roster beyond French, Francophone, and Western novels, and have opened the door for Indian works to be translated into French. Unfortunately, few Indian publishers are taking advantage of this opportunity, and the Indian government does not provide translation funding to publishers in order to stimulate the diffusion of Indian literature.