Frontlist | How author Jeff Kinney became the king of COVID book tours
Frontlist | How author Jeff Kinney became the king of COVID book tours
on
Dec 18, 2020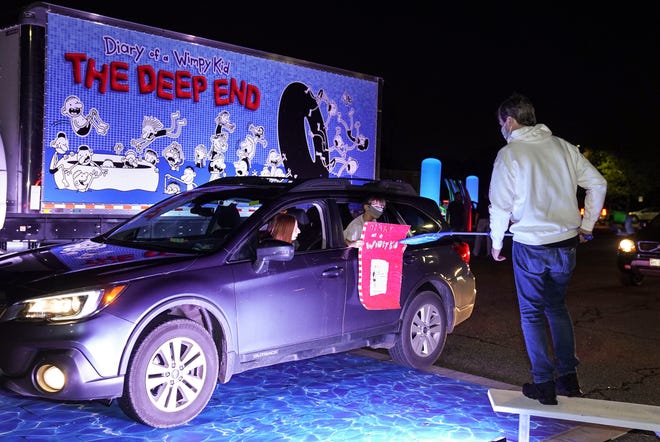 Katy Perry's "California Gurls" is blaring on everyone's car radio. It's 40-some degrees, but water balloons are being tossed, and a lifeguard is blowing her whistle at guests. "Diary of a Wimpy Kid" author Jeff Kinney is on standby with a 7-foot pool net.
The coronavirus pandemic has prompted an unusual ask of the book industry: how do you go on tour to promote your work when meeting groups isn't safe? Some big-name authors, like Barack Obama, whose presidential memoir, A Promised Land, came out a month ago, stuck just to giving interviews. Others have done Zoom events on their own, partnering with other authors or with local bookstores.
But Kinney, author of the bestselling kids book series "Diary of a Wimpy Kid," engineered a socially distant but fun and interactive tour like no other for his young readers: a pool party-themed drive-through meet and greet that lifts his stories off the pages.
"It's important to have that feeling of connection," Kinney tells USA TODAY. "Like most writers, I write in a vacuum. I write in isolation ... so it feels really strange to write something and put it out into the world and then to not meet the people who are reading it." 
And a whole lot of people are reading.
Since the first "Diary of a Wimpy Kid" book debuted in 2007, the series has sold more than 250 million copies world-wide and been translated into 65 languages. It's one of the top bestselling book series, according to the USA TODAY Best-selling Books list, near other fan favorites like Harry Potter and The Hunger Games.
In an announcement exclusive to USA TODAY, Kinney is sharing the title and cover of the third book in his "Wimpy Kid" spinoff series: "Rowley Jefferson's Awesome Friendly Spooky Stories," which will debut March 16, 2021, before the 16th "Wimpy Kid" book arrives later that fall.
Kinney's claim to fame is "Diary of a Wimpy Kid," starring Greg Heffley, a snarky antihero who's been stuck trying to navigate middle school for the past 13 years. (Hey, we'd probably be pretty grumpy after that long in junior high, too.)
But he has the "Rowley Jefferson" spinoff, starring Greg's happy-go-lucky best friend, to thank for his COVID-era book tour success.